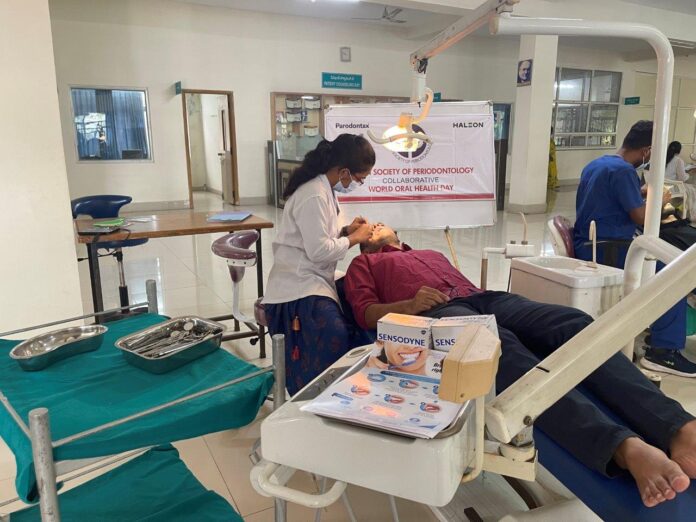 29th March, 2023, India – Sensodyne, a leading oral care brand from the house of Haleon (erstwhile GlaxoSmithKline Consumer Healthcare), initiated a campaign from 13th – 31st March 2023 to celebrate 'World Oral Health Day'. The campaign 'BeSensitiveToOralHealth' was initiated to educate the consumers about the need for proactive oral care and to enable them a basic dental consultation.
Team Sensodyne has planned approximately 500 dental camps to create awareness about basics of dental hygiene and oral care in 70 cities in all four regions of India, targeting around 5,000 patients. Also, in partnership with over 100 dental colleges and approximately 3000 dental clinics in 85 cities, Sensodyne has planned free dentist consultations for around 1 Lakh + consumers across India. In partnership with Practo, team Sensodyne is targeting to provided free dental consultations to almost 30,000 people.
ALSO READ: Wonderla Holidays announces 'Hall Ticket Offer' for 10th, 11th, and 12th students
Commenting on the success of the campaign, Ms Anurita Chopra, Head of Marketing– Oral Care, India Sub-continent Haleon (erstwhile GlaxoSmithKline Consumer Healthcare) said, "Sensodyne has been a trusted brand in India for more than a decade now, known for its approach of driving condition education among consumers. This World Oral Health Day, our mission was to educate people about the need for a better oral health, thus improving their quality of life. While we have become sensitive to our overall health, we still ignore oral health and hygiene which is a critical part of our overall health. Through this campaign, we were able to encourage people to take charge of their oral health & hygiene.

Bhawna Sikka, Category Head – Oral Healthcare–Haleon (erstwhile GlaxoSmithKline Consumer Healthcare) also expressed her excitement on the success of the campaign and said, "We believe that everyone deserves to have access to good oral care, and hence with 'BeSensitiveToOralHealth' campaign, we succeeded in empowering Indians with the right knowledge and solutions to take better care of their oral health and providing them access to dental consultation. These initiatives are a reflection of our commitment to improving oral health outcomes and creating awareness about the importance of maintaining good oral hygiene."
About Haleon India (erstwhile GlaxoSmithKline Consumer Healthcare)
Haleon in India is a leading fast-moving consumer healthcare company with over 500 employees. Haleon in its portfolio has leading brands such as Sensodyne, Eno, Crocin, Otrivin, Ostocalcium and Centrum.
This year Educate yourself and develop your career with EasyShiksha