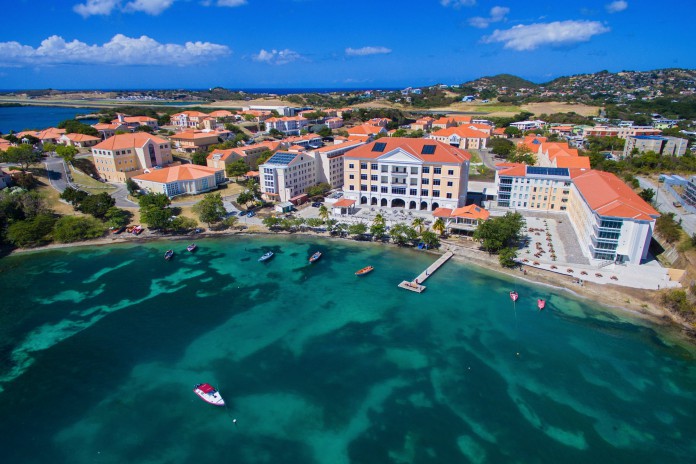 For more than 40 years, St. George's University has provided highly qualified physicians to the United States, and never before has its impact been more evident. According to a recent report published in the Journal of Medical Regulation, SGU educated the second-most licensed physicians in the United States in 2018.
The research, titled "Federation of State Medical Boards (FSMB) Census of Licensed Physicians in the United States, 2018," showed that 10,791 US-based doctors had graduated from St. George's University, the most among international medical schools, including those in the Caribbean. SGU stood behind only Indiana University School of Medicine with 11,828 graduates worldwide.
"St. George's University physicians are making a positive influence on US healthcare every day and in every corner of the country," said Dr. G. Richard Olds, president of SGU. "We are proud of the quality of care they provide and look forward to continuing our mission of training doctors of the highest caliber."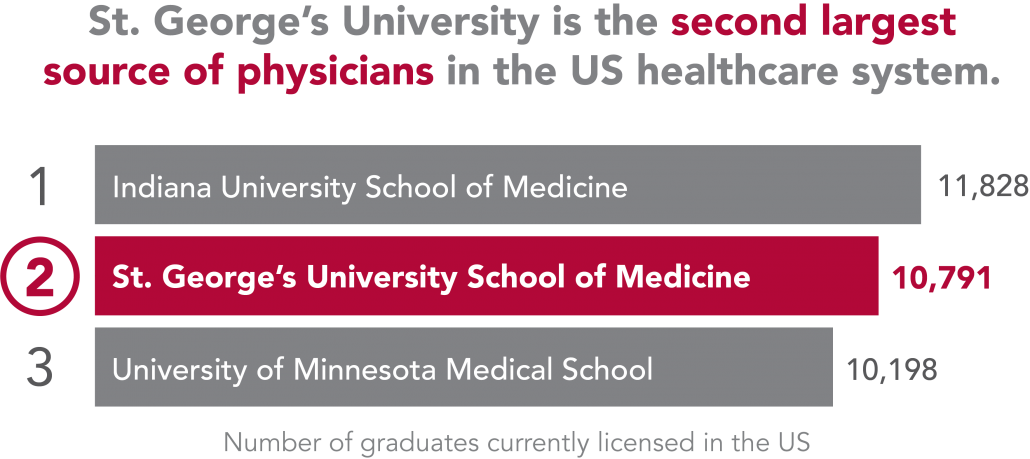 In 2019 alone, SGU graduates secured more than 960 US residencies in 43 states and in specialties ranging from anesthesiology and emergency medicine to pediatrics and surgery. It marks the fifth consecutive year that SGU was the number one provider of new doctors to the US healthcare system.
The FSMB report also revealed that the percentage of practicing doctors who graduated from a Caribbean medical school had grown by 78 percent since 2010. Since opening its doors in 1977, SGU has trained more than 16,000 School of Medicine graduates who have gone on to practice in all 50 United States and more than 50 countries around the world.



Top Software Engineering Courses



"This is welcome news for students in India seeking an MD degree.  The number of registrations for the NEET exam spiked this year to 15.19 lakh—up from 13.26 lakh in 2018, while seats in medical colleges in India remain steady at 60,000.  With Indian students seeking out St Georges University in Grenada for its reputation as a world-class medical school, this news highlights the opportunity our students have to secure postgraduate training in the US," said  Salil Gupta, South Asia recruitment manager of SGU
"St. George's University is committed to preparing our students with the foundation of knowledge and clinical skills to prosper in their medical careers," said Dr. Richard Liebowitz, vice chancellor of SGU. "Our graduates have not only demonstrated their excellence in a hospital setting but also the profound effect that, collectively, they have on medical care in the US and globally."
About St. George's University
St. George's University is a centre of international education, drawing students and faculty from 140 countries to the island of Grenada, West Indies. St. George's is affiliated with educational institutions worldwide, including the United States, the United Kingdom, Canada, Australia, and Ireland. The University has contributed over 18,000 physicians, veterinarians, scientists, and public health and business professionals who are practicing across the world.
Top Networking Online Courses
More Courses With Certification
Empower your team. Lead the industry
Get a subscription to a library of online courses and digital learning tools for your organization with EasyShiksha
Request Now
ALSO READ: Limerick-institute-of-technology-to-offer-aircraft-maintenance
Get Course: R-Programming-For-Absolute-Beginners