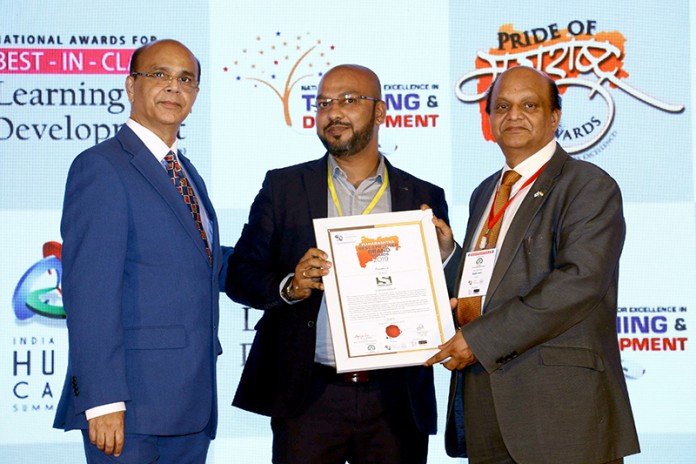 Mumbai, 8th July 2019: The Shahani Group, one of India's leading groups of premier educational institutes in business management, has been awarded the coveted Maharashtra Best Employer Award. The illustrious award was presented at the 14th edition of the Employer Branding Awards by World HRD Congress, hosted on 5th July at Taj Land's End, Mumbai. The award recognizes organizations that utilized effective marketing solutions to enhance employee retention and development, as well as attract fresh talent.
Recognized by the World Federation of HR Professionals, the award aims to commemorate leading business leaders who are trailblazers in terms of the HR policies that they have established in their organizations. Laying emphasis on the importance of aligning HR strategies with the company vision and mission, the event celebrates holistic and forward-thinking organizations. The award is also endowed by the global platform of Human Resource needs, CHRO Asia.
The winners were recognized after elaborate research and surveys of a number of popular organizations, undersigned and headed by Dr. Indira Parikh, Ex-Dean of the renowned Indian Institute of Management, Ahmedabad. The Shahani Group has been honored with the title due to its ability to integrate HR strategies with business goals, as well as cultivate competencies for the future, in order to help make the organization future-ready.
Talking about this achievement, Akhil Shahani, Managing Director, Thadomal Shahani Group, said
"As one of India's leading group of educational institutions, we understand the importance of HR policies, not only from the organizational point of view but also from the employees' perspectives, through our students. Therefore, we have always laid great importance in employee satisfaction and well-being. It is truly heartening for us to be recognized for our efforts through such a prestigious award backed by a widely respected and revered organization. As a result, this only serves to further motivate us to continue on our path, and be worthy of winning this honor, the coming year, as well."
About Shahani Group
Drawing upon its legacy of over a hundred years in the Indian education sector, the Shahani Group devotes itself to enhancing the careers of lakhs of students via its academic initiatives aimed at providing them with employment in diverse industry sectors. Helmed by Maya Shahani and Akhil Shahani, the Shahani Group is now in its fourth generation and encompasses a new generation of institutions in areas of management, media, banking, real estate, digital marketing, and more. Along with praiseworthy initiatives such as to ask.CAREERS, Thadomal Shahani Centre for Management, Thadomal Shahani Centre for Media & Communication and Ask Talent Services, the Shahani clan has been instrumental in forming over 24 iconic colleges in Mumbai, such as Thadomal Shahani Engineering College, HR College, KC College, and National College, among others.
As a result, it has been widely recognized for its work in the sector, receiving a bevy of awards, including the CFBP Jamnalal Bajaj Award for Ethical Business Practices, the Clinton Global Initiative Award, and the CII Education Excellence Award. Operational in four cities, the Group also has an educational technology division and job placement division under its banner and runs several CSR initiatives aimed at providing education and healthcare for the under-privileged.