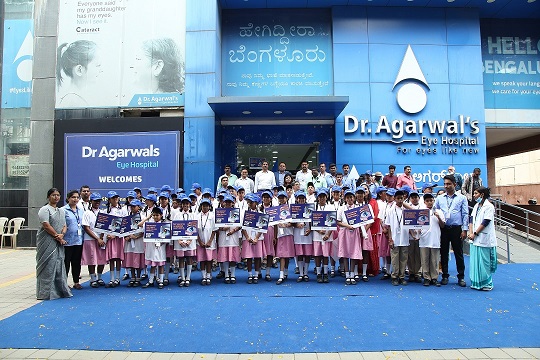 Bengaluru, September 4,2023: Distinguished experts in the field of ophthalmology have raised a red flag on a pressing concern that has the potential to impede corneal transplantations in India. A shortage of available donor eyes, crucial for successful transplant procedures, has emerged as a challenge casting a shadow over the landscape of ocular healthcare. The experts expressed their concern at an impactful awareness walkathon in Bengaluru, organised by Dr. Agarwals Eye Hospital, a leading chain of eye hospital in India. The event was a part of the ongoing National Eye Donation Fortnight campaign, aimed at encouraging people to pledge their eyes and make a profound impact on the lives of those suffering from vision impairment.
More than 100 enthusiastic students from IPS School[Indira Priyadarshini School] and members of the public gathered at the Bannergatta Branch of Dr. Agarwal's Eye Hospital for the Walkathon. Carrying placards with messages promoting eye donation, the participants walked together, symbolizing their commitment to this noble cause. The Walkathon was flagged off by Shri Dinesh Gundu Rao, Karnataka Health Minister and the event was marked by an inspiring display of unity and a shared sense of responsibility towards creating a world with improved visual health.
Commenting on the importance of this initiatives, Shri Dinesh Gundu Rao, Karnataka Health Minister, said, "Organising these kinds of events are vital to raise awareness about the significance of eye donation and this communicate the urgency of the cause and inspire more people to participate in the mission of restoring sight through eye donation.  Dr. Agarwal's Eye Hospital has taken a commendable step in sensitizing the community towards this noble cause. By pledging our eyes, we can contribute to restoring vision for those in need and ensure a brighter future for them."

Dr. Agarwal's Eye Hospital has been actively engaged in zone-wise activities to amplify the awareness about eye donation. Rallies like cyclathon, walkathon, human chain formations, and informative talks have been organized in various other parts of Bengaluru, Mysore, Belgaum, Davangere & Hubli-Dharwad, with the participation of prominent individuals, to underscore the importance of this cause.
Dr Ravi Dorairaj, Regional Head Clinical Services, Dr Agarwals Eye Hospital Bengaluru emphasized that the need for eye donations in India is highlighted by the prevalence of common causes of blindness and visual impairment, including cataracts, refractive errors, retinal diseases, corneal disorders, and glaucoma. For individuals with corneal blindness, the possibility of regaining functional vision through corneal transplantation surgery is a promising solution. However, a significant shortage of donated eyes has hindered the number of corneal transplants performed each year.
Dr. Agarwal's Eye Hospital aims to bridge this gap by actively promoting eye donation, but the effort requires collective engagement. The lack of awareness, limited involvement by essential stakeholders like social workers and paramedical staff, and regulatory considerations have contributed to the challenges faced in increasing eye donations. Religious beliefs and misconceptions further influence donation rates.
The hospital emphasizes the role of education in sensitizing the masses about eye donation and the proper procedure. Integration of eye donation awareness into the educational curriculum, collaboration with healthcare workers, paramedical staff, social workers, and various societal segments is essential to drive a positive change in this regard.
ALSO READ: Independence Starts Early: Kangaroo Kids unveils 2-week trial pilot programme for children to experience transformative education
In Dr Agarwals Eye Bank, during the period of 2022-2023, a total of 5,521 eyes were donated from Karnataka, out of which 1,821 corneas were successfully used for transplants. However, only half of the collected corneas are deemed suitable for transplantation due to various factors. By raising awareness and dispelling myths, Dr. Agarwal's Eye Hospital aims to increase both the number of donations and the successful utilization of donated corneas says Dr Ravi Dorairaj, Regional Head Clinical Services , Dr Agarwals Eye Hospital.
Technological advancements, such as PDEK & CAIRS, have introduced new dimensions to cornea transplantation, ensuring better outcomes for patients. Dr. Agarwal's Eye Hospital is at the forefront of these innovations, contributing to enhanced results in suitable candidates says Dr Ravi
Through the act of eye donation, individuals have the power to grant the "gift of sight" to those deprived of it. Dr. Agarwal's Eye Hospital urges everyone to consider pledging their eyes and contributing to the spread of awareness about this vital cause.

About Dr. Agarwals Eye Hospitals:
Dr. Agarwals Eye Hospital a comprehensive eye hospital offering a one-stop solution for eye ailments; was started in the year 1957. Now the hospital is in its 65th year of offering quality services in eye care. It has 150+ hospitals across India. With a visible footprint in the states of Karnataka, Andhra Pradesh, Telangana, Kerala, Odisha, Maharashtra, Gujarat, Andaman, West Bengal, Rajasthan, Punjab, Jammu and Madhya Pradesh. A tertiary eye care centre at Mauritius marks its first step towards establishing an international presence extended up to 15 branches covering the Indian Ocean region, African countries and East Asia. 
This year educate yourself and develop your career with EasyShiksha