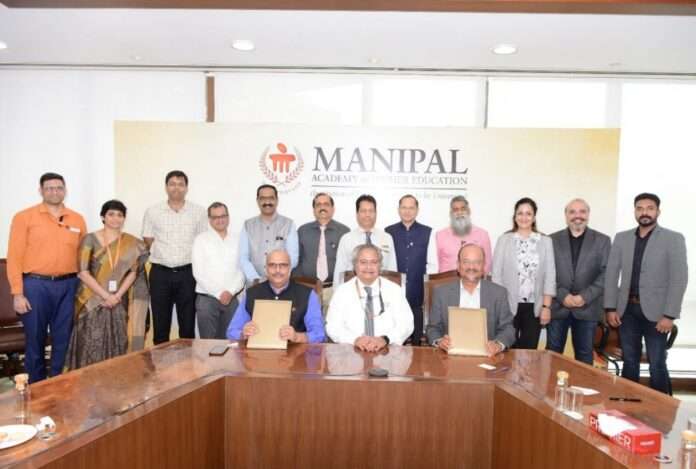 Strengthening cooperation to advance healthcare research and education for India
Bengaluru, August 1, 2023 – Manipal Academy of Higher Education (MAHE), Manipal and Siemens Healthineers have signed a Master Research collaboration (MRA) for continued strengthening of future cooperation between both organisations in achieving shared outcomes for the stakeholders.
Dileep Mangsuli, Head of R&D for Siemens-Healthineers for India and Slovakia said "It is a proud moment for us to lay the foundation of a collaboration with MAHE. Both our organisations share similar values, and we are excited about the huge potential that this MRA holds for advancing healthcare research and education for India and the world."
Dr Sharath Rao, Pro Vice Chancellor – Health Sciences, MAHE added, "Siemens Healthineers is known for pioneering breakthroughs in healthcare for everyone, everywhere, and so we are looking forward to collaborating with them. MAHE is focusing on academia-industry engagement and this partnership may lead to new research outcomes, new products and improve the quality of life."
ALSO READ: Smaaash Fun Gateway Arena Private Limited collaborates with KhushiyaanFoundation to bring joyful experience to underprivileged children.
Dr Giridhar P Kini, Registrar, MAHE said "This MRA is an important step towards increasing collaboration between the two organizations and advancing the research, educational and healthcare goals that both organizations share."
MAHE's vision is to provide the highest quality healthcare services to the community, and this agreement with Siemens Healthineers will bring us much closer to achieving this goal.
About Siemens Healthineers:
Siemens Healthineers AG (listed in Frankfurt, Germany: SHL) pioneers breakthroughs in healthcare. For everyone. Everywhere. As a leading medical technology company headquartered in Erlangen, Germany, Siemens Healthineers and its regional companies are continuously developing their product and service portfolio, with AI-supported applications and digital offerings that play an increasingly important role in the next generation of medical technology. These new applications will enhance the company's foundation in in-vitro diagnostics, image-guided therapy, in-vivo diagnostics, and innovative cancer care. Siemens Healthineers also provides a range of services and solutions to enhance healthcare providers' ability to provide high-quality, efficient care. In fiscal 2022, which ended on September 30, 2022, Siemens Healthineers, which has approximately 69,500 employees worldwide, generated revenue of around €21.7 billion and adjusted EBIT of almost €3.7 billion.
This year educate yourself and develop your career with EasyShiksha