Swiggy has been providing insurance to delivery partners since 2015
Swiggy delivery partners receive comprehensive insurance coverage, including accidental medical coverage, maternity leave, and income support during accident recovery.
Swiggy prioritizes the safety and well-being of its delivery partners with an in-app SOS button, emergency services, and access to free and fast on-demand ambulance service
National, 03 May: Swiggy, India's leading on-demand convenience platform has remained committed to the safety and well-being of its delivery partners who play a vital role in delivering its services. The platform facilitated the pay out of a total of Rs. 31 crores in claim amounts to its delivery partners in the fiscal year (2022-2023).
ALSO READ: The Class of One puts up a special assembly for students on International Dance Day
Swiggy has been providing insurance to its delivery partners since 2015. It now has partnered with Reliance General Insurance to cover health insurance, personal accident and accidental death, and mobile phone damages.
Mihir Shah, Head of Operations at Swiggy said, "Delivery partners are the backbone of our service. There is a common misconception that since they are not employees, they do not have access to healthcare support from Swiggy. For several years now, we have provided carefully considered insurance and other benefits to our delivery partners and their families. Swiggy remains committed to providing industry-best safety and well-being practices to our delivery partners."
In addition to the insurance, Swiggy provides a comprehensive package of benefits for its delivery partners, including insurance coverage for health, COVID-19, personal accidents, and mobile phones. They can avail of mobile insurance cover of Rs 5000.

Along with hospitalization and OPD cover, Swiggy delivery partners receive Rs. 10,00,000 in case of fatalities, with 96% of the claims getting settled within seven days.
Delivery partners and their dependents have access to free and on-demand ambulance service and cashless claims at over 8000 network hospitals across India. Swiggy introduced an industry-first 'no questions asked' two days of paid period time off every month for its women delivery partners in 2021.
All women delivery partners and spouses of male delivery partners are eligible for maternity cover. To secure the delivery universe for women partners the company also launched a 'Prevention of Sexual Harassment policy in 2022 to assist with related grievances.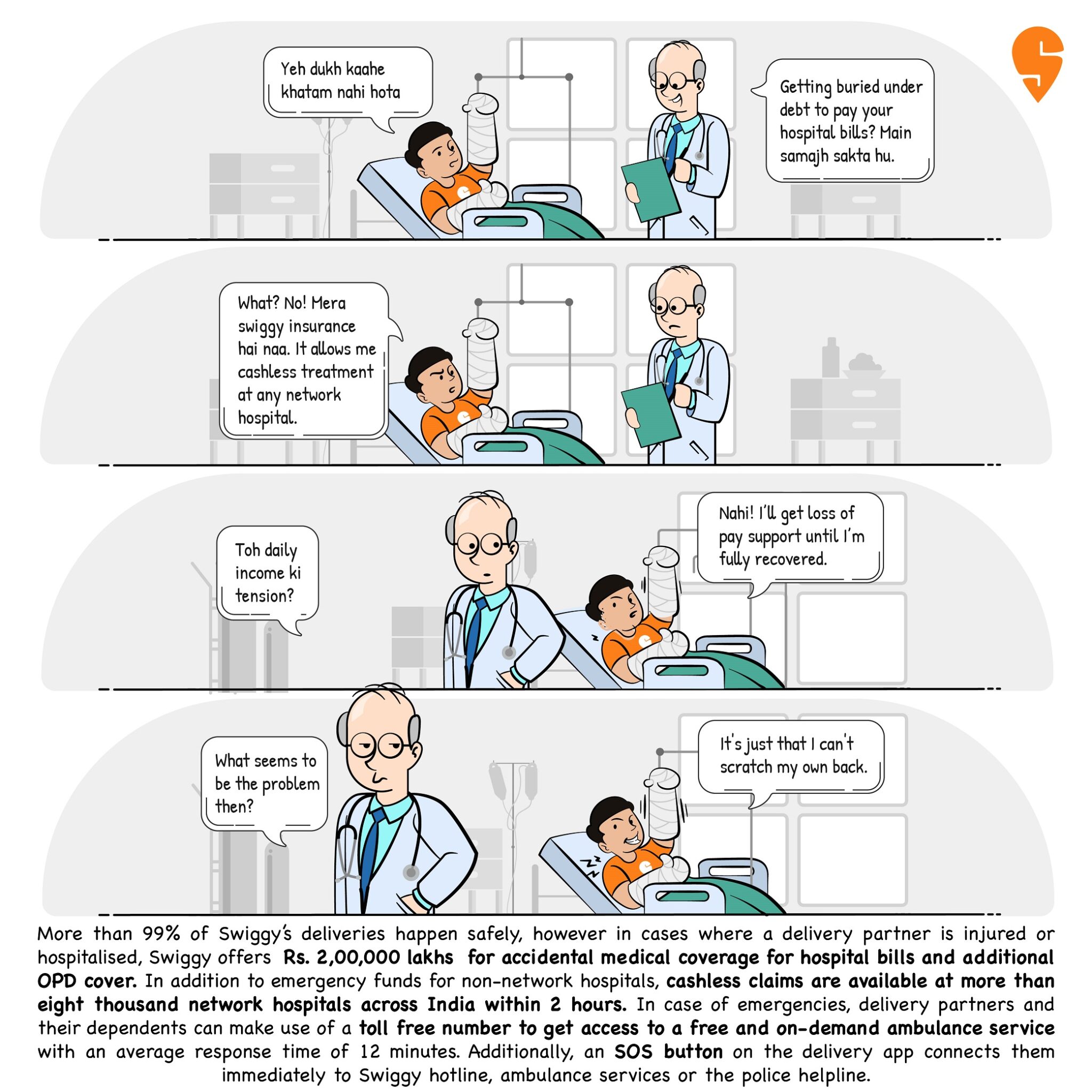 The on-demand convenience delivery platform has around three lakh delivery partners across 500 plus cities in India.
About Swiggy:
Founded in 2014, Swiggy is India's leading on-demand convenience platform with a vision to elevate the quality of life for the urban consumer by offering unparalleled convenience. It connects consumers to over 200,000 restaurant partners in hundreds of cities. Its quick commerce grocery service Instamart is present in over 25 cities. Swiggy's latest addition, Dineout, offers users experiences in high-use categories like dining out and events in 20 cities across the country. Using innovative technology, Swiggy provides a hassle-free, fast, and reliable delivery experience. Every order delivered by Swiggy's delivery partners, ensures a host of customer-centric features like lightning-fast delivery, no minimum order value, live order tracking, and 24/7 customer support.
This year educate yourself and develop your career with EasyShiksha