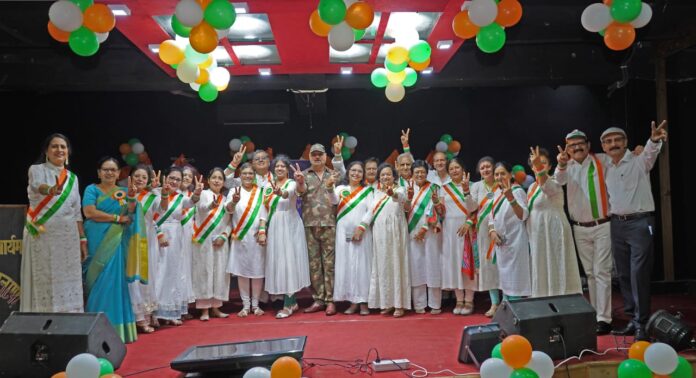 Gurugram, August 18, 2022: Taal Academy (a Society in the process of registration under the Societies Registration Act, 1860) organized a wonderful live show on August 12, 2022, at Arya Samaj Auditorium, Gurugram. The show was put together on the theme- 'Maa Tujhe Salaam', for the celebration of the country's 76th Independence Day. The show was enjoyed by a crowd of more than 200 people and the auditorium was fully packed.
The Academy, during the Independence Day show, saw close to 40 participants. More than 35 senior citizens performed wonderful dances and sang patriotic songs. Further, a bhajan was sung by four divyangs – Mrs. Rama Mishra, Mr. Dinesh, Mr. Mohit and Mr. Ajeet – under the guidance of Mr. Sanjay Mishra and the banner of Netraheen Sewa Sansthan. 
ALSO READ : Aster CMI Hospital Launches Aster Birthing Centre
The admirable anchoring was done by Ms. Pushpa Soni – a former Senior Principal of Kendriya Vidyalaya. The participants were encouraged by two eminent Chief Guests – Col. R. C. Chadhaji, President of Global Cultural Foundation, and Ms. Lilly Singhji – Founder of Ramneek Arts and SARGAM. Lastly, the organizing team & all the participants were blessed and encouraged by the Guest of Honour Mrs. Nandita Bakshiji – IRS (1980 Batch & First rank-holder) and Chief Executive Officer of the reputed NGO- Bisnouli Sarvodaya Gramodyog Sewa Sansthan (BSGSS).
About Taal Academy
The Taal Academy is a group of music enthusiasts based in Gurgaon & NCR. It is governed by six members comprising Ms. Ambika Nayak – Founder, Mr. Sanjeev Malhotra – Co-Founder, Ms. Meenu Malhotra – Co-Founder, Mr. Vinod Parwanda- Financial Advisor, Ms. Indu Kochhar – Admin Head, Nisha Gulati – Prog Coordinator. The main objective of Taal Academy is to encourage singing & dancing talent mostly among senior citizens to make them happy and mentally healthy by keeping them busy with creative activities.
Visit EasyShiksha for skill development courses.