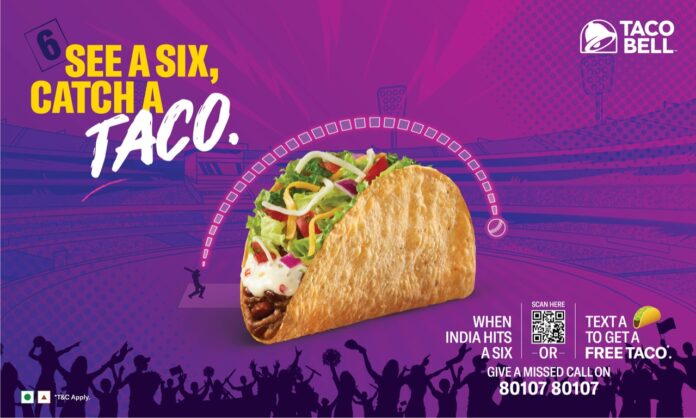 National, October 20, 2022: As the cricket frenzy kicks in this month, Taco Bell, the world's leading Mexican-inspired restaurant brand, has unveiled its nationwide campaign, See A Six, Catch A Taco for all cricket lovers and Taco fans in India. As part of this campaign, every time Indian cricket team hits a six, consumers get an exciting chance to redeem a free taco from Taco Bell. For this campaign, the brand will release a series of engaging digital films.
Shining a spotlight on the campaign, Gaurav Burman, Director, Burman Hospitality Private Limited, Taco Bell's exclusive franchise partner in India, said, "As we all cheer for the Indian cricket team to hit the most sixes and win, we are excited to bring back the 'See A Six, Catch A Taco' campaign for all Cricket lovers and Taco fans. Accompanying this offer, Taco Bell has also unveiled an engaging and fun campaign that will include the brand's latest digital film. Through this campaign, we hope to build a deeper bond with the consumers."
This unique campaign will kick off on October 23, 2022, when India plays their first match. One can avail this offer through a WhatsApp QR Code/ URL created for this campaign OR by giving a missed call on 8010780107. The offer will be applicable to all India matches. Consumers can avail the free taco offer in any Taco Bell restaurant across the country or order online through the Taco Bell app to receive their free veg or non-veg Crunchy Taco, with a minimum of one item purchase. For campaign and offer details, taco fans can follow Taco Bell India on their social media channels The offer will be subject to the terms & conditions of the brand.
About Taco Bell Corp.
Taco Bell Corp., a subsidiary of Yum! Brands, Inc., is a world-famous Mexican-inspired restaurant chain serving tacos, burritos and other specialties with bold flavors, quality ingredients, breakthrough value, and best-in-class customer service to over 42 million customers weekly across the globe. Taco Bell operates over 7000 restaurants in more than 30 markets including the United States, with the expansion continuing in international markets. 
   ALSO READ : Sri Chaitanya Bags Top All India Ranks in the NEET 2022 Examination
About Burman Hospitality Private Limited: 
Burman Hospitality Private Limited is incorporated by members of the Burman Family, the promoters of Dabur India Ltd. Burman Hospitality has brought together a team of industry specialists and is looking to rapidly grow its operations over the next few years. The Company was founded on the same principles that Burman Family believes in for all their businesses, which is to give the Indian consumer, the best, most innovative and value orientated products possible. 
Leveraging decades of experience in running successful businesses, Burman Hospitality has embarked on a journey to change the restaurant industry in India by introducing innovation and new service experience. Burman Hospitality entered into a strategic partnership with Taco Bell with a vision to establish the world's largest Mexican Inspired food chain in India. In 2019, Burman Hospitality became the master franchisee for Taco Bell India. Burman Hospitality aims to have a pan India presence with more than 600 outlets by 2029.   
Visit EasyShiksha for skill development courses.