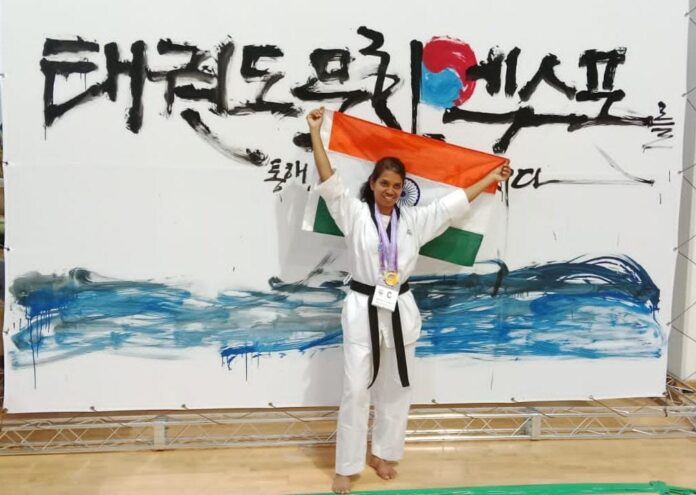 Wins gold medals in Both Kyorugi and Poomsae Categories
Bengaluru, 25th September, 2023: Thigala Swetha Reddy, a dedicated Taekwondo instructor at Orchids The International School's BTM Branch, has demonstrated exceptional prowess in the sport by winning two gold medals at the 16th World Taekwondo Culture Expo held in Muju, South Korea. With 2000 participants representing 20 nations this international competition proved to be a flair of talents.
Swetha Reddy's exceptional performance in the under-39 category earned her two individual gold medals in Kyorugi (fighting) and Poomsae categories. Hailing from small village Narapala, Anantapuram (district) in Andhra Pradesh, Swetha started teaching Taekwondo in 2007. Adding to her career she holds a 3rd DAN black belt from Kukkiwon (World Taekwondo HeadQuarter), 1st DAN Black belt holder in Hapkido, and a bronze medal in the MK Classic Open International Taekwondo Championship held in 2019. She has also won the best Instructor of the year award from World Sports Star.
Talking about her achievement, Thigala Swetha Reddy, Taekwondo Instructor, Orchids The International School, BTM Layout branch said " It was an exhilarating experience to represent India in the International forum. I am grateful to my coach VIFA Ravi sir for his guidance and support. I am thankful for the Principal and management of Orchids The International School for their encouragement to achieve this feat."
ALSO READ: RITES & iHUB DivyaSampark IIT-Roorkee sign MoU to explore business avenues
Jasmine K J, Principal of Orchids The International School, BTM Layout branch said "We are proud of Swetha's achievements and she is an inspiration to the students. We at Orchids, always strive to foster the talents of our students and teachers by providing them opportunities to showcase their talent"
The school believes that sports play an integral role in imparting life skills education and the overall development of students. Orchids The International School has implemented sports curriculum across all its branches, which fosters the athletic spirit of students and teachers.
About Orchids The International School
Orchids The International School is one of the leading international K12 school chains in India that started its journey in 2002 with its first branch in Hyderabad. Modern physical infrastructure, personalized attention, and a carefully curated curriculum provide uniformity in all OIS schools. The school follows the CBSE and ICSE curriculum infused with international teaching methodologies to provide a strong emphasis on personality development along with academic excellence.
This year educate yourself and develop your career with EasyShiksha