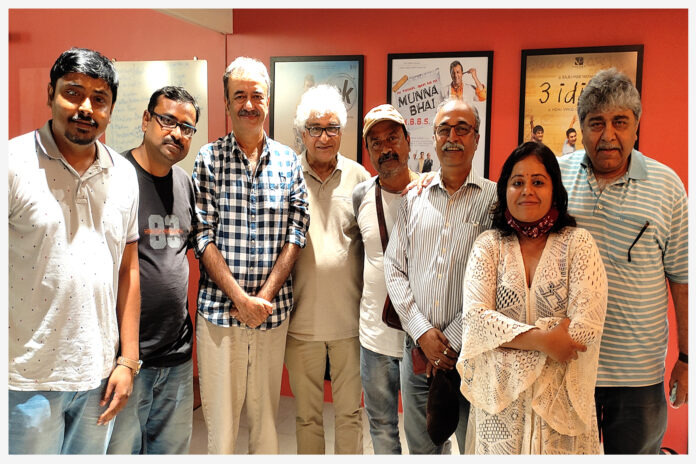 Bengaluru, August 25, 2023: Dr. Debjani Halder, Head of Filmmaking programme at the School of Film, Media and Creative Arts at RV University won the  Best Science and Technology Film Award for the documentary "Ethos of Darkness" at the 69th Indian National Film Awards. The recognition comes as a testament to the exceptional storytelling and creative prowess of Dr. Halder, who has ingeniously explored the realms of science and technology through her cinematic masterpiece.
The documentary showcases the growth of cinema while remaining blind to those who made it grow. Amid society's praise for scenes and talents, the unsung heroes who enable visual projection, remain overlooked. This film strives to resurrect these neglected artisans from obscurity, sharing their untold saga.
Dr. Debjani Halder, Head of the Filmmaking Programme at RV University and the Co-Director of the film, expressed her gratitude for the recognition, stating, "We are truly honored and grateful for this well-deserved recognition at the 69th Indian National Film Awards. 'Ethos of Darkness' was a labor of love, and it is immensely rewarding to see our documentary shed light on an often overlooked aspect of cinema. If people behind the screen are lesser known, what can one say about those far removed from the screen, like those working in the lab and those working on the post production effects in the lab? Nonetheless, their work affects our viewing experience since the quality of the print dictates our enjoyment of the film. We extend our heartfelt gratitude to the jury for embracing our endeavor and for recognizing the significance of delving into the depths of darkroom in moviemaking. I am grateful to all of my team members, including my fellow director Mr. Avijit Banerjee, who encouraged me to step out from traditional career paths and influenced me to live for cinema."
ALSO READ: Students at The Shri Ram Wonder Years School Embrace Nature Conservation with Enthusiasm
Vice Chancellor, RV University, Prof. (Dr.) Y.S.R. Murthy shared his heartfelt joy, "I am delighted to hear that our faculty member, Dr. Debjani Halder, was chosen for the prestigious 69th National Film Award. Dr. Halder's documentary 'Ethos of Darkness,' was not only screened at the Doc LEIPZIG Film Festival in Germany, 21st Dhaka International Film Festival, and the Palakkad Documentary Film Festival in Kerala during 2023 but won critical acclaim. We now have two national film award recipients with Dean, Dr. Piyush Roy having received it earlier on. With these exceptional faculty members leading the new School of Film, Media, and Creative Arts at RVU, students can look forward to being mentored by them. Their achievements will undoubtedly serve as beacons, inspiring our students to explore new horizons."
Speaking on the occasion, Dr. Piyush Roy, Dean, School of Film, Media and Creative Arts commented, "Hearty congratulations to Dr. Debjani Halder, who heads the Filmmaking Program at the School of Film, Media and Creative Arts for a well-deserved win, for an extremely essential film at the 69th Indian National Film Awards. Her co-directed documentary, the Ethos of Darkness, highlights a rarely discussed element of moviemaking, focussing on sound. I am sure, as a Professor-in-Practice, her win will inspire our students to explore uncharted territories and make insightful research-driven films, whether they choose the genre of non-fiction or fiction."

As "Ethos of Darkness" continues to captivate audiences and spark conversations, this accolade adds another feather to Dr. Halder's illustrious cap. The film's success not only reflects her artistic brilliance but also paves the way for future endeavors that bridge the gap between entertainment and education.
RV University recently announced the launch of their school of Film Studies, Media and Creative Arts, a new-age, multi-disciplinary liberal education oriented preparatory school for emerging careers in film, media, OTT and the creative industries. The School will commence its undergraduate programmes from August 2024. Currently, it is inviting applications for its postgraduate programme, M.A. in Film, Philosophy and Cultural Studies.
About RV University, Bangalore
Backed by the 83-year-rich legacy of RV Educational Institutions, RV University, which commenced operations in 2021, is a new-age, tech-driven, global university that imparts high-quality, liberal education with an interdisciplinary curriculum. The university offers 60+ undergraduate, postgraduate, and Ph.D. programmes in seven academic disciplines Liberal Arts and Science, Design, and Innovation, Film Studies, Business, Economics, Computer Science, Engineering, and Law. It has partnerships and collaborations with over 120 reputed foreign universities, institutions, and companies.
This year educate yourself and develop your career with EasyShiksha