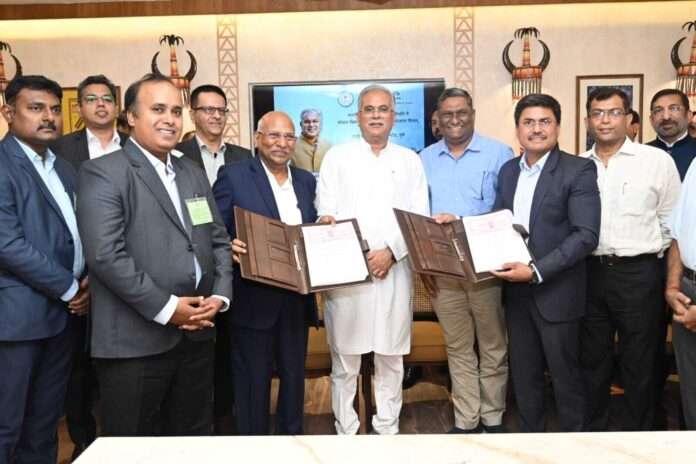 Tata Technologies has signed a Memorandum of Agreement (MoA) with the Government of Chhattisgarh to transform 36 government ITIs into modern technology centres leveraging its global partner network and manufacturing domain knowledge.
National, Date: 22nd July 2023: Tata Technologies, a global engineering and product development digital services company, announced that it has signed a 10-year Memorandum of Agreement (MoA) with the government of Chhattisgarh to modernize 36 government-owned ITIs in the state with a total project cost of INR 1188.36 Crores. This collaboration is an extension of Tata Technologies efforts to support projects of high social impact and complement the nation-building efforts of the Government. The upgraded ITIs will serve as skill incubation centres, strengthening the technical proficiency of students and potential employers. We believe that by training a workforce that is not only highly skilled on Industry 4.0 tools & technologies but also primed for faster industry deployment, these centres will stimulate the economic progression and holistic development of the state.
The Chhattisgarh government has launched various skill development initiatives to empower its diverse workforce and enable the state manufacturing and Micro, Small and Medium Enterprises (MSME) industry. This includes schemes like Kaushal Vikas Yojana for training youth on healthcare, agriculture, manufacturing, and services as well as Skill-on-Wheels for remote area training. The state government's initiatives of Suraji Gaon Yojana, aiming to establish Gauthans, are becoming centers of employment in the agriculture and animal husbandry sectors. We believe that this collaboration between Tata Technologies and Chhattisgarh government will strengthen the government's effort towards upskilling youth on some of the latest technologies as well as attract investments from businesses desirous of adoption Industry 4.0 manufacturing practices. 
ALSO READ: Hindustan Coca-Cola Beverages (HCCB) renews the MoU with the Govt. of Telangana for skilling 10,000 more college students
Tata Technologies is collaborating with 20 global industry partners to upgrade the ITIs which will offer six new trades and 23 new short-term courses that cater to Industry 4.0 demands. The upgraded ITIs will train over 10,000 students annually at full capacity. It will facilitate upskilling in sectors related to Industry 4.0, Product Design & Development, Product Verification and Virtual analysis, Design for Artisans and Handicrafts, Additive manufacturing (3D printing), Modern Automotive Maintenance Repair and Overhaul, Battery Electric Vehicle Training, IoT and Digital Instrumentation, Process Control and Automation with HMI, PLC SCADA, Advanced Manufacturing and Prototyping, Industrial Robotics with arc welding, AI-based Virtual Welding & Painting, Advanced Plumbing, Digital Meters, Agriculture and Horticulture, and much more.
The MOA signing ceremony was graced by the Hon'ble Chief Minister of Chhattisgarh, Shri Bhupesh Baghel along with other dignitaries from Chhattisgarh Government and Leadership team of Tata Technologies.
Sharing his thoughts on the collaboration, the Honourable Chief Minister of Chhattisgarh, Shri Bhupesh Baghel, said, "We are determined to nurture the potential of Chhattisgarh's youth, to accelerate the state's industrial growth and economic advancement. Our strategic collaboration with Tata Technologies will empower the youth, arming them with a comprehensive understanding of Industry 4.0 technologies and enhancing their employability while also bolstering the state's industrial landscape through the provision of adept, ready-to-serve human capital."
Important Announcement – EasyShiksha has now started Online Internship Program "Ab India Sikhega Ghar Se"
Commenting on the collaboration, Mr. Warren Harris, CEO & Managing Director, Tata Technologies, said, "We are delighted to extend our collaborative efforts in upskilling the youth by collaborating with the Government of Chhattisgarh. The significant step towards upskilling the young engineers with Industry 4.0 technology, aligns with our vision of engineering a better world, which includes a better future for the youth at Chhattisgarh."
Speaking at the occasion, Dr Alok Shukla, Principal Secretary, Technical Education, Chhattisgarh, said, "Our collaboration with Tata Technologies to upgrade ITIs focuses on aligning the education, knowledge, and skills of young individuals with demands of Industry at Chhattisgarh. Equipping them with the latest technologies will bridge the gap between demand and supply of skilled workforce thereby creating more job opportunities and encouraging the youth to build their careers in the state. This will also establish the state as a coveted investment destination for industries looking to embrace Industry 4.0 and smart technologies for their manufacturing processes."
Commenting on the collaboration, Mr. Pawan Bhageria – President, Global HR, IT Admin and Education, Tata Technologies, said, "We are excited to join hands with the Government of Chhattisgarh in this collaboration towards empowering the youth with skills for Industry 4.0. We are leveraging our product engineering expertise and manufacturing domain knowledge to deliver an industry-ready courseware and training platform that we believe will create a new era of digital skill development, offering a brighter future for the youth of Chhattisgarh."
About Tata Technologies: We're a global product engineering and digital services company focused on fulfilling our mission of helping the world drive, fly, build, and farm by enabling our customers to realize better products and deliver better experiences. We are the strategic engineering partner businesses turn to when they aspire to be better. Manufacturing companies rely on us to enable them to conceptualize, develop and realize better products that are safer, cleaner, and improve the quality of life for all the stakeholders, helping us achieve our vision of #EngineeringABetterWorld. 
This year educate yourself and develop your career with EasyShiksha
Disclaimer
"Tata Technologies Limited is proposing, subject to receipt of requisite approvals, market conditions and other considerations, to make an initial public offer of its equity shares and has filed a draft red herring prospectus ("DRHP") with the Securities and Exchange Board of India ("SEBI"). The DRHP is available on the website of the SEBI as well as on the websites of the book running lead managers JM Financial Limited, Citigroup Global Markets India Private Limited, BofA Securities India Limited, the website of the National Stock Exchange of India Limited and the website of the BSE Limited, respectively. Investors should note that investment in equity shares involves a high degree of risk. For details, potential investors should refer to the red herring prospectus ("RHP'") which may be filed with the Registrar of Companies, Maharashtra at Pune ("RoC"), in future, including the section titled "Risk Factors." Potential investors should not rely on the DRHP filed with SEBI in making any investment decision."