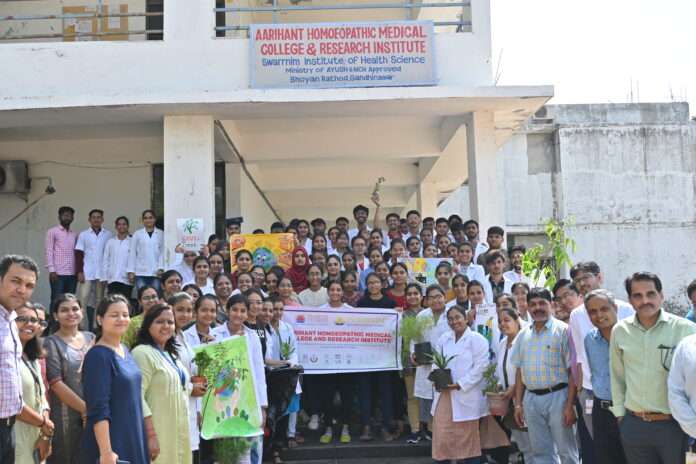 Ahmedabad, 7th June 2023: Swarrnim Startup & Innovation University celebrated the World Environment Day by organising a tree plantation program and an awareness rally at the University Campus. The program was carried out by the students under the guidance of the faculty members and the authorities of the institution.
ALSO READ: RR Kabel is back with the RR Kabel Star scholarship program
The initiative was organised in the backdrop of celebrating World Environment Day – highlighting the importance of working towards a greener future. The initiative saw participation from over 500 participants. Students from across the university were guided by the teachers to plant fresh saplings in the garden area of the campus. Furthermore, students also successfully participated in a #beatplasticpollution rally to create awareness about the harmfulness of using plastic and promote green practices.
"The tree plantation program and #beatplasticpollution rally initiatives were a pleasant success thanks to the proactive steps taken by the participants. This idea was conceived as a token of gratitude to mother nature as well as an alarming alert to people who are negligent when it comes to saving our environment. On this year's World Environment Day, we wished to go with a simple but impactful message: "Say no to plastic! Keep it clean, Keep it Green!", said Mr. Adi Jain, Vice President of Swarrnim Startup & Innovation University.
Since inception, Swarrnim Startup & Innovation University has been helping students uphold moral values and help students inculcate social responsiveness along the way. The initiative to celebrate World Environment Day is a testament to the university's dedication in providing a holistic learning environment that encourages creativity and critical thinking, along with social responsibility.
About Swarrnim Startup and Innovation University:
Swarrnim Startup and Innovation University is a knowledge hub where disciplines like Technology, Design, Science, Business and Management, Health Science, and Agriculture, among other streams, are taught with value enhancement through innovation, startup, and entrepreneurship.

Through education, research, and innovation, their vision is to drive up the spirit of entrepreneurship amongst students and help them tap into their creative minds to curate businessmen and businesswomen. Wanting to bring a 'change' in the education system, Swarrnim is the first-of-its-kind university in India committed to promoting startups and encouraging young minds to become leading entrepreneurs. By providing rigorous learning experiences, the institute contributes to the university's outstanding retention, graduation, and career placement rates. They aim to enable youngsters to think innovatively to help contribute to the betterment of the nation. The degree programs provided by Swarrnim are designed according to the modules based on core and elective units.
This year educate yourself and develop your career with EasyShiksha