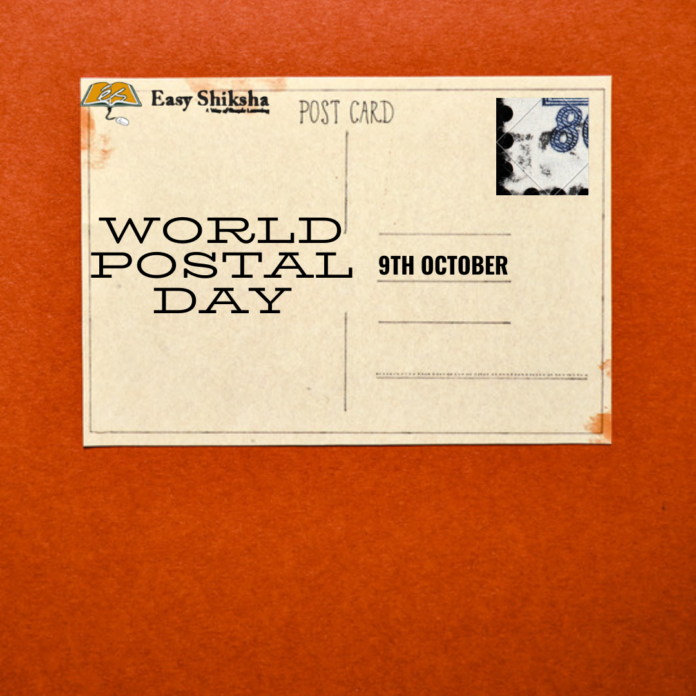 When is world postal day celebrated
World Post Day is held annually on October 9, commemorating the Universal Postal Union (UPU), which began in 1874 in Switzerland. UPU was the beginning of the revolution in world communication, introducing the ability to write letters to others around the world. World Post Day began in 1969. Since then, countries around the world have been participating in ceremonies to highlight the importance of the postal service. There are so many things happening on this day. Post offices in other countries host special stamp collections; there are open days at the post office and there are workshops on post history. UPU organizes international competitions for young people.

Important Announcement – EasyShiksha has now started Online Internship Program "Ab India Sikhega Ghar Se"

History
Postal systems have been in operation for many centuries. From time immemorial, people texted one another. These are delivered on foot or by horse by special envoys. From the 1600's the first national postal systems began to appear in many countries. These were very organized and could be used by most people. Gradually the countries agreed to exchange mail by international order. By the end of the 1800's, there was a global postal service, but it was slow and complex. The birth of the UPU in 1874 opened the way for modern postal service to exist. In 1948, the UPU became a United Nations organization.World Post Day is celebrated to commemorate the founding of the Universal Postal Union in 1874 in Bern, Switzerland. It was declared World Post Day by the UPU Congress held in Tokyo, Japan, in 1969. UPU focused on the transformation of global communication, with the goal of people writing for others around the world. This day highlights the importance of postal services.
Top Software Engineering Courses
More Courses With Certification
Top Programming Languages Courses
More Courses With Certification
How is world postal day celebrated?
The purpose of World Post Day is to raise awareness of the role of the postal sector in the daily lives of people and businesses and its contribution to the social and economic development of countries. The celebration encourages member states to undertake program activities aimed at raising public awareness of their role and role in the public and media at national level.
Each year, more than 150 countries celebrate World Post Day in various ways. In some countries, World Post Day is considered a working holiday. Many posts use the event to introduce or promote new mail products and services. Some Post Offices also use World Post Day to reward their employees with good work.
In many countries, philatelic exhibitions have been organized, with new stamps and date cancellations being issued. Other activities include the display of World Post Day posters and other public places, open days at post offices, post offices and museums, holding conferences, conferences and workshops, as well as cultural, sports and other recreational activities. Most postal management issues special reminders such as T-shirts and badges.
Theme of world postal day 2021
People from all over the world look at the theme of a world that can be used for a variety of purposes. No matter what purpose you want to use, you need a theme to make the day special. The theme for World Post Day 2021 was "Composing, Integration, and Involvement". The theme for World Post Day 2021 was "Imagine you are an adviser to the new UN Secretary-General; What is the world issue that you can help him or her handle first and how can you advise him or her to resolve it? "But the 2021 theme has not yet arrived.
YOU CAN ALSO READ: Engineer's Day or International Day Of Peace
If you want to learn advanced engineering technology then click here
You can check this course on EasyShiksha