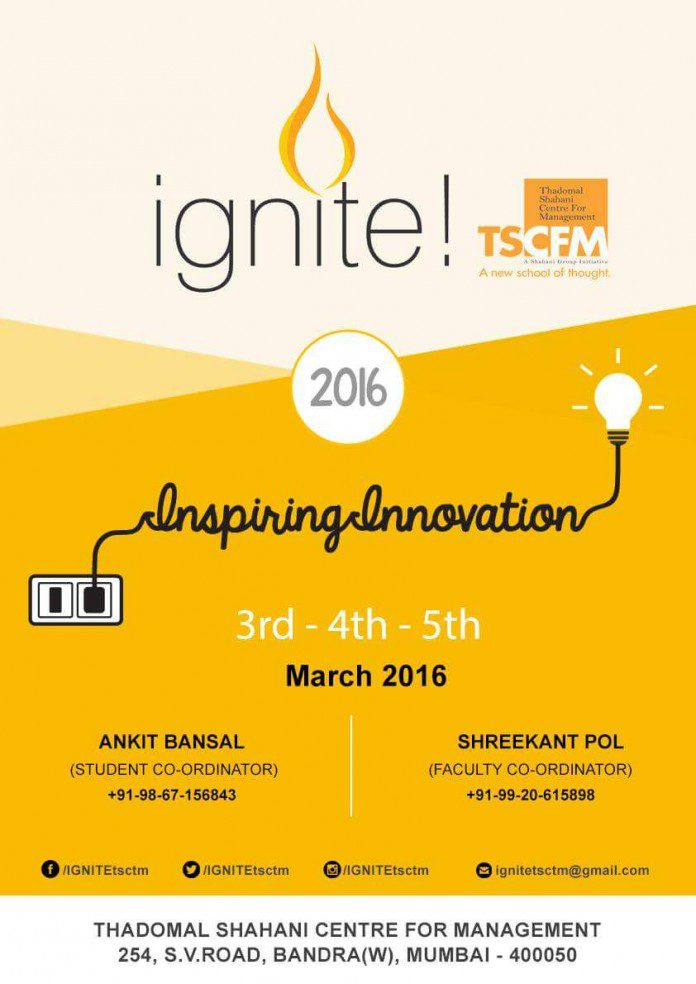 ThadomalShahani Centre For Management's (TSCFM) National B-School Fest"Ignite" leads by example in industry focused education. Management students across India to engage and interact with industry luminaries and fellow students at ThadomalShahani Centre for Management, Mumbai.
No points for guessing where the corporate giants would be heading in the first week of March! The 3 day management fest is all set to offer management students an unparalleled industry interface and exposure. Ignite 2016 to also crown Mr. Ignite & Ms. Ignite, students who excel at management competitions and bring forth game-changing ideas.
TSCFM annually lights this flame of IGNITE to reshape the future of management students through activities oriented towards corporate readiness, industry orientation and international innovations.
Previous year's performance shows an impressive success rate for this leading management fest. TSCFM also mentored the winner of Ms. IGNITE 2015 to support her dream of building a website to locate lost children. IGNITE is all about the spark of humanity, harmony, team effort, dreams and the passion of the upcoming generations to succeed.
The event schedule boasts of more than fifteen top industry leaders' interaction with the students on each day. The fest features an engaging line-up of sessions, panel discussions, competitions and experiential games across a wide spectrum of topics relevant to the modern-day dynamic business ecosystem.
The competitive sessions' line-up comprises:
– Product Launch – How well can you sell?
– Brand Equity – Shine on!
– EN vision – Ray of hope.
– Stock Exchange Updates – Highs and Lows.
– Smart Entrepreneur – Stairway to Heaven.
– Crisis Management – Survival of the fittest.
– Auction– Bid to Win.
– Mr. & Ms. Ignite 2016.
True to its promise of 'Inspiring Innovation', IGNITE has carved a special place for itself in the calendars of management students as well as the industry stalwarts. Every year, IGNITE creates a great opportunity for students as the event bridges the industry – institute skill development gap and rewards the most innovative business ideas of the deserving candidates.
"At TSCFM, we work towards making students of today, leaders and game changers of tomorrow. IGNITE as our flagship initiative, is a unique way to bring together India's youth on a national platform and offer them first-hand experience of working in teams to benefit not only the management fraternity but the entire country with their ideas and enthusiasm. We look forward to three days of immense sharing and learning." shared Mr. AkhilShahani, Director of Shahani Group and ThadomalShahani Centre for Management.
The spirit of fair competition, valuable industry insights and a chance to showcase their abilities awaits students at IGNITE 2016!
This year, the fest has grown in participation and industry exposure with 27 colleges and a total of 40 + leading CEOs and vice presidents of the corporate world converging at the much awaited management event. The industry luminaries will be sharing their experiences and also judging the credentials of the competing participants.
27 colleges from all over India including BITS Pilani Rajasthan, SIBM Pune, IHM Hyderabad, JBIMS, SP Jain, KJ Somaiya and SIMSREE among others participated in Ignite 2015.
Some corporate stalwarts making it to IGNITE 2016 as jury members include Andrew Steel, CEO, The Treedom Group, Vivek Gupta, RIL, Pradeep Bhargava, MD, Cummins, Vikas Gupta, CEO, Cello, SambitMohanty, Institutional Sales, Dow Jones, NinadKapre, MD & CEO, AptechLtd.,Hon Chief Judge Amit Das,CHRO, Times Group, Madhureeta Mukherjee,Editor, Bombay Times, ParthoDasgupta,CEO at BARC India, Ajit Joshi, CEO Reliance Industries, HimanshuGoyal,Country Manager IBM and RohanVyavaharkar (Ex Red Bull) Director,Argonium Consulting among others.
Event details:
– Date: 3rd – 5th March, 2016
– Venue: ThadomalShahani Centre For Management Campus, Mumbai