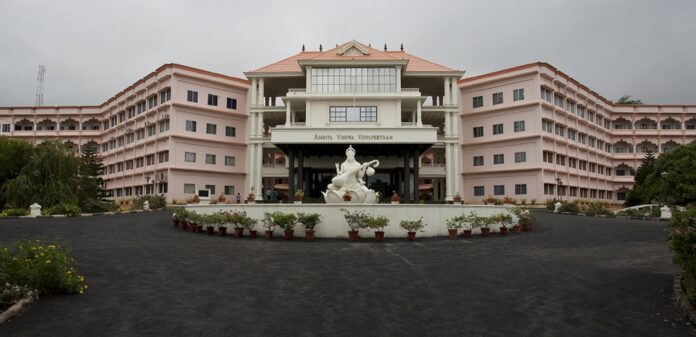 Key winning factor that contributed in favour of Amrita conducting a unique programme to promote women (www.shakticon.com) in cybersecurity through various initiatives
The Centre of Cybersecurity at Amrita incorporated "Get Help Now" (Self-Helpdesk) in addition to sections on thefts, attacks and protection that related to COVID-19 related cyber-crimes
New Delhi, 06 Jan 2022: Amrita Vishwa Vidyapeetham has been adjudged the winner of the DSCI Cyber Champions Excellence Award 2021 for Cyber Security Education by the Data Security Council of India (DSCI) a not-for-profit, industry body on data protection in India, set up by NASSCOM. Celebrating excellence in cybersecurity and privacy for a decade.
The Award committee cited a plethora of winning factors that contributed in favour of Amrita which include: academic graduate programmes specialized in Cybersecurity, conducted a unique programme to promote women (www.shakticon.com) in cybersecurity through various initiatives, multiple labs to cater to the learning of advanced technologies like AI, IoT, Big data, Ethical Hacking, Cyber-Physical Systems and Hardware security, significant investment in infrastructure and curriculum for hands-on learning and training.

In the acceptance speech Dr. Krishnashree Achuthan, Dean PG Programs said "We applaud DSCI, NASSCOM and MeiTY for creating such a grand platform focused on security and data privacy. We thank DSCI for inviting us to this award ceremony and appreciate the panel of juries for diligent selection work.  Cyber-attacks and security breaches put millions of people across the world at risk for having their sensitive information in the wrong hands. The research programs at Amrita strive to keep a healthy balance between theory and experiment. It's only fitting to see multidisciplinary partners in industry, academia, and government come together to advance the use of the newest computing and Cybersecurity tools and resources and accelerate innovation impacting many sectors. Amrita Vishwa Vidyapeetham has transformed cybersecurity education into a social cause. The core vision and mission of the University led by our Revered Chancellor, Sri Mata Amritanandamayi Devi revolve around value-based education, compassion-driven research, and societal impact. Our effort at the Centre for Cybersecurity Systems & Networks that been PAN-India has touched over 23 states with a diverse set of beneficiaries that span across students, professionals, law enforcement, government, and corporate organizations. Our research and coursework in cyber security, network security, and cryptography are targeted towards delivering the necessary technologies and also creating leaders in research, industry, and governance who would bring forward such transformation in India which is undergoing the digital revolution right now as we talk. We are not only keen to raising awareness about security issues but creating indigenous pathways to address India's needs. We are humbled and honored with this recognition and dedicate this award to all those striving to create awareness, mitigate vulnerabilities and promote the common good."
Education has been one of the key sectors which have been deeply impacted due to various physical restrictions in these unprecedented times of the COVID-19 pandemic. The university took comprehensive measures to ensure pedagogic practices that motivate students to engage in learning. One of the most significant efforts was made through a portal https://cyber.amrita.edu – where citizens, faculty, or students can ask for help on any cybersecurity issue they were facing. We incorporated "Get Help Now" (Self-Helpdesk) in addition to sections on thefts, attacks, and protection that related to COVID-19 related cyber-crimes.
Important Announcement – EasyShiksha has now started Online Internship Program "Ab India Sikhega Ghar Se"
About Amrita Vishwa Vidyapeetham
Amrita Vishwa Vidyapeetham is a multi-campus, multidisciplinary Institution of Eminence accredited by NAAC.
Amrita Vishwa Vidyapeetham is the top-ranked 5th best University as per NIRF amongst all universities in India and accredited with NAAC A++ grade. It has also been amongst the Top 100 Universities in the world as per THE IMPACT 2021 rankings. The University has pioneered Cybersecurity education for over 10 years offering full-fledged B.Tech, M.Tech, and Ph.D. programs specializing in Cybersecurity. In addition, the university has conducted significant outreach activities related to Cybersecurity education for professionals from Industry, Government, National, and International academia as well as K-12 schools. Cybersecurity is taught through a well-designed combination of courseware and its application on real-world scenarios for both hardware and software applications. The education emphasizes both breadth and depth in topics such as system, mobile, IoT, cyber-physical security in addition to emerging topics such as cryptocurrencies and blockchains.

Data Security Council of India (DSCI), is a not-for-profit, industry body on data protection in India, set up by NASSCOM, committed to making cyberspace safe, secure, and trusted by establishing best practices, standards, and initiatives in cybersecurity and privacy. To further its objectives, DSCI engages with governments and their agencies, regulators, industry sectors, industry associations, and think tanks for policy advocacy, thought leadership, capacity building, and outreach activities.  The purpose of the DSCI Excellence Award is to recognize, honor, and reward organizations and individuals who have taken strategic, proactive, and innovative security and privacy efforts to help the organization address real risks, build resilience, increase trustworthiness and create a conducive environment for doing business and thus enable the organization to harness data protection as a lever for business growth.
ALSO READ: M3M Foundation starts free 100-bedded Covid Care Center in Gurugram
Want to improve your skill visit: EasyShiksha