KOLLAM / 2nd December 2022: Anti-Microbial Resistance (AMR) has emerged as a significant public challenge in recent years where bacteria, viruses, fungi, and parasites no longer respond to medicines, making infections harder to treat and increasing the risk of disease spread, severe illness, and death. As a result of drug resistance, antibiotics and other antimicrobial medicines become ineffective, and infections become increasingly difficult or impossible to treat.
To combat this menace, a better understanding of resistance mechanisms is needed to facilitate novel approaches to diagnostics and therapeutics. It is evident that several complementary, overlapping, collaborative, and synergistic approaches with unified goals will be essential to ensure, support, and sustain access to effective antimicrobial therapies. This was said by Dr. Bipin Nair, Dean of Life Sciences at Amrita School of Biotechnology, Amrita Vishwa Vidyapeetham, who has recently been appointed by the Govt. of India as the Vice Chair of the India AMR Innovation Hub (IAIH), a national-level body handling research related to antimicrobial resistance.
He was speaking at Amrita Legion of Antimicrobial Resistance Management (ALARM) 2022, a two-day hybrid Symposium titled "Preventing Antimicrobial Resistance – Together We Can" organized by Amrita Vishwa Vidyapeetham, ranked the 5th Best Overall University in India. The event was held in connection with World Antimicrobial Awareness Week, an initiative launched by the World Health Organization (WHO). The symposium aimed to spread awareness of the burgeoning antibiotic resistance crisis that threatens humanity worldwide.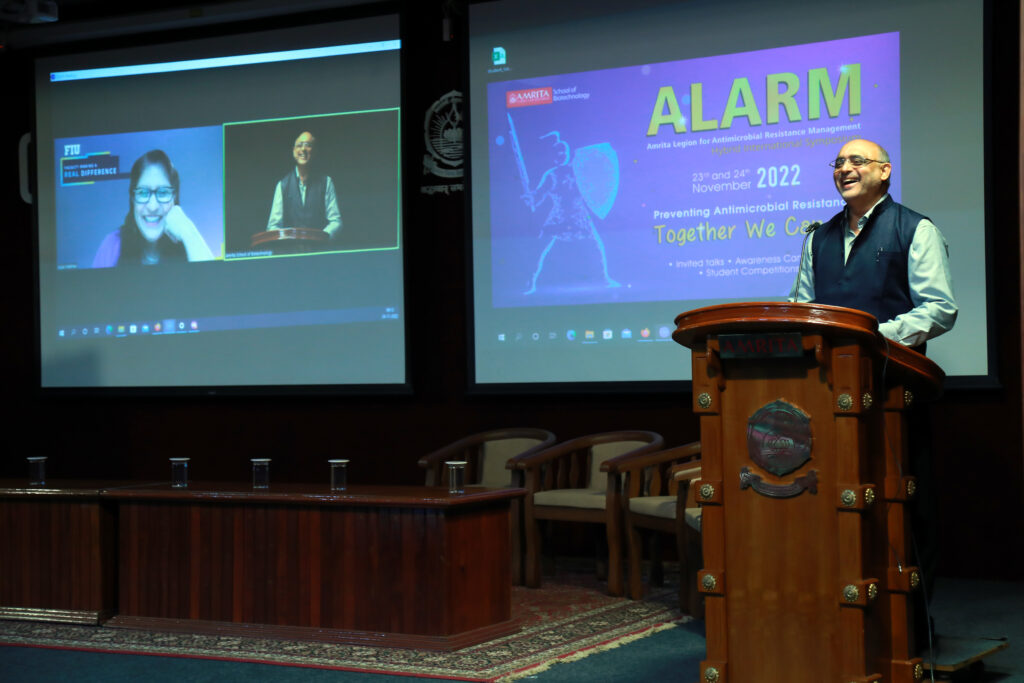 "Developing appropriate strategies and interventions in the Indian context, planning effective antibiotic stewardship in India, setting pragmatic goals, promoting investments for AMR activities to spread awareness across all segments, research and innovation, and strengthening India's sustained commitment on AMR are of paramount importance," Dr. Bipin Nair said.
On the occasion, Ph.D. scholars from the Amrita School of Biotechnology visited 15 schools in Kerala's Kollam district to educate students about the antimicrobial resistance global crisis. The awareness campaign focused on emergence, transmission, prevention of antibiotic resistance. The campaign aimed at utilising a wider audience of school students who could, in turn, educate their parents and ultimately create awareness in the community. Various schools in the Kollam district were invited to attend the ALARM 2022 exhibition.
Dr. Taslimarif Saiyed, CEO, Center for Cellular and Molecular Platforms (C-CAMP), in his capacity as coordinator of the India Antimicrobial Resistance Innovation Hub (IAIH), provided insights into the proposed activities of IAIH under the chairmanship of Dr. Ajay Sood, Principle Scientific Advisor to the Prime Minister's Office and highlighted that India would benefit greatly from the National Action Plan that is being implemented to combat AMR.
Dr. Victor Nizet, Professor and Vice Chair for Basic Research and Chief, Division of Host-Microbe Systems and Therapeutics, UCSD, California, talked about the exciting use of vaccines in combating prominent microbial multi drug resistant pathogens.
Ph.D. scholars from the Amrita School of Biotechnology, Ms. Amrita Salim and Ms. Nitasha Menon gave research presentations. Students also played a role in the awareness program, staging mimes on antimicrobial resistance and designing awareness posters. A poster-making competition was also organized for the school students. Amrita School of Biotechnology (ASBT) students prepared different exhibits and models for the school students and presented them in an exhibition.
Important Announcement – EasyShiksha has now started Online Internship Program "Ab India Sikhega Ghar Se"
Invited guests for ALARM 2022 included Dr. Anand Anandkumar (CEO, Managing Director, and Co-founder of Bugworks Research, Bangalore), Dr Ranga Reddy Burri (President of Infection Control Academy of India, Honorary Professor at University of Hyderabad), Dr. Rakesh Mishra (Director, TIGS-CI, Bangalore), Dr. Sandeep Verma (Professor, IIT Kanpur). Eminent scientists from across the world including Dr. Victor Nizet (University of California, San Diego, US), Dr. Sutharsan Govindarajan (SRM University, Amaravati), Dr. Bhabatosh Das (THSTI, Faridabad), Dr. Kalai Mathee (Florida International University, US), Dr. Patrick Secor (University of Montana, US), Dr. Srisairam Achuthan (Integra Connect, US), Dr. Anshu Bhardwaj (CSIR-Institute of Microbial Technology, Chandigarh) and Dr. Farah Ishtiaq (TIGS-CI, Bangalore) delivered talks on the various aspects of antimicrobial resistance. The panel of experts also discussed on multifaceted concerns associated with prevention of antimicrobial resistance, titled 'Planning for Prevention: Together We Can'.
Also Read: Future scope of data analytics in India
About Amrita Vishwa Vidyapeetham
Amrita Vishwa Vidyapeetham is a multi-campus, multidisciplinary Institution of Eminence accredited by NAAC. It is also ranked the 5th Best Overall University in India in the 2020 National Institution Ranking Framework (NIRF). Amrita continues to be the No. 1 Private University in India as per THE 2020 world rankings as well. The university has been awarded two UNESCO Chairs namely the UNESCO Chair for Experiential Learning for Sustainable Innovation & Development and the UNESCO Chair on Gender Equality & Women Empowerment. The university headquartered at Coimbatore is spread across six campuses in three states — Kerala, Tamil Nadu, and Karnataka. Amrita partners with academic, industry and governmental institutions across the world to accomplish human-centred, translational, and groundbreaking research. To date, Amrita has more than 500 collaborations from more than 200 signed Memorandums of Understanding (MoUs). Some of Amrita's partners include Harvard University, Columbia University, King's College London, KTH – Royal Institute of Technology, VU Amsterdam, the British Geological Society, University of Oxford, Italian National Research Council, Deakin University, and the University of Tokyo. Sri Mata Amritanandamayi Devi (Amma), a world-renowned humanitarian leader is the founder, Chancellor, and guiding light of Amrita Vishwa Vidyapeetham. Amma's words, thoughts, and vision for education and research have shaped the university's mission and vision.
Visit EasyShiksha for skill development