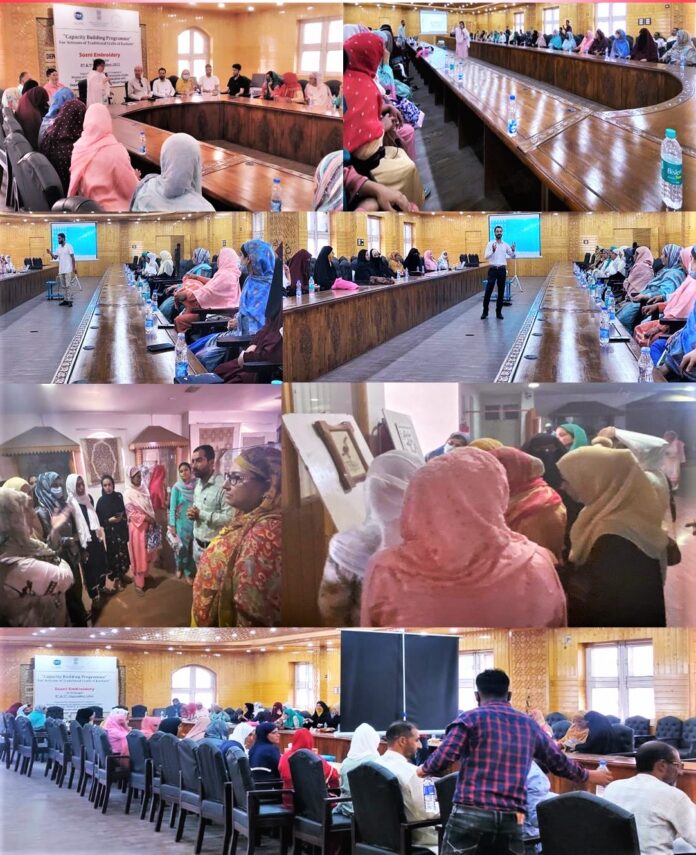 September 12, 2022 , New Delhi – The PHDCCI-Kashmir in association with Directorate of Handicrafts and Handloom Kashmir and with the support of Department of Commerce-Ministry of Commerce & Industry Government of India launched a series of two Day Capacity Building Programs for the Artisans of Traditional crafts of Kashmir. In this series the first Capacity Building program for the Artisans of Sozni Embroidery Work was conducted on 8th -9th September at Conference Hall of Numaish (Kashmir Haat) Srinagar.
The programme was attended by 42-Artisans of Sozni Embroidery Work from various areas and craft clusters of Srinagar District. The programme was inaugurated jointly by Mr Vicky Shaw, Co-Chair PHDCCI-Kashmir, Mr Riyaz Kawoosa Assistant Director (Publicity & Exhibitions). The resource person Ms Amina Asad, Chief Designer School of Designs highlighted on topics, importance of design in crafts, creation of refined design for export quality, New & Innovative Design Development & Quality Improvement. She also showed design motifs and demonstrations on various crafts that were shown to Artisans at Craft Museum. She emphasized to the artisans that the Design of a handicraft product should be in accordance with the tastes and preferences of customers. She told them that the young independent designers are actively collaborating with artisans to transform the aesthetic of traditional crafts to appeal to global consumers. Ms Amina gave a detailed presentation covering all aspects of Sozni Art design development. While concluding her session she said that the Craft is quite literally a spiritual journey that can lead to the development of skills, confidence and the joy of being someone who can create. It's very tempting to see craft as a skill and skill alone, after which you go out and get a job. In fact, to engage in a craft is to take on a practice and a lifelong journey.
Dr Danish Assistant professor Department of Management Studies IUST University made an attempt to highlight the role of E-commerce in the development of artisans in India and Kashmir by illustrating some efforts of Government and Non-Government agencies. Dr Danish explained in detail to the artisans that the growth of e-commerce platforms, particularly online marketplaces has activated avenues for artisans to connect with patrons. He gave examples how in other parts of the country artisans upload their products online with pictures on various social media platforms, along with pricing details and design specifications. In his lecture he told that the seasoned artisans may hesitate to embrace technology but do not lack will as they take assistance from younger family members. Many craftsmen took advantage of the difficult times to reinvent themselves online, enlisting the help of their families' younger generations to market their goods on social networking platforms. In the post-pandemic setting, modern technologies and social media platforms might be critical in assisting these traditional artisan businesses. Many craftsmen took advantage of these platforms to tap into previously untapped opportunities, such as robust internet connections and smartphone usage, as well as increased demand from a more conscious buyer. 
ALSO READ : Sri Chaitanya Bags Top All India Ranks in the NEET 2022 Examination
Mr Mohammad Sayyed, Assistant professor Food technology IUST University in his lecture to the artisans made them understand the importance of packaging for Handicraft particularly for Sozni. He explained how the new Generation of packaging is developed where you need not to worry about how to pack your handicrafts or your product to prevent it from damages which comes at the time of shipment. In his lecture he said that an artist or manufacturer should not underestimate the power of good packaging. Whether that's recycled packaging that conveys your eco-credentials or a custom-made box featuring your logo, illustrations and mission statement, packaging can communicate your values, make a memorable first impression, offer marketing opportunities, build brand loyalty. He told the artisans that an initial impression goes a very long way in how we humans perceive just about anything. For example, the first handshake with someone that's overly strong is more than likely going to affect your overall opinion of them. And that's what your product packaging is – it's the first greeting, the initial handshake that says "hey, nice to meet you". Not only is your packaging the only part of your craft that reaches 100% of its customers, but it's also the first time that your customers are physically in contact with your craft.
While applauding the role of the Handicraft Department and PHDCCI for arranging such a wonderful awareness workshop the Artisans, said that they have gained and enriched a lot through the two-day program and will adopt the techniques learnt in the packaging, designing and Marketing of their products.
The Program was sponsored by PHDCCI's Annual Sponsors – Multani Pharmaceuticals Ltd; Star Wire; PG Industry; Uflex Ltd; DLF Ltd; Continental Carriers Pvt Ltd; Belair Travel & Cargo Pvt Ltd; Radico Khaitan Ltd; Jindal Steel & Power; MMG Group; Paramount Communications; Superior Industries Limited; JK Tyre & Industries Ltd; SMC Investments and Advisors Ltd; Crystal Crop Protection Ltd; Sagar Group of Industries; Samsung India Electronics; Comtech Interio; R E Rogers; AYUSH Herbs Private Ltd; Apeejay Stya Group; DCM Shriram; EaseMyTrip; Blossom Kochhar Beauty Products Pvt Ltd; Oswal Greentech; Trident Group; MV Cotspin Ltd; Synergy Environics Ltd; Ajit Industries Pvt Ltd; P S BEDI & Co.; Indian Farmer &Fertilizers Corporation Ltd; Jindal Steel; Hindware Sanitary; Modern Automobiles; Livit Ltd; Central Coalfields Ltd  ; Axa Parenterals; Bhagwati Plastic and Pipes Industries; J K Insurance Brokers Ltd; DD Pharmaceutical Ltd.
Visit EasyShiksha for skill development courses.