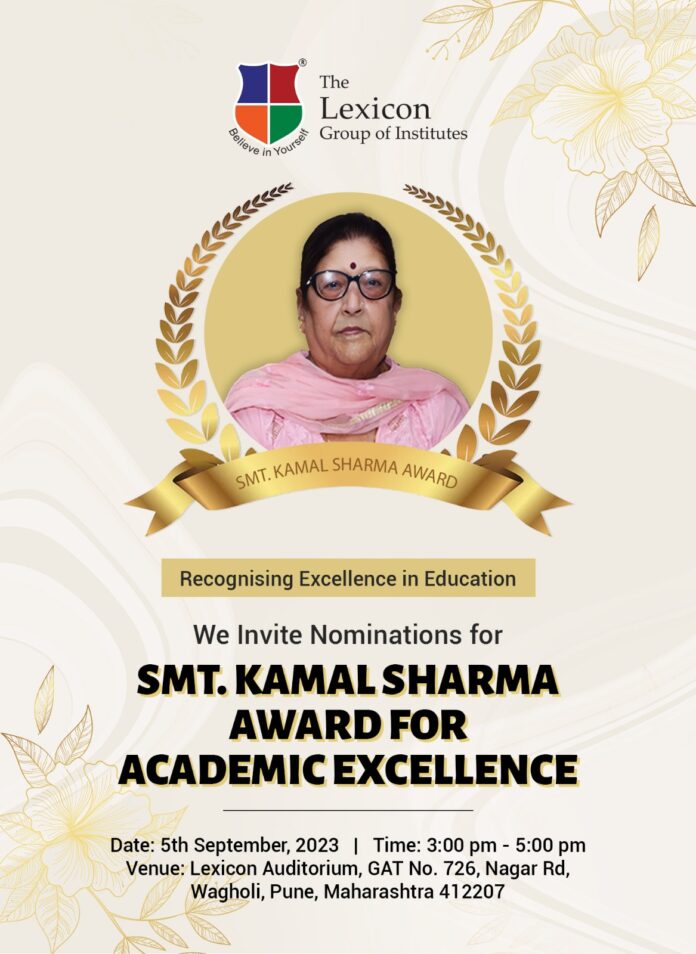 Pune, August 18th, 2023: The Lexicon Group of Institutes takes immense pride in its remarkable journey since its establishment in 2006. With a steadfast mission to provide value-based education and maintain the highest standards of excellence, over the past 17 years, we have grown from 19 students to 16,000 students across various institutes. Our operations now extend to various parts of Pune, comprising over 10+ educational institutes under the Lexicon umbrella.
Our journey commenced with a vision to redefine education, encompassing preschools, high schools, institute for neurodiverse children, undergraduate programs for hospitality management, media, and post-graduate management studies. Throughout the years, we have remained committed to our motto, "Believe in Yourself," nurturing the true potential of students and encouraging them to achieve their dreams.
As we approach the celebration of Teachers' Day this year, we are deeply excited to announce the 4th Kamal Sharma Award of Academic Excellence, 2023. This prestigious award ceremony aims to recognize and honor educators from across the globe for their outstanding contributions and excellence in the field of education. The award ceremony holds a special place in our hearts as it is dedicated to the cherished memory of our beloved founding trustee, Mrs. Kamal Sharma. It serves as a tribute to all educators who have made significant contributions to the field of education through their unwavering commitment, dedication, and innovative teaching methodologies. We are proud to share that we have witnessed an overwhelming response in the past, with more than 2000 nominations from across the country.
ALSO READ: GST council meeting on Aug 02 – Industry, investors, gamers hope council considers repeat taxation concern
"Education is the catalyst for empowering minds and transforming lives. 'The Kamal Sharma Award of Academic Excellence' exemplifies our commitment to recognize and celebrate educators who embody this transformative vision, inspiring countless minds to believe in themselves and achieve greatness," stated Mr. Pankaj Sharma, President, The Lexicon Group of Institutes and Chairman and MD, Pune Times Mirror, Civic Mirror, and MultiFit.
We are accepting nominations for this award from educators and educational institutions worldwide. The categories for nominations are as follows:
1. Exceptional Teacher: International Acclaim
2. Innovation in Teaching
3. Eminent Educator: Rural Empowerment
4. Excellence in Academics: Graduate/Postgraduate/High Schools/Preschools
5. Excellence Enablers: VCs/ Registrar/ Directors/Principals
Acknowledging the brilliance of teachers goes beyond mere recognition; it is a celebration of their hard work and dedication. Moreover, it serves as an inspiration to others, encouraging them to strive for excellence in their educational endeavors. This, in turn, fosters an environment of constant growth and learning in the field of education.
Important Announcement – EasyShiksha has now started Online Internship Program "Ab India Sikhega Ghar Se"

"In the journey of education, where self-belief ignites the brightest minds, educators illuminate the path. 'The Kamal Sharma Award of Academic Excellence' mirrors this odyssey, honoring their remarkable voyage in fostering a future brimming with self-confidence and aspirations," said Mr. Nasir Shaikh, Group CEO, The Lexicon Group of Institutes, EduCrack, and EasyRecruit+.
Let us unite in applauding these educators and commemorating their resolute commitment to shaping a brighter future for generations to come.
This year educate yourself and develop your career with EasyShiksha