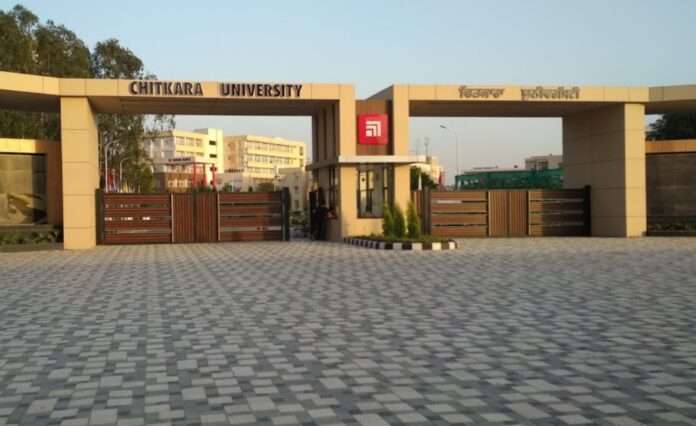 Chandigarh, India
Chitkara University, Punjab, has once again achieved high rankings in the NIRF Rankings 2023 and has been ranked among Top 100 in various categories. Chitkara University has been consistently ranked under various categories including Engineering, Pharmacy, Management, Overall, Research, etc. Chitkara University's highest rank of 16th this year was in the Pharmacy Category.
ALSO READ: How to skill youth for the emerging roles in the manufacturing sector; Here are a few suggestions
Chitkara University has been ranked in 101-150 band overall and has been ranked in the Band of 11-50 in overall Innovation Category, which includes all Government /Private /Deemed / Institutions of National Importance in the NIRF Innovation Ranking (Formerly known as ARIIA Ranking). Chitkaraa University secured the 16th rank in Pharmacy category, got the 30th rank in Architecture category, 64th rank in Management category and 92nd rank in the Engineering category.
Dr Madhu Chitkara Pro Chancellor, Chitkara University along with Dr Anil Sahrabudhe, Dr T G Sitaram, Dr Anil K Nassa, Member Secretary, NBA & NIRF & Dr Archana Mantri, VC Chitkara University, Punjab
The MHRD authorised the National Institutional Ranking Framework (NIRF) which was launched by the Hon'ble Minister for Education in 2015.This framework lays out a methodology for ranking colleges and universities across the country. The methodology is based on the general recommendations and comprehensive understanding achieved by a Core Committee established by the Ministry of Human Resources Development (MHRD) in order to define the broad factors for rating various colleges and institutes. It ranks the institutes based on 5 parameters: teaching-learning and resources; research and professional practices; graduation outcomes; outreach and inclusivity; and perception.
Moreover, Hon'ble Dr. Madhu Chitkara, Pro Chancellor, Chitkaraa University, and Dr. Archana Mantri, Vice Chancellor, Chitkaraa University, were invited for the release event of NIRF Ranking 2023 held at Dr. Ambedkar International Centre, New Delhi.

At the occasion, Dr. Madhu Chitkara said, "These rankings are a reflection of the quality education, well-regarded programs and global approach taken by the university."
About Chitkara University
Chitkara University, situated near Chandigarh, has emerged as the most vibrant and high-ranking University in North India. It is ranked among the top 5% of higher education institutions in India. The University is awarded NAAC A+ accreditation and has also been ranked by NIRF (National Institute Ranking Framework).
The University offers courses in Engineering and Technology, Business, Planning; Architecture, Art & Design, Mass Communication, Sales and Marketing, Hospitality Management, Pharmacy, Health Sciences, and Education. Students studying at Chitkara get the best start-up support, world-class research excellence, and many internationally renowned opportunities.
This year educate yourself and develop your career with EasyShiksha