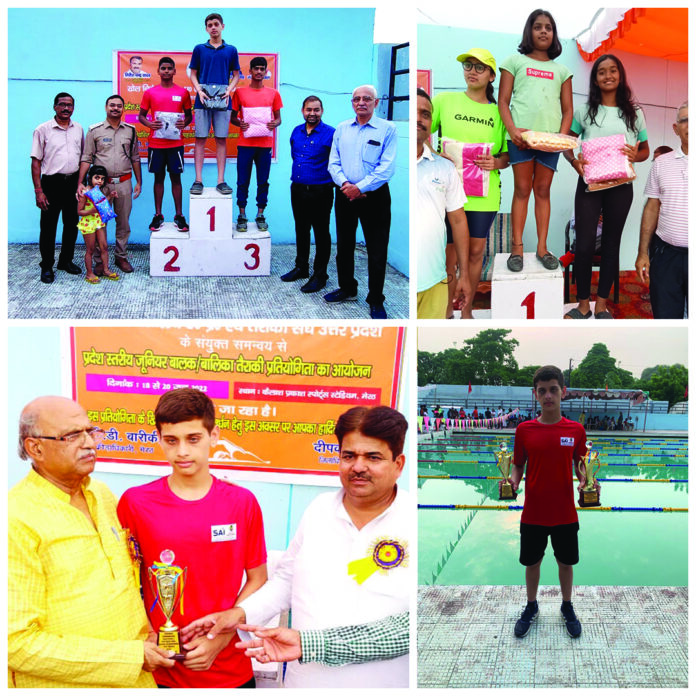 The DPS Indirapuram students clocked gold, silver and bronze medals at the UP's Aquatic Junior Championship held at the Kailash Prakash Stadium in Meerut from 18th to 20th June.
Arnav Tyagi, a DPS Indirapuram student of 8th Standard, won 7 Gold Medals in Boys Group across different competition categories like 50 m Freestyle, 50 m Butterfly, 200m Freestyle, 200m Individual Medley, 100m Freestyle, 4x200m Freestyle Relay, and 4x100m Medley Relay.
ALSO READ: https://news.easyshiksha.com/12-yr-old-boy-donates-hair-to-cancer-patients/
Another 8th grader, Gloria Verma, held her head high by taking home 2 gold medals in 400 m freestyle and 1500 m freestyle. She also won 2 silver medals in the 4x200m Freestyle Relay and 4x100m Medley Relay, and 3 bronze medals in the 4x200m freestyle relay, 4x200m freestyle relay, and 200m breaststroke in Girls Group.

Feeling proud of the DPS Indirapuram students' performance, Sangeeta Hajela, Principal, DPS Indirapuram, said, "It is a feeling of pride and immense happiness for everyone in the DPS family to witness such an amazing performance by our players at a state-level competition. I would like to congratulate everyone who won medals at the championship as well as those who participated. It is a tall order to match and a source of inspiration for everyone who wants to excel in the swimming field. We have always ramped up special initiatives to boost the sports culture in the school and encourage students to follow their passion and enhance their talents and will continue to do so." 
Visit EasyShiksha for skill development