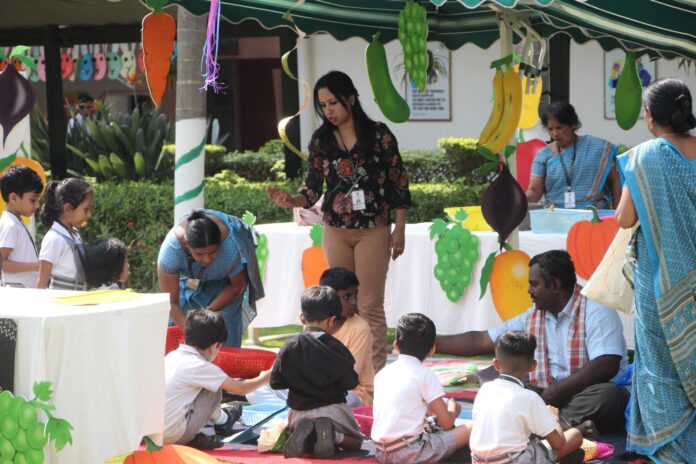 Bangalore, March 28, 2023: In a unique initiative that gave a glimpse of the agricultural milieu, Greenwood High International School organized a ''Farmers Sante'' for their pre-primary kids that gave a wonderful exposure to farmers' lives. Teachers and farmers explained the significance of farming to the children with activities related to agriculture, food, animal rearing, health and nutrition. At the Sante, freshly harvested vegetables along with domesticated animals were on display for the kids to witness a real life Sante (Market) experience.
ALSO READ: Updating skills and education to stay relevant in the changing job market
The children purchased vegetables and milk while the teachers guided the young ones on how to trade. The farmers market provided an exhilarating learning opportunity as children learnt the importance of eating fresh & healthily and the need for supporting local farmers. They also got to know about different types of produce, how they are cultivated, and to pick fresh fruits and vegetables. They also learnt on how to handle money. With all this, they also gained an appreciation for natural produce and it also proved to be a great place for children to practice social skills by interacting with farmers, vendors and other shoppers.

Commenting on the event, Ms. Niru Agarwal, Trustee, Greenwood High International School, said: "The Farmers Sante was an excellent opportunity for young children to be exposed to village life which is the backbone of the country. Inculcating young children with values around rural lifestyle is important so that they know how people live in non-urban places with different set of values. At the event, children felt overwhelmed by a sense of satisfaction upon accomplishing independent shopping. We thank the farmers who made this event possible and we will continue to encourage such activities in our school campus."
This year Educate yourself and develop your career with EasyShiksha