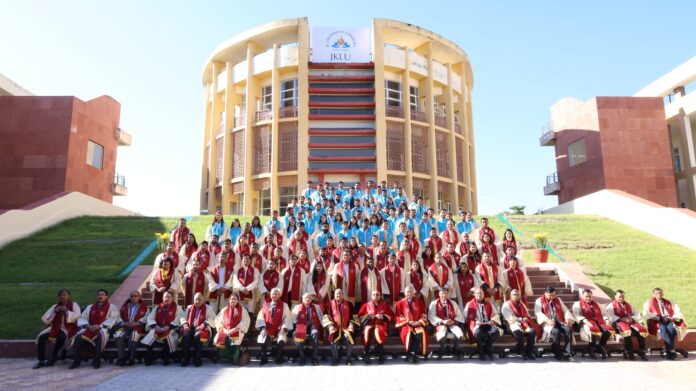 Jaipur, November 2022: Leading educational institute JK Lakshmipat University (JKLU) celebrated its 10th Convocation Day in the presence of Chief Guest, NASSCOM Co-Founder and Padma Shri awardee Shri Saurabh Srivastava. 107 students were awarded graduation and post-graduation degrees on the successful completion of BBA, B.Tech, MBA, M.Tech, PGDAR, PGDID and PhD programmes. The event also coincided with JKLU's 11th Founder's Day, which is celebrated on the Birth Anniversary of Lala Lakshmipat Singhania, on November 23, 2022.
Pro Chancellor, Dr RaghuPati Singhania welcomed all dignitaries, guests and students at the function and paid tribute to the Founder and first Chancellor of the university, Shri Hari Shankar Singhania. He emphasized on the group's long term commitment to world-class education. He spoke about the university's achievements over the last 10 years, including getting the NAAC A Grade accreditation in the first attempt, being considered one of India's best private multi-disciplinary universities and mentioned its tie-ups and semester exchange programmes with various reputed universities at the national and international level. He urged students, "Now that you have the degree in your hands, change the world. Do not follow the treaded path. Instead, go where no one else has walked before and leave a trail."
On this occasion, Vice Chancellor, Prof Dheeraj Sanghi mentioned the various distinctions achieved by the university and its students over the past year. He expressed his gratitude to the chief guest for having graced the occasion and inspiring students with the wonderful motto he lives his life by. In his address, he told students, "You are amongst the privileged 2-3% of youth who get the quality of education they deserve. Instead of taking it as a means to having a good life, think of it as a ticket to change the world for the better. And, apart from the quality of knowledge and skills that you possess, make us proud by ensuring that your personal conduct always remains above board."
Chief Guest, Shri Saurabh Srivastva thanked JKLU for inviting him to the convocation and said it was always thrilling to interact with students. He said that feels proud about having such brilliant minds running the nation in future. While sharing the motto that he lives by, he mentioned, "For any society or country to thrive, there must be more people contributing into the society than those who are taking away from the society and you must belong in the first category".
5 students were awarded Gold medals for exceptional performance during the academic year. Gold Medal for "Best Student in Bachelor of Technology" was awarded to Rishabh Singhal, who also received the Dr. Kavita Choudhary Gold Medal for "Best Outgoing Student in B.Tech Computer Science and Engineering". Gold Medal for "Topper in B.Tech Computer Science and Engineering" was received by Aditya Rathore. Gold Medal for "Topper in Bachelor of Business Administration" was awarded to Parag Bagaria, while Gold Medal for "Best Student in Bachelor of Business Administration" was received by Sarthak Yadav.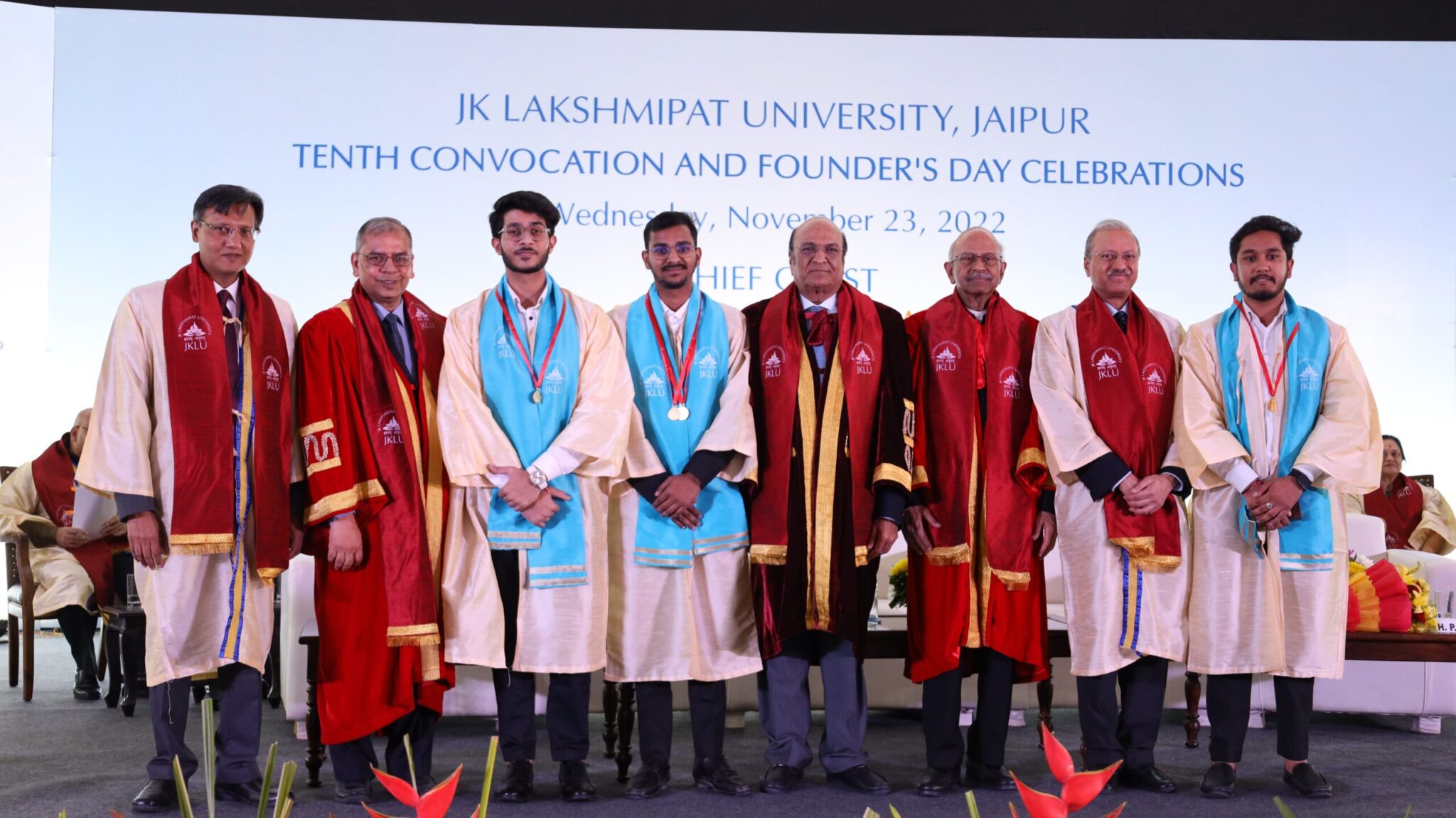 Also Read: Fun Under The Sun' Organised By DPS Raj Nagar Extension
Dignitaries present at the ceremony included Members of JKLU's Board of Management and Academic Council, Pro Vice Chancellor Shri Asheesh Gupta, Directors of the Institutes of Engineering and Technology, Management, and Design Dr Sanjay Goel, Dr Ashwini Sharma and Mr A Balasubramaniam respectively, Registrar Shri KK Maheshwari, Controller of Examinations Dr Umesh Gupta and others. Shri HarshPati Singhania, Member, Board of Management, gave the Vote of Thanks.
The event came to an end with the playing of the national anthem.
Visit EasyShiksha for skill development