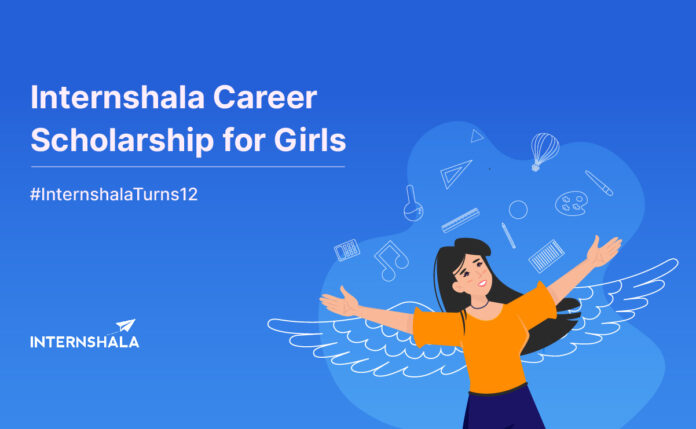 5th January 2023: Internshala, the career-tech platform, has announced its annual scholarship, Internshala Career Scholarship for Girls (ICSG) – 2023. ICSG is an annual award of INR 25,000 meant to recognise a girl who has fought against the odds to pursue a career of her dreams in any field — academics, sports, arts, or any other. The scholarship will be awarded as an allowance for pursuing an internship or undertaking a project in the chosen field, payment towards a specialized training program, special equipment, etc.
To be eligible for the ICSG scholarship, the applicant girls need to be of Indian nationality between the age group of 17 and 23 (as of December 31, 2022) and must fill out the application form by 15th January 2023. The applications will be shortlisted based on four parameters including the element of the fight against odds, achievement, purpose, and need. To apply for the scholarship, the girl students need to fill out this form and state their career objective.
The application process consists of three steps —
Online form – Submission of application.
Interview – A short-list for a telephonic interview would be announced and interviews will be conducted. The applicants will be asked to furnish all the necessary documents and proofs before the interview.
Referee check – After the interview, the referee (provided in the form) will be contacted for verification, after which the final winner will be selected and announced.
The scholarship commemorates the tragic coincidence of Nirbhaya's (Delhi rape victim) loss of life on the same day as Internshala celebrates its anniversary (29th December). Through ICSG, Internshala has been able to help girls who after fighting against the odds and overcoming hardships, are still pursuing their careers relentlessly.
Jasmeet Kaur and Isha Kumari were the winners of the ICSG-2022. Jasmeet, a first year student of B. Com (Hons.) lives in a joint family of ten people. Her father, who has had a hearing and speaking disability since birth, runs a shoe store with her uncle; and Jasmeet worked as a part-time tutor who taught Math to sixth-grade students. Despite these efforts, financial difficulties persisted in the family, but she showed immense grit and continued her education. The awarded scholarship of Rs. 17,000 to Jasmeet helped her pay her college fees and continue with her education.
The second winner of the ICSG-2022 scholarship was Isha Kumari, a third-year chemical engineering student from BIT Sindri, who had been fighting financial and emotional odds since childhood. When she was 6 years old, her father passed away due to liver jaundice. After that, her family faced a lot of financial and social challenges. Being determined and relentless in her pursuit of education, she was able to get a category rank of 200 in JEE exams and secured admission in BIT Sindri. Isha also worked as an admission counselor and then as a part-time teacher but had to stop working to manage her studies. She utilised the scholarship amount of Rs. 8,000 to pay her college fees and take up vocational training, which assisted her to pursue a career in chemical engineering.
For more information or to apply to the scholarship, visit: https://bit.ly/ICSG-2023 
Also Read: Seattle University announces study scholarship for Indian students for LLM Program
About Internshala –
Founded in 2011, Internshala is a career-tech platform helping college students to build their careers. The platform provides students with online trainings in top in-demand skills and their first real-world experience through internships and fresher jobs, thus preparing them to launch their careers.
In this year Educate yourself and develop your skills with EasyShiksha