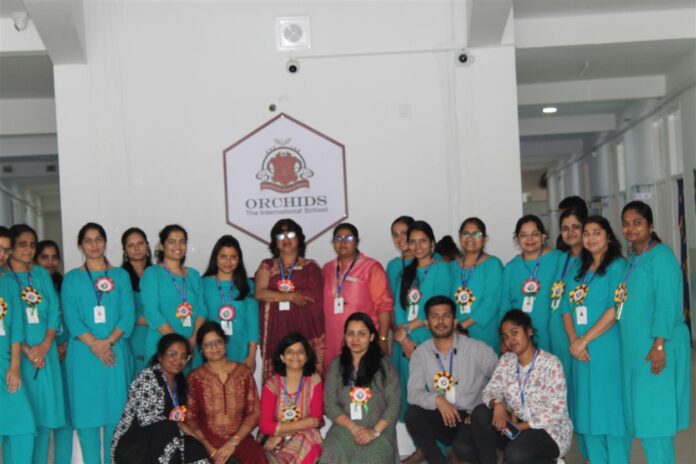 Street plays, affirmation messages and mindfulness workshops were some of the activities conducted
Bengaluru, 12.10.2022: On the occasion of World Mental Health Awareness Day, Orchids – The International School (OIS), one of the leading chains of K12 schools in India recently organized several mental health-based activities for their students and staff. Multiple activities were conducted across branches such as street plays, affirmation messages across the school and workshops on mindfulness were conducted among other activities. 
Orchids – The International school has created a special wing called 'SOCH' to address mental health education amongst students. Under this initiative, there are more than 55 counselors across all branches who conduct workshops, seminars, and study groups with every kid of all grades. There is a team of Special Educators and Counsellors who have had special training to work with students with these needs. Teachers are being trained to be able to not only pick up signs of emotional distress but also be the first responder. Besides, these interventions, the school also focuses more on socio-emotional well-being and will make every effort to make this transition as smooth and adjusting it can be.
OIS students from grades 1 to 10 conducted street plays on issues such as autism and anger management to raise awareness about mental health issues among children. Students also made posters and displayed affirmation messages in their classrooms and school premises highlighting other issues. Teachers, principals, and counselors conducted mindfulness sessions and wore MHA handmade badges with affirmation and motivational messages.
Also Read: MRG School Celebrates International Girl Child Day
Speaking on the initiatives, Dr. Madhuri Sagale, VP of Academics and Head of SOCH wing, Orchids – The International School said, "At OIS, we believe that sound mental health is fundamental for a child's success in life. Through the SOCH initiative and our activities during the Mental Health Awareness days, we are guiding students, parents, and all staff to follow healthy practices that will improve their mental health. This is in line with our pursuit to spread awareness about the importance of mental well-being amongst all present in the school."
OIS has been relentlessly conducting several activities and is helping students achieve success through healthy mental practices. Through the SOCH initiative, counselors at the school conduct mental health sessions every week for students and staff members.
Visit EasyShiksha for skill development courses