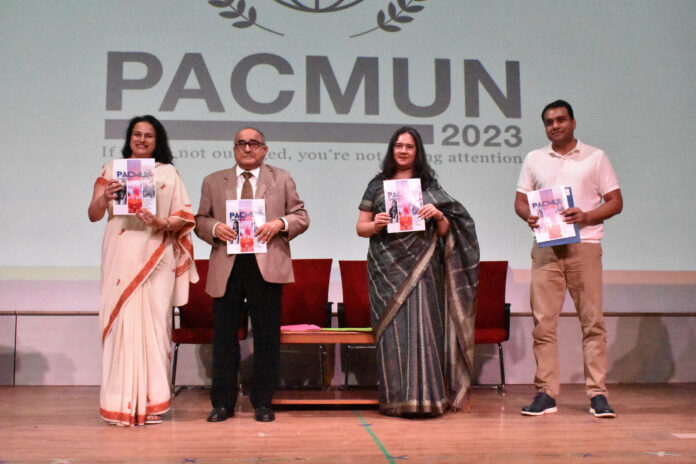 Pacific World School concluded its Model United Nations (MUN) event, PACMUN 23, marking a remarkable milestone in nurturing young diplomats and global leaders. The two-day event served as a platform for students to engage in diplomatic simulations, refine their negotiation skills, and foster international cooperation, all while addressing pressing global challenges. The event was graced by the chief guests, Mr. Lav Bharadwaj (National Lead of Skilling & Employment at UNDP, New Delhi) on day 1 and Chief Justice (Retd) Manmohan Sareen on day 2.
Under the visionary leadership of Principal Ms. Pooja Bose, PACMUN 23 proved to be a resounding success, attracting participation from various schools across Delhi NCR. More than 290 delegates from 22 schools passionately debated and discussed critical issues within six committees: United Nations General Assembly (UNGA), United Nations Human Rights Council (UNHRC), United Nations Commission for Science And Technology for Development (UNCSTD), G-20, United Nations Security Council, and International Press.

The event started on a melodious note with the choir group's soul-stirring inaugural song. Ms. Pooja Bose, Principal, Pacific World School, welcomed the delegates and expressed, "Today's youth has the potential of being the agents of positive change in the society with strong ethics and determination. PACMUN 23 is aimed at providing diverse learning experiences. The impressive discourse and passion displayed by our young participants leave me optimistic about the future they will shape."
The event also witnessed a captivating dance performance by PWS students, portraying the transformation of Ashoka from a conqueror to a harbinger of peace, underscoring the importance of non-violence and harmonious coexistence. The two-day event came to a conclusion with a solemn closing ceremony and social, with the dance and music performances by kids of Pacific School leaving everyone in awe.
Mr. Bharadwaj praised PWS for hosting PACMUN 23, acknowledging its role in nurturing disruptive ideas for a greener and more sustainable world. On the other hand, Chief Justice Mr. Mohan Sareen shared his insights and experiences with the young delegates.
This year educate yourself and develop your career with EasyShiksha