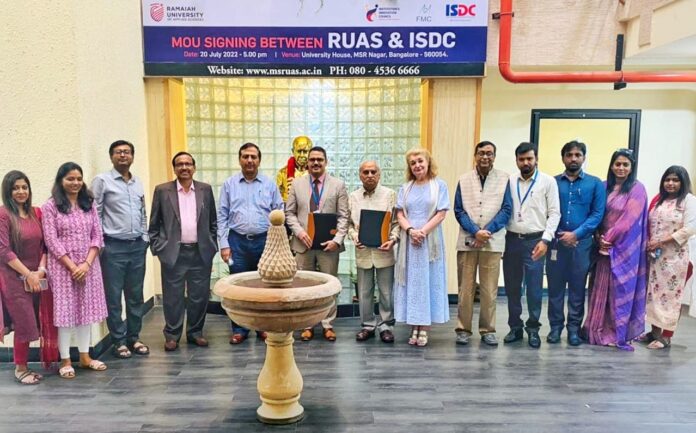 Mumbai, 29th July 2022: Ramaiah University of Applied Sciences extended its partnership with the International Skill Development Corporation (ISDC) by signing a Memorandum of Understanding (MoU) to deliver ACCA and US CMA qualifications to its students. Ramaiah University of Applied Sciences will be able to offer these qualifications through its Faculty of Management and Commerce as a result of the MoU. The MoU was signed by Prof. M. Sai Baba, Registrar, Ramaiah University of Applied Sciences and Mr. Rajesh Poonia, Senior Manager-Partnerships, ISDC. ISDC is the UK-headquartered skill development and education company, working with an excess of 200 Universities in India including all the leading Education Brands in Bangalore and aims to bridge the skill gap globally with a team of highly skilled professionals and has supported thousands of students achieving their dreams.
As part of the MoU, Ramaiah University will offer ACCA qualification to its B.Com (Hons) students. The Association of Chartered Certified Accountants (ACCA), UK, is one of the world's most prestigious qualifications in the field of financial accounting that equips the students with the skills, knowledge, and values to have successful careers and lead the organisations they work with into the future. The ACCA Professional Qualification consists of an examination of 13 papers, which will equip the students with skill sets and expertise that can equip them to identify, evaluate, and resolve global industry-centric issues. Moreover, the partnership will also help the students obtain an in-depth understanding of industry-oriented finance and analytical tools, strategies, and management at an international level through intensive training sessions and webinars.
The collaboration with US-Certified Management Accountants (CMA), will enable the University to offer US CMA (Certified Management Accountants), an IMA programme, to its BBA students at the Faculty of Management and Commerce.  The students will gain global expertise in critical financial management responsibilities, including planning, budgeting, business reporting, decision analysis, and risk management. US CMA is a globally recognised professional certification awarded by the Institute of Management Accountants (IMA), which is a credential of high repute in the domains of management accounting and financial management. The certification signifies that the person possesses knowledge in the areas of financial planning, analysis, control, decision support, and professional ethics. Moreover, the programme will provide students with advanced knowledge about current tools, techniques, and strategies that will enable them to identify, evaluate, and resolve industry-centric challenges.
ALSO READ : Emerging Opportunities for Full-Stack Developers in India
Speaking about the collaboration, Prof. K.K. Raina, Vice Chancellor, "We appreciate the efforts and initiative of the Faculty of Management and Commerce in offering globally recognized certifications like ACCA and CMA in collaboration with ISDC for B.Com (Hons) and BBA students. I am hopeful that the partnership will foster career advancement of our students nationally and internationally by enhancing their skills and knowledge in the finance and accounting arena.
Mr. Tom Joseph, Executive Director for Strategy & Development, ISDC said, "We are delighted to extend our partnership with Ramaiah University of Applied Sciences to provide ACCA and US CMA, two of the most sought-after professional qualifications in finance and management accounting. The new and student-centric partnership focuses on delivering quality education and skill development programmes and training aimed at equipping students with future-ready career skills and expertise. We are hopeful that this partnership will give the Ramaiah University of Applied Sciences students a better understanding of the accounting, finance, and business fields, thereby allowing them to step up to the ever-advancing global industry."
About ISDC:
ISDC (International Skill Development Corporation) is a leading International Provider for British Education and Skills with an active presence in India, working in partnership an excess of 200 Universities and Higher Education Providers by Developing and Upgrading the Academic Degrees for Future to Seek External Accreditations / Memberships / Qualifications along with the University Degrees. ISDC is working with UK Skills Federation, Scottish Qualification Authority, large number of universities and an excess of 25 Professional Bodies in UK for their Market Expansion, Transnational Education and Growth. 
About Ramaiah University of Applied Science
Ramaiah University of Applied Sciences (RUAS), sponsored by Gokula Education Foundation (Medical), was established as a private University under Section 2(f) of UGC and an act of Government of Karnataka vide notification dated 30 December 2013. The University's Vision is to be a premier Institution of Higher Learning with a focus on Research and Innovation to help and support the Global Community in fostering new ideas and technologies. As a Comprehensive & Multidisciplinary University, RUAS embraces Innovation ecosystem through four verticals, namely: Academics, Research, Training & Lifelong Learning and Consultancy. RUAS is one among the few Universities in India to adopt an outcome-based curriculum from its inception, focused on imparting students.
Visit EasyShiksha for skill development.