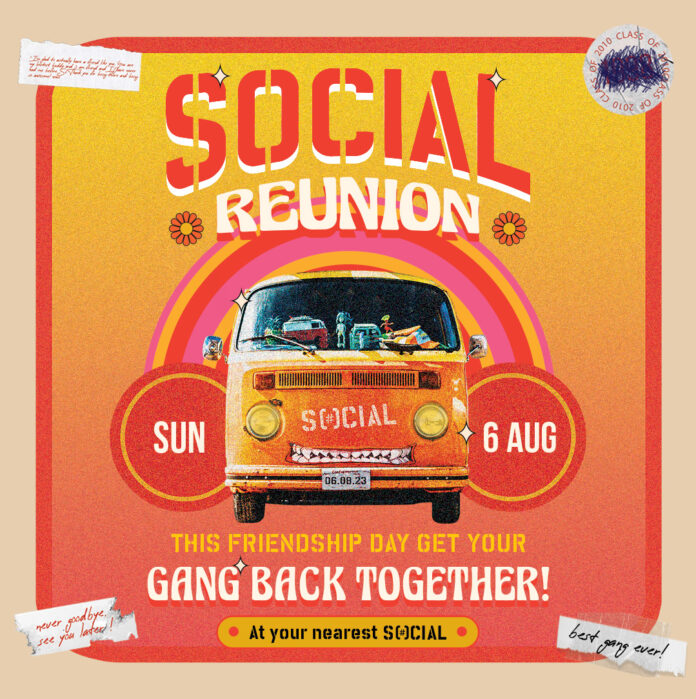 The most riveting friendship celebration is unfolding at your neighbourhood SOCIAL this Sunday!
Indore, 2nd August 2023: Fire up the time machine and don your party hats, because SOCIAL is laying down the red carpet for crews, posses, partners-in-crime, and BFF brigades this Friendship Day! 🎉 Get ready to teleport back to zany times at the #SOCIALReunion bash.
The #SOCIALReunion party will comprise an evening that will turn your favourite SOCIAL outlets into a stylish retro-themed party, for your gang the chance to rejoice in true SOCIAL fashion. ✨💃 With neon lights and disco themes, the retro party is sure to entice you and your gang into a night of groovy dancing, vibrant energy, and nostalgic fun that'll take you back in time!
ALSO READ: 1900+ Schools Partner with Ed-Tech Brand "AASOKA" of MBD Group to Aid 21st Century Learning for Students
Your favourite SOCIAL outposts across 6 cities – including Khar SOCIAL, FC Road SOCIAL, Ring Road SOCIAL, Saket SOCIAL, Church Street SOCIAL, and Sector 7 SOCIAL – will also host a day packed with engaging community activities on Sunday, August 6th, starting at 12 noon.
And wait, there's more! To add flair to the festivities, all SOCIAL locations in India will offer friend-tastic discounts*:
BFF Duo (2-6 pals): 5% off 🥳
Party Patrol (7-10 amigos): 10% off 🎈
Super Squad (11-15 buddies): 15% off 🎉
Mega Mob (16+ comrades): 20% off 🎊
Gather your BFFs at SOCIAL for a trip down memory lane! Write postcards filled with memories and inside jokes 💌, exchange friendship bands, and let secrets spill through slam books – the funkier, the better. SOCIAL will ensure your messages reach your friends.
Get your groove on with your favourite #drnks 🍹, savour fabulously quirky #eats 🌮, embrace the unique vibe, and reconnect with old friends from every phase of your unforgettable journey.
This year educate yourself and develop your career with EasyShiksha