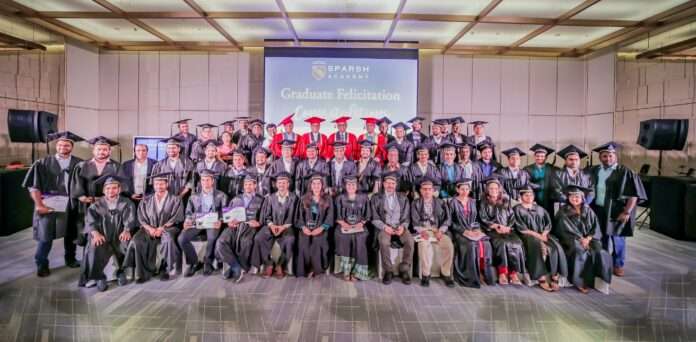 -Announces the Launch of the SPARSH Alumni Association-
Bangalore, May 19, 2023: In what was a coveted and eagerly anticipated day, over 75 fellows were felicitated by SPARSH Academy, the educational wing of the renowned healthcare services provider in Karnataka, the SPARSH Group of Hospitals. The specialist medical graduates were provided certificates and mementos of their achievements by the legendary  orthopaedic surgeons and educationalists –  Dr. Sharan Patil, Chairman of SPARSH Academy, Chairman of SPARSH Group of Hospitals and Chief Orthopaedic Surgeon and the Guest of Honour at the event – Dr A V Gurava Reddy, Chairman and Chief Orthopaedic Surgeon of Sunshine Hospitals, Hyderabad.
ALSO READ: Electrosteel empowers students through computer literacy programme in Tirupati district
It is to be noted that the Chief Anaesthesiologist at SPARSH, Dr Sharanu Patil was recently appointed Dean of the Academy. At the event, the SPARSH Alumni Association was also launched with the adoption of the Association Charter by the Founding Executive Committee which consisted of Dr Ravikumar Mukartihal (President), Dr Chandan S (Vice President), Dr Vikram GK Bhat (Hon. Secretary), Dr John Paul M (Faculty Nominee) and Dr Chetan N (Treasurer).
The SPARSH Academy's Vision is to educate and train post medical students, and fellows in the art and science of medical and surgical practise including diagnosis, treatment and prevention of diseases as well as communication, professionalism, and ethical principles which are believed to be integral to the training of any medical leader.
Dr. Sharan Patil in his Inaugural Address stated: "SPARSH Academy was set up on the strong belief that an enquiring mind facilitates constant learning is the most enriching process for any human mind. We opened our doors to the student community to keep this quest for greater knowledge alive. The vibrant energy that comes with becoming a teaching and learning organization will help in propagating the knowledge and wisdom. It allows us to multiply our impact exponentially and this is one of the most significant ways that we contribute to our society and build a larger legacy of professionals who are committed to serving the human race.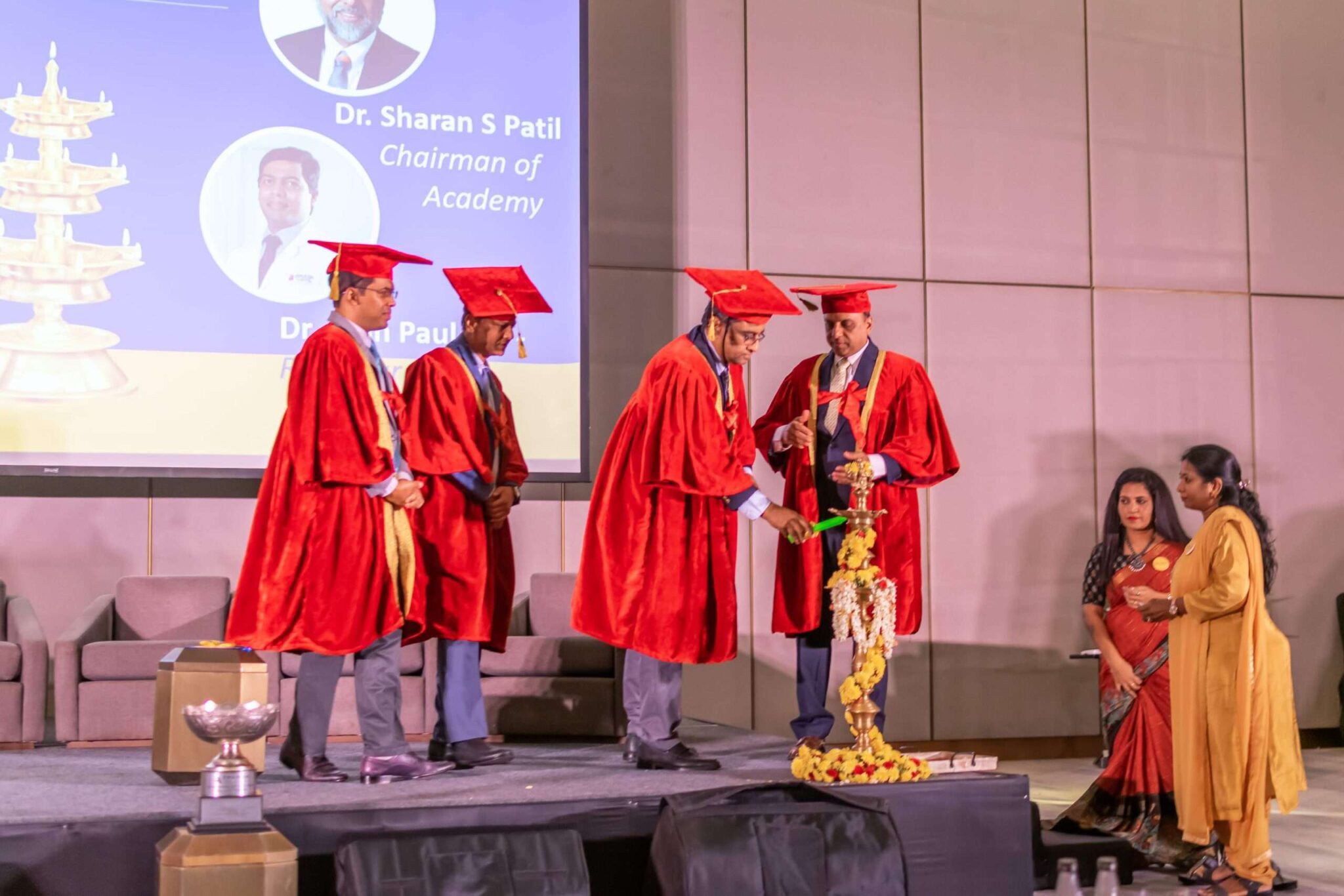 "Education is the Bedrock of our Legacy. We remain Differentiated because we Share"– these are the words that encapsulate my vision for the unique SPARSH culture. I look forward to building a larger presence for our Academy with a dedicated Campus and R&D wing soon. Education and Innovation are at the heart of our growth plans at SPARSH."
"I was a fellow in joint replacement surgery at SPARSH in 2022. This event brought back some wonderful memories of my times with colleagues and mentors at the Hospital. It was a great platform to meet everyone and I am excited that with the Alumni formation I can continue to engage with them while also getting the opportunity to connect with the wider network. I hope to be part of all the activities." said Dr Sriharsha B, MS ORTHO, FIJR, FASM. Assistant professor at ESIC and Model hospital Rajajinagar, one of the graduates who were felicitated at the ceremony.
Addressing the graduating medical students at the gala ceremony, noted orthopaedic surgeon, Dr. A.V. Gurava Reddy said: "It was a great fortune and privilege for me to attend the 1st annual meet of SPARSH in Bangalore. Sharan Patil has been a good friend of mine for the last 20 years and he is a great teacher, academician, entrepreneur and more than anything an excellent human being. I believe that whatever Sharan does, he does with style and aplomb. The alumni meeting also showcased his style and it was very well organised and attended. I was very happy to see these youngsters getting inspired with each other and I spoke to them about the 12 ingredients I believe they need to have to achieve peace and prosperity in life. It was a wonderful interaction with them and I am certain the SPARSH Alumni Association will grow to become the platform for many youngsters to launch their careers and be groomed for higher positions in the future. I request all the Alumni members to play an active role and interact with each other for many more years to come. Well done Sharan and SPARSH team!"
The graduation event also saw the presence of doctors, specialists, and heads of the group's hospitals. The Academy encourages collaboration and interdisciplinary teamwork, recognizing that healthcare is a complex and multifaceted endeavour that requires the input and expertise of professionals from various disciplines.

About SPARSH Hospital
SPARSH Group of hospitals is one of the largest multi-speciality healthcare providers in Karnataka. Over the span of the last 17 years, the group has crafted a niche for quality health care in South India. Under visionary leadership and strong management, SPARSH has evolved as the Centre of Excellence in over 35 specialities including Orthopaedic, Neuroscience, Organ transplants, Women and Children amongst many other super specialities. SPARSH has achieved many milestones and performed path breaking surgeries, winning many accolades and recognitions on the national and international front along the way. SPARSH has proven that India can provide the best medical treatment and care in the world and is emerging as the destination of choice for international patients from over 12 countries.
Built on the core values of faith, hope and love, SPARSH has been diligently working towards making quality health care accessible to all. The Group, led by Dr. Sharan Patil, an eminent Orthopaedic surgeon and a renowned thought leader in his own right, believes that every person should be able to avail of excellent healthcare irrespective of their socio-economic background. State- of-the-art facilities, skilled doctors, nurses and supporting allied healthcare staff, including exceptional evidence-based, patient-centric care define the SPARSH Anubhava, which is our patient experience model.
SPARSH now operates five healthcare facilities across Karnataka, three in Bengaluru and two others in Davanagere and Hassan, with two more multi-speciality hospitals on the anvil. SPARSH has successfully treated over 2 million happy patients and counting.
This year educate yourself and develop your career with EasyShiksha