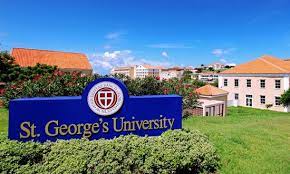 29th June, India: St. George's University (SGU), Grenada, West Indies in association with the Ramaiah Group of Institutions is set to host a series of interactive sessions for prospective medical students with SGU Alumni Dr. Ninad Desai in multiple cities.
Dr. Ninad Desai is an Academic Chief Resident specializing in Emergency Medicine at Wyckoff Heights Medical Center, Brooklyn, New York. He will speak with aspiring medical students and their parents about his experiences as a medical student, living on campus, SGU's guidance to clinical rotations, residency placements, USMLE preparations and more. Following this, the floor will be open for students and parents to engage with Dr. Desai and ask questions regarding his career and time at SGU.
ALSO READ: https://news.easyshiksha.com/unmish-organized-their-7th-edition-of-poornam22-ek-muskaan-ke-liye/
As the largest source of doctors for the entire US workforce*, St. George's University provides an opportunity for medical aspirants to pursue their international medical education.
Ramaiah, in association with St. George's University, Grenada offers a 5-Year Medical Degree Pathway where students can complete their first year of the pathway in India, the second year either at Northumbria University in the UK or at SGU's True Blue campus in Grenada, the third year in Grenada, and the last two years doing their clinical rotations either in the US or in the UK.

"SGU provided me with the opportunity to follow my ambition of becoming a doctor in the US. SGU's Office of Career Guidance (OCG) was with me every step of the way, providing the necessary support and guidance in my student journey. However, most importantly, I gained a unique perspective on global healthcare systems during my time at SGU, which is essential to providing quality medical care," adds Dr. Desai.
Given below are the session dates and timings that are set to be held in the cities as follows:
| | | | |
| --- | --- | --- | --- |
| Date | City | Location | Time |
| 5 July, 2022 | Hyderabad | ITC Kohenur | 4pm – 7pm |
| 6 July, 2022 | Bangalore | Shangri La | 4pm – 7pm |
| 7 July, 2022 | New Delhi | Shangri La Eros | 4pm – 7pm |
| 8 July, 2022 | Mumbai | ITC Grand Central | 4pm – 7pm |
To meet Dr. Ninad Desai and to learn more about a medical career at SGU, aspirants can register themselves at: https://bit.ly/sgu-roadshow or contact Mr. Charath Soundararajan at 638 361 6166.
*According to FSMB physician licensure data, 2021
About St. George's University School of Medicine:
Founded in 1976 with the goal of drawing the best talent and practices from around the world, St. George's University (SGU) has become a leading centre for academic excellence worldwide. With students and faculty drawn from more than 150 countries, SGU is truly an international institution, with a uniquely global perspective, perfectly poised to help educate students in this rapidly changing world. St. George's University School of Medicine has a four-year Doctor of Medicine degree program or offers five-, six-, and seven-year Medical Degree Pathways with entry points available for students from any education system around the world. SGU has a large network of 75+ affiliated hospitals and health centres in the US and UK and also has a unique opportunity for students to begin their medical career in Grenada, the United Kingdom, or India.
About Ramaiah Group of Institutions:
Ramaiah Medical College was founded in 1979 and is currently considered among India's top 20 medical institutes. Ramaiah International Medical School was founded in 2006 as part of the Medical College to provide students with a worldwide perspective on medicine. In addition, in 2012, the Ramaiah Clinical Research Centre was founded. In Bengaluru, the institute has over 125 tie ups and over 100 research collaborations with individual academics, as well as over 25 educational and hospital organisations.
Furthermore, with 1,650 patient beds spread across four hospitals on the Ramaiah complex, Ramaiah Memorial Hospital is one of Bengaluru's top five hospitals.
In 2013, the group founded Ramaiah University of Applied Sciences in Bengaluru, which is now a leading research and innovation-focused academic institution.
Visit EasyShiksha for skill development