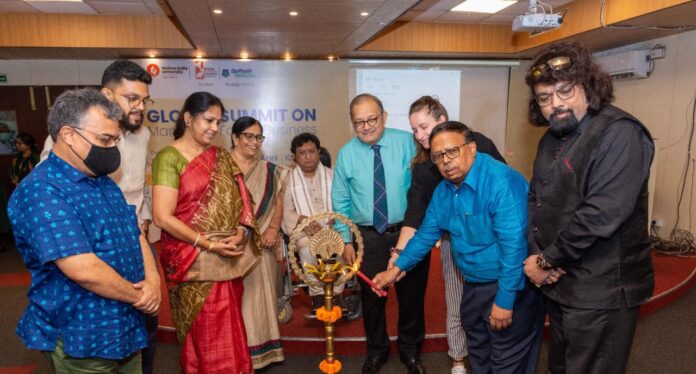 Kolkata, 26th April, 2022: Techno India University, one of the premier institutes in the field of education, research and technology, has announced the launch of Certificate Programme on Managing Family Business and MBA in Family Business and Entrepreneurship.
These two innovative and contemporary programmes were introduced in a Global Summit organised by The School of Management – Techno India University, West Bengal co-hosted by Bengal Business Council and the Strategic Partner was Daffodil International University, Bangladesh for the benefit of businesses run by families to incorporate professional expertise and emerging business concepts and practicalities.
Important Announcement – EasyShiksha has now started Online Internship Program "Ab India Sikhega Ghar Se"
The programmes were launched in the presence of Prof Manoshi Roychowdhury, Hon'ble Co-Chancellor, Techno India University, West Bengal, Mr. Meghdut Roychowdhury, Executive Director & Chief Innovation Officer & Co-founder of Bengal Business Council, Prof (Dr.) Goutam Sengupta Vice-Chancellor, Techno India University, West Bengal & Prof. (Dr.) Suman Mukherjee Former Professor XLRI, IIT Delhi, New Castle Business School, UK. Professor Dr. M. Lutfar Rahman Hon'ble Vice Chancellor – Daffodil International University who was present on virtual platform.
"Our next generation must continue with the legacy building on the efforts of previous generations and in continuing the family tradition, protect the name and the values that it upholds. Technology and innovation must be incorporated to continue in the same manner and to continue to give something back. It is well proven that the very nature of the family ownership can engender more trust from stakeholders and customers alike, and more and more family firms are celebrating their history and legacy in the brands that they are developing and recognizing that it can be to their competitive advantage. Techno India group will continue its legacy of enriching quality education to the society blended with new innovations, technologies and perception. Let every successful family firm be a breeding ground for entrepreneurship, supporting the next generation in their pursuit of new opportunities, either through opportunity, training, career progression or encouragement", said Prof. Manoshi Roychowdhury Hon'ble Co-Chancellor, Techno India University, West Bengal.
Important Announcement – EasyShiksha has now started Online Internship Program "Ab India Sikhega Ghar Se"
"Looking at a country like India with its rich varied culture and businesses, there are enormous opportunities to outshine in the businessworld. At Techno India University, we are aiming to engage industry experts including family business owners from Bengal Business Council for our certification program and a full-time MBA with a specialization in Family Business. Putting it all together we see a great opportunity for the changemakers who would be taking the legacy of their family business forward", said Mr. Meghdut Roychowdhury, Executive Director & Chief Innovation Officer & Co-founder of Bengal Business Council.
Certificate Course on Managing Family Business programme is designed to raise awareness about opportunities, characteristics and challenges unique to family businesses and develop capabilities for organisation, strategies, internationalisation and succession in family businesses at different stages of their growth and evolutionary trajectories. This programme will enable family business owners and managers to build on and leverage distinct strengths of their family businesses and think through and develop appropriate solutions to respond to the complexities, uncertainties, and challenges in their businesses for sustainable growth, creation of wealth across generations and attracting and retaining professional talent.
The total course duration is for12 months and Foundational knowledge courses are of 6 months the Internships in leading and successful family managed business houses is of 6 months.
Learner's Benefits:
• Awareness of capabilities and challenges which are typical to a family business.
• Develop capabilities which will enable family business owners and managers to think through the complexities, challenges and uncertainties and create responses which maximize chances of sustainable growth.
• Deal with issues arising from succession dynamics in the family business.
• Recognize emergent strategy of their business as evidenced through business practices in vogue.
Family business owners and members of their extended family, Senior managers in a family business organization and Investors and professionals associated with family businesses can enroll for this programme.
Important Announcement – EasyShiksha has now started Online Internship Program "Ab India Sikhega Ghar Se"
MBA in Family Business and Entrepreneurship programme is based on insights from family business research, case studies of problems experienced by family businesses and entrepreneurship ventures (small, medium and large) around conflicts over priorities, tensions between existential and normative tasks, pursuing opportunities amidst resource constraints, environmental scanning and developing/ expanding relevant capabilities, deciding on organisational issues that arise from task, people and culture, resolving growth stalls, evaluating international business opportunities, professional talent management, and addressing problems of succession.
The objective is to give boost to entrepreneurship ventures and to expand and modernize the family business to make it a successful and growth-oriented business, and, to assist family-owned businesses in understanding the changing dynamics of competition as well as organization, brought about by liberalization, privatization and globalization. The Program intends to build a partnership between family business owners, managers and TIUWB.
The duration of the programme is for 2 years, and it is divided into 4 semesters. Introduction, foundational and theoretical pedagogy through classroom lectures and project assignments: 1st year (1st & 2nd semesters) and Situational and Experiential learning through analyzing and suggesting solutions to real life problems faced by family business owners and entrepreneurs through direct interaction and preparation of Business Plan: 2nd year (3rd & 4th semesters).
Learner's Benefits:
The aim of this rigorous, accelerated and application-oriented course is to:
· Develop skills in successfully initiating, expanding, diversifying, and managing a business enterprise with focus on understanding real life business situations and business practices.
· Inculcate among students, entrepreneurial competencies including self-confidence, goal setting, planning, information seeking, problem solving and planned risk taking.
· Provide intensive personal counselling to develop a competent entrepreneur and a successful business executive of tomorrow.
This Program is targeted towards the next generation of Family Business Owners, family members and professionals who are in succession plan to occupy higher positions in family run businesses and young graduates with or without family business but who exhibit entrepreneurial ambitions.
Leading EdTech Platform for skill development & For your Internship is EasyShiksha