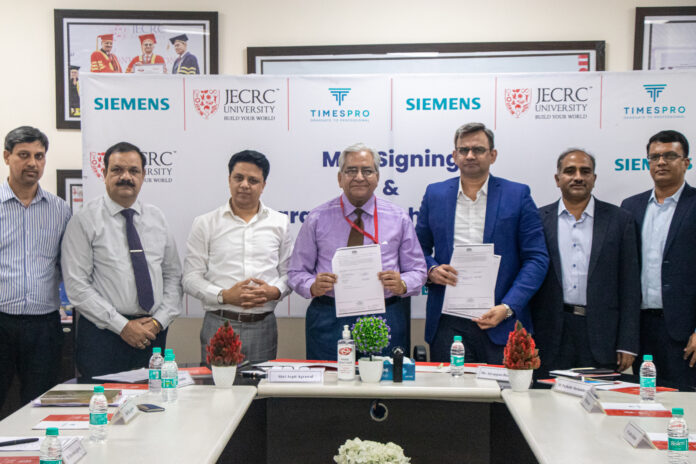 This first-of-its-kind programme will equip students with innovative & indigenous solutions for the surging electric vehicle market, build competencies, and stay industry-ready.
Jaipur, June 21, 2022: Times Professional Learning (TPL), under its brand, TimesPro (Siemens Training Partner) and Siemens Digital Industries Software Ltd. have collaborated to develop innovative solutions for electric mobility in India. In this regard, Siemens has extended their technical solutions to the JECRC University for launching the B.Tech Program with Electrical Vehicle Specialization. It is the first programme of its kind to be offered in Rajasthan. In addition, Times Pro and Siemens also offer several state-of-the-art engineering solutions to provide a fillip to the expanding EV industry with highly competent and trained personnel with Industry 4.0 skills.
The four-year full-time B.Tech. Program with Electrical Vehicle Specialization by JECRC University supported by Siemens Digital Industry Software and Times Pro will provide opportunities for students to embark on India's most ambitious programme towards the nation's 'Zero Emission' dream by 2070. According to reports, India's electric vehicle market is expected to grow at a CAGR of 90 per cent and reach USD 150 billion by 2030. This change in mobility will save nearly one giga-tonne of carbon emissions. It has also led various global automobile manufacturing companies and new-age start-ups to heavily invest in cutting-edge and next-gen technology in EV to reduce dependency on fossil fuels.  Learners graduating from the programme with new-age and future-centric skills will cater to the growing demands of the 21st-century automotive workforce.
Top Information Technology Courses
More Courses With Certification
Speaking at the launch of the programme, Arpit Agrawal, Vice Chairperson, JECRC University, said, "We are delighted to offer B.Tech. Program with Electrical Vehicle Specialization in association with Siemens and Times Pro and are proud to be the first university in Rajasthan to offer such a futuristic programme. We aim to introduce cutting-edge technologies to our learners and make them competent towards attaining carbon neutrality and bringing innovative solutions to making technology affordable and accessible."
Parikshit Markanday, Chief Growth & Partnership Officer, Times Professional Learning, said, "The Electric Vehicle industry has witnessed tremendous growth and led to disruption in the automotive industry. It has enabled significant investments in research and innovation to provide clean and green technologies to achieve our targets of electric mobility in India. This programme is a stepping-stone to our intervention in this sector that will provide massive opportunities for skilled personnel and equips our learners with industry-ready skills."
The B.Tech. Program with Electrical Vehicle Specialization supported by Siemens Digital Industry Software and Timespro will consist of 250 hours of learnings across five semesters including 70 per cent practical training on campus as developed by Subject Matter Experts from Siemens and to be delivered by Industry Professionals from Timespro. Learners will enhance their skillsets by learning various modules like Electrical Vehicle Engineering Design, Essentials for NX Designers Basic & Advance Level, Synchronous Modelling and Parametric Design with Mechanical Free Form Modelling, Plastic Trim Design along with CAD Surface Modelling Processes, BIW design along with NX sheet Metal, among others. In addition, each module shall be coupled with a practical industrial project on which the student shall be working under the guidance of the Siemens Certified Trainer. 
ALSO READ : Kellogg Executive Education launches Post Graduate Certificate in Product Management to upskill professionals in India
About TimesPro:
TimesPro is a brand of Times Professional Learning that addresses the skilling needs of Industry 4.0 through vocational learning and skilling solutions that are learner-centric, industry-relevant, and technology-supported with a focus on employability. It offers programmes across various Industry segments that addresses the demand for students with practical knowledge, trade-related and job-oriented learnings.
TimesPro aims to improve the employability quotient of learners by ushering a paradigm shift in the approach, curricula, pedagogy, teaching methodology, manner of engagement and mode of delivery, assessment, and evaluation metrics. TimesPro has strategically collaborated with academia and industry by developing customized programmes to equip students with sector-focused knowledge and industry-relevant skills.
JECRC University
JECRC University, established in 2012 under the JECRC University, Jaipur Act, 2012 (Act No. 15 of 2012) notified by Govt. of Rajasthan and Section 2(f) of the University Grants Commission Act, 1956, is driven by a Culture of Excellence, Research & Innovation. The traditional courses of Engineering, Management and Science are well-knit with the state-of-the-art schools encompassing Design, Law, Hospitality & Hotel Management, Journalism & Mass Media, and Allied Health Sciences nurturing the future of engineers, entrepreneurs, lawyers, and artisans.
The multifaceted research at JECRC University encompasses subject-specific exploration as well as the contexts of the business environment in which our students will operate and perform. JECRC University is known for a strong curriculum aligned with NEP, good teaching pedagogy, collaborative research culture and close industry linkages. Being the most preferred choice of recruiters, we are empanelled by the industries' top names. In the last 3 placement seasons, we had 5000+ offers rolled out by 250+ top companies from different sectors who visited us.
We apprehended the changing technology dynamics in the industry, which is influenced by different factors like need of solutions for unsolved technical problems, changing characteristics of the social environment etc. In accordance with this trailing thought and in order to empower the students with the latest & prevailing technological skills, we have collaborated with 30+ Global Industry Leaders like Google, Microsoft, Amazon Web Services, Hewlett Packard Enterprise, Adobe, Tech Mahindra, TCS, IBM, Cisco, Salesforce, Automation Anywhere, UiPath, Alibaba, EC Council, DXC Technology, International Skill Development Corporation (ISDC), Bajaj Finserv, ASSOCHAM, Manipal Hospital, Narayana Hrudayalaya Hospital, NASSCOM, Larsen & Toubro etc. and now we are glad to commence our relationship and learning journey with Siemens with the handholding & support by Times Pro.
visit EasyShiksha for skill development