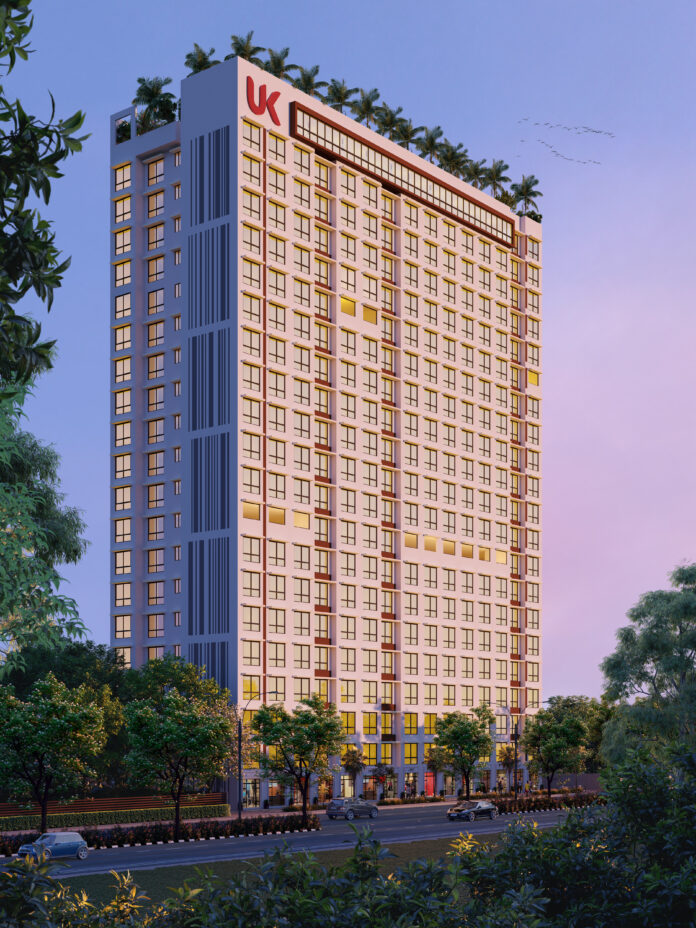 UK LUXECITY in Kandivali East aims to upgrade the lifestyle of residents with unparalleled convenience and views of a stunning natural environment.
UK IONA in Andheri to provide Mumbaikars with luxurious and sustainable living with a carefully designed zero-waste space residential area.
Mumbai, 29th March 2023: UK Realty, one of the leading builders has recently announced the launch of two new projects that are set to redefine owning a home in Mumbai – UK LUXECITY & UK lONA. UK Realty intends to invest over 3000 crores towards their completion.
UK LUXECITY, Phase II is spread across 3.5 acres of land in Kandivali East and offers Vastu-compliant 1 BHK compact, 1 & 2 BHK residences with stunning views of lush green hills and cityscapes. The township features multiple engagement zones where residents can enjoy their free time from home, making it the perfect place to upgrade your lifestyle. UK Realty is planning to invest 700 Cr in Phase II and 2100 Cr in the upcoming phase III. Below are certain pointers on why they've chosen Kandivali as their preferred location.
ALSO READ: Startup Odisha ropes in SIDBI for managing Funds: Dr. Omkar Rai, Executive Director, Startup Odisha
Located in the promising region
Well-connected location surrounded by a wide range of social and cultural hotspots.
Upcoming coastal road project
30+ amenities
On the other hand, UK lONA, located in Andheri (East), is designed with zero waste space to ensure that every square foot is well-utilized with minimal waste of space. The project caters to every necessity and offers a breathtaking view of the surrounding area. With Andheri East being the center of Mumbai's residential, commercial, and industrial development, UK lONA provides the perfect opportunity for influential living. It will attract an investment of Rs. 200 crores. Additionally, UK IONA has:-
18+ amenities
Zero waste space
Well-connected location
Metro stations and JVLR Road
Construction area of 221782.43 Sq. Feet
Commenting on the launch, Dinesh Bansal, Chairman of UK Realty said," We are delighted to launch these two projects that represent the best of aspirational residences in Mumbai. Our aim has always been to offer our customers the finest comfort and convenience. UK LUXECITY and UK IONA showcase our commitment to excellence. UK LUXECITY's Vastu-compliant residences and abundant amenities create a peaceful and harmonious living environment that is difficult to find in Mumbai. The township's engagement zones offer residents a perfect place to unwind and enjoy quality time with their families and friends. UK IONA also offers residents an impeccably designed living space that maximizes every inch of the area, ensuring zero-waste space. This feature alone makes UK IONA stand out from most other residential projects in the area. We are confident this will exceed our customers' expectations and offer them a lifestyle they have always dreamt of.``

UK Realty's new projects aim to emphasize on high-end living spaces in Mumbai by providing world-class amenities and value to enhance the daily living experience.
MahaRERA NO for Kandivali: P51800028266 | P51800033664
MahaRERA NO for Andheri: P51800047785
About UK Realty, Mumbai, India
Since its inception in 2010, UK Realty has taken giant strides in the real estate scenario of Mumbai. With 670 units already delivered and another 1565 in pipeline, we have earned the faith of over 1108 happy customers. Humble beginnings have paved the way for us to be one of the emerging forces in the real estate sector. It has only been possible because of our conviction. Our conviction that we are Stronger Together. UK Realty aims to disrupt the existing system with its core values. They have come together with a common pursuit of challenging the status quo through innovation. However, Ideas and innovations only gets one so far if they are not executed flawlessly. They are meaningless without planning, execution, and feedback. Giving form and shape to a community-fostering idea is another one of our strongest values and strengths. These core values set us apart – these are our clutter breakers. They are an extremely vibrant bunch who are absolutely obsessed with their customers, who believe that transparency is the key to collective growth and who challenge the unchallenged at every level.
This year Educate yourself and develop your career with EasyShiksha