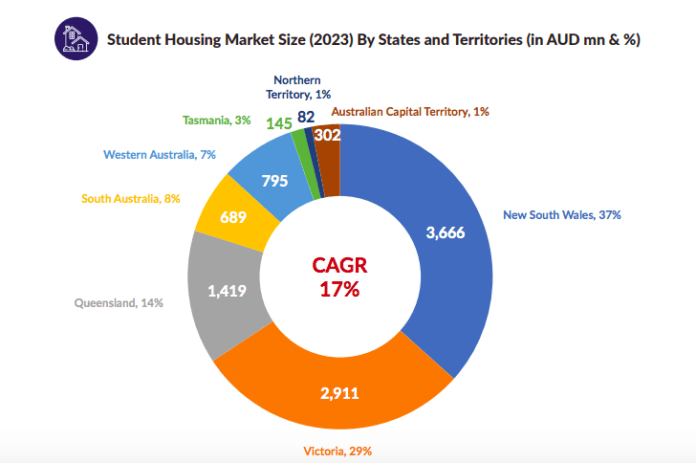 University Living, a leading global student accommodation marketplace, proudly presents its latest report, "Beyond Beds: Decoding Australia's Student Housing Market" highlighting the increasing demand for education in Australia and the resulting shortage of affordable student accommodation. 60k on campus beds and 90k PBSA beds were mapped while preparing this report. Amidst the rapid expansion of international higher education, the report reveals a rising number of students choosing Australia as their preferred destination. The numbers available for March, 2023 reveal 613,217 International students studying in Australia. This number was 27% higher than January – March last year.
With a surge in international students choosing Australia as their preferred destination, there is a pressing need for cost-effective and high-quality student housing. Rising rental costs, limited availability of beds, escalating living expenses, lack of awareness among international students, constraints in construction and supply, unregulated private rentals, and insufficient on-campus accommodation contributes to the current ongoing housing crisis.
The report reveals that Australia's student housing market has witnessed significant growth in recent years and is estimated to be worth AUD 10 billion, with a CAGR of 17%. 10% of the market accounts for on-campus accommodation while the remaining 90% is off campus accommodation.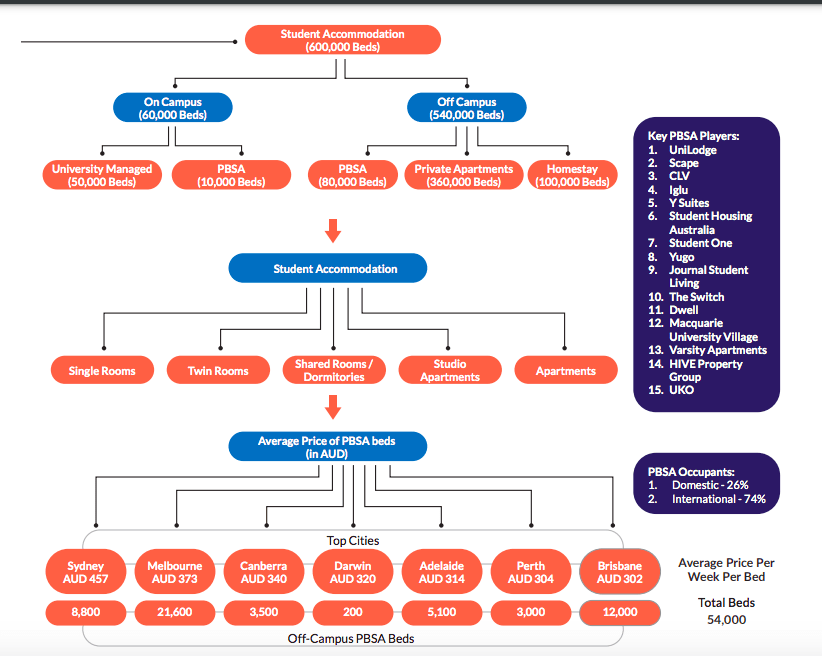 According to the report's estimates, there are 60,000+ beds across 42 Universities in Australia comprising university and corporate managed accommodation. A few key PBSA players along with some small regional PBSA players are estimated to be managing around 90,000 beds. Further, around 26% of PBSA beds are occupied by domestic students and the balance by International students.
ALSO READ : Besides money, fighting the mafia was the biggest challenge in driving Super 30: Padma Sri Anand Kumar, renowned Mathematics educator
Apart from PBSA, students also have the option of Private Rentals and Homestays which is an unorganized market. The private apartments beds are estimated to be around 360,000 while the homestays are estimated to have around 100,000 beds. The total enrollment in the university segment in Australia is estimated to be around 15,50,000 students, including both domestic and international students. However, there is a significant need for more affordable housing options, as rental costs have increased by 10-20% in major cities.
Saurabh Arora, Founder & CEO of University Living said, " With the release of the report, our goal is to provide valuable insights into the dynamics of Australia's student housing market. As the demand for international education continues to rise, it is crucial for stakeholders to have access to accurate data and insights to make informed decisions. Currently only 25% of the market is organized and with this report we aim to work with unorganized players to help them scale up and become a part of the organized segment. "
 Developed in collaboration with Bengaluru-based consulting firm RAYSolute Consultants, the report not only highlights the challenges faced by students and housing providers but also presents actionable strategies and recommendations to enhance student living conditions and transform the student housing landscape.

It provides an extensive analysis of the student housing sector in Australia, covering a multitude of factors including demand dynamics, supply aspects, need gaps, opportunities for investment, future outlook, and strategies to overcome the current set of challenges. 
Important Announcement – EasyShiksha has now started Online Internship Program "Ab India Sikhega Ghar Se"
About University Living:
University Living Accommodation is a community-based global student housing managed marketplace, providing students with safe, comfortable, and affordable accommodation options across different countries. They are a leading global provider and a pioneer of student accommodation in the Indian subcontinent, with an inventory of around 1.75 million beds in 300+ international student popular cities across the UK, Ireland, Australia, Europe, USA and Canada covering 1000+ global universities.
The company generates annual traffic of 8 Million annually and has assisted 2 Million students to date from 110 nationalities. University Living has built an organic marketplace for student accommodation, and the focus has always been to stay ahead of the curve, which makes the company a tech-enabled and content-led product. UL is an award-winning organisation with a GBV of 500 million, and more than 15 million nights in just 7 years. Being a category creator with a decade of experience, the company offers hassle-free booking services, transparent pricing, and 24/7 assistance to ensure a seamless post-admission experience for students.
This year educate yourself and develop your career with EasyShiksha