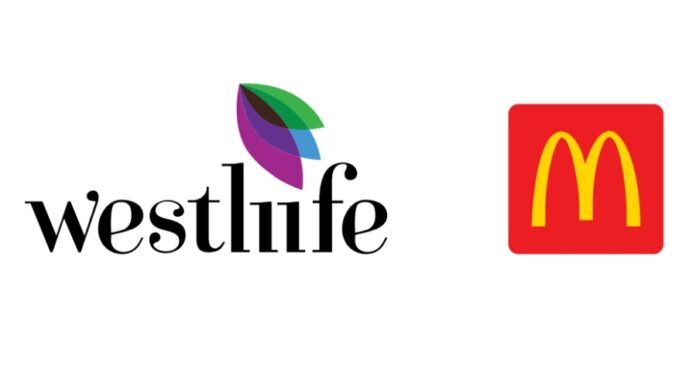 Q4 GROWTH OF 46.0% IN OPERATING EBITDA, 33.7% YOY JUMP IN RESTAURANT OPERATING MARGIN
HIGHLIGHTS OF QUARTER ENDED MARCH 31st, 2022
• New benchmarks achieved in the quarter
o Revenue stood at ₹4,551 million – an increase of 27.3% YoY
o Operating EBITDA stood at ₹ 728 million – a growth of 46.0% YoY
o Operating EBITDA margin and PAT margin touched an all-time high
o Clocked a robust PAT of ₹153 million (Pre-IND AS PAT ₹ 231 million)
o McDelivery clocked its highest ever revenue
• The company's Same Store Sales Growth for the quarter stood at 23% YoY
• Opened 12 new McDonald's restaurants this quarter taking the total count to 326
All numbers include the impact of IND AS 116
Mumbai, May 18, 2022: Westlife Development Limited (BSE: 505533) ("WDL"), owner of Hardcastle Restaurants Pvt. Ltd. ("HRPL"), the master franchisee of McDonald's restaurants in West and South India announced its financial results for the quarter ended March 31st, 2022. The results were taken on record by the Board of Directors at a meeting held today.
In the quarter under review, the company's revenue increased by 27% to ₹4,551 million. This strong topline resulted in a 33.7% Y-O-Y increase in the company's Restaurant Operating Margin, which now stands at ₹1,016 million. Withstanding the challenges of inflationary pressures and the Omicron wave, the company's Operating EBIDTA grew by 46% Y-O-Y to 16.0%. Its Same-Store Sales Growth (SSSG) for the quarter stood at 23% Y-O-Y. The company recorded a PAT of over ₹231 million in the quarter (pre IND AS).
Important Announcement – EasyShiksha has now started Online Internship Program "Ab India Sikhega Ghar Se"
Westlife's success in this financial year has demonstrated how, over the previous two years, it has developed a resilient playbook for growth. Its omnichannel strategy has set a new baseline for the business, allowing McDonald's to serve consumers whenever, wherever, and however they want. As the results show, the business recovered faster for both dine-in and convenience channels, growing by 15% and 42%, respectively. Dine-in, as well as the various convenience channels of delivery, takeaway, drive
thru, and on-the-go, currently generate over ₹4,500 million in sales per quarter.
The company's business came back strongly in the second half. In the financial year under review, the company witnessed a 60% jump in revenues and clocked its highest ever sales in Q3 FY22. Westlife has also delivered its highest ever full-year topline so far.
Commenting on the financial results for the quarter ended March 31, 2022, Mr. Amit Jatia, Vice Chairman of Westlife Development Limited, said, "Despite the challenging external environment owing to various Covid waves and inflationary pressures, we managed to deliver one of our best results. Our strong performance was underpinned by our omnichannel strategy, menu innovations, and cost optimization practices, and was a testament to our scale and agility. The playbook we put together in the last two years has made our business resilient and we aim to continue delivering seamless customer experiences while leveraging our momentum to drive long-term, sustainable growth for all our stakeholders."
visit easyshiksha for skill development
As part of menu innovation – another key tenet of the company's strategy, the company launched a new range of premium burgers with the Gourmet Burger Collection this year, which helped recruit new customers and gave existing customers a new option on the McDonald's menu to try. This along with McSpicy Fried Chicken on the menu in South India, helped the company to grow its Meals business. The company is confident of strengthening its leadership in the QSR industry with these two new additions on the menu.
In the last two years, the company focused on making McDonald's a highly accessible and convenient brand through various digital touchpoints like McDelivery App, the McDonald's App, and self-ordering kiosks at the restaurants. These digital touchpoints contributed to 57% of the company's revenue and are working well for the business.
In Q4 FY 22, the company opened 12 new McDonald's restaurants. This has been in line with the big and bold expansion plan thatthe company announced on completing 25 years of bringing McDonald's to India. To materialize its tier 2 and 3 growth plans, the company opened new restaurants in Vellore, Bhilai, and Bilaspur, this quarter. It witnessed impressive sales in the first few weeks in these cities that were higher than its restaurants in metros, clearly indicating a strong appetite in these emerging markets.
READ: XLRI- xavier school of management
With this, Westlife now has a total of 326 restaurants and 262 McCafé across 47 cities. The company also has 118 McDonald's outlets that are refurbished, swanky, digitally-enabled 'Experience of the Future' restaurants.
This financial year marked the completion of 25 years of the company bringing leading brand, McDonald's to South and West India. The company also signed on actress Rashmika Mandanna as its brand ambassador, this year, to drive its marketing campaigns for its chicken products on the menu. Additionally, the company also revamped its iconic offering 'Happy Meal' to make it more nutritious by introducing a cup of corn and a B Natural mixed fruit juice by ITC, which contains no added sugar or preservatives. To inculcate the habit of reading among children and to fuel their imagination, the company went a step ahead to offer interesting children's books in its Happy Meal.
The company also leveraged various occasions in FY 2021 – 2022 and launched interesting initiatives to strengthen brand trust and enhance brand love among consumers. Last year Westlife launched the EatQual packaging to make eating burgers easy for people with limited upper arm ability. This year the company continued to serve more people under this initiative and will keep innovating to bring happiness to many more people.
The Company took International Women's Day as an opportunity to further its inclusivity agenda and opened stores that were exclusively run and operated by women. Westlife is also proud to have more than 35% of women employees at its corporate office and its McDonald's restaurants.
WESTLIFE DEVELOPMENT LIMITED
Summarised Consolidated Statement of Profit & Loss for the Quarter ended March 31, 2022 – (Including IND AS 116 adjustments) (₹ in millions) For the Quarter For the Quarter Particulars ended March 31, ended March 31, Growth2022 2021
Amount
Amount
%
REVENUES
Sales by company-owned restaurants
4,439.0
3,508.9
26.5%
Other Operating Income – Restaurants
110.6
66.4
66.6%
Restaurant Operating Revenues (A)
4,549.6
3,575.3
27.3%
Net Gain on fair value changes in value of Investments (B)
1.2
0.6
83.0%
TOTAL REVENUES (A) + (B)
4,550.8
3,575.9
27.3%
Operating Costs and Expenses
Restaurant Operating Cost and Expenses
Food & Paper
1,591.7
1,198.1
32.9%
Payroll and Employee Benefits
413.9
358.1
15.6%
Royalty
202.6
161.1
25.7 %
Occupancy and Other Operating Expenses
1,326.6
1,098.7
20.7 %
TOTAL RESTAURANT OPERATING COSTS AND EXPENSES
3,534.8
2,815.9
25.5 %
Restaurant Operating Margin
1,016.0
760.0
33.7%
Other trading operating cost and expenses
–
–
General & Administrative expenses
287.5
261.0
10.2%
Total Operating costs and expenses 3,822.2 3,076.9 24.2%
Operating EBIDTA
728.5
499.0
46.0%
Other (income)/expenses, (net)
(40.5)
(41.7)
(3.1%)
Assets written off for closure / rebuild of restaurants
8.0
31.2
(74.4%)
EBIDTA
761.0
509.5
49.3%
Net Financial Expense (Interest & Bank Charges)
208.5
203.5
2.5%
Depreciation
347.1
351.4
(1.2%)
Profit before Tax and Exceptional items
205.4
(45.5)
551.3%
Exceptional Items
–
–
-%
Profit before Tax
205.4
(45.5)
551.3%
Deferred Tax
52.2
14.8
250.7%
Income tax
–
4.3
100.0%
Profit after Tax
153.2
-64.6
336.8%
Other Comprehensive Income
(a) Items that will not be reclassified to Profit or Loss
3.5
(5.7)
-162.5%
(b) Income tax on items that will not be reclassified to Profit or Loss
(0.9)
1.4
-162.5%
Other Comprehensive Income (A+B)
2.6
(4.2)
162.5%
Total Comprehensive Income for the period
150.6
(60.3)
349.0%
Cash Profit / (Loss)
528.8
325.8
62.5%
For any further information kindly contact:
Sulakshna Mukherjee
Corporate Communications
sulakshna.mukherjee@mcdonaldsindia.com
8433832379
About Westlife Development:
Westlife Development Limited (BSE: 505533) (WDL) focuses on setting up and operating Quick Service Restaurants (QSR) in India through its subsidiary Hardcastle Restaurants Pvt. Ltd. (HRPL). The Company operates a chain of
McDonald's restaurants in West and South India, having a master franchisee relationship with McDonald's Corporation USA, through the latter's Indian subsidiary.
About Hardcastle Restaurants:
HRPL is a McDonald's franchisee with rights to own and operate McDonald's restaurants in India's West and South markets. HRPL has been a franchisee in the region since its inception in 1996.
HRPL serves over 200 million customers, annually, at its 326 (as of March 31st 2022) McDonald's restaurants across 47 cities in the states of Telangana, Gujarat, Karnataka, Maharashtra, Tamil Nadu, Kerala, Chhattisgarh, Andhra Pradesh, Goa and parts of Madhya Pradesh and Union Territory of Puducherry and provides direct employment to close to 10,000 employees. McDonald's operates through various formats and brand extensions including standalone restaurants, drive- thrus, 24/7, McDelivery, McBreakfast and dessert kiosks. The menu features Burgers, Finger Foods, Wraps, Rice, Salads and Hot and Cold Beverages besides a wide range of desserts. Several of the McDonald's restaurants feature an in-house McCafé.
The pillars of the McDonald's system – Quality, Service, Cleanliness and Value – are evident at each of the restaurants that HRPL operates.
Disclaimer:
This document by Westlife Development Ltd ('the Company') contains forward-looking statements that represent our beliefs, projections and predictions about future events or our future performance. Forward-looking statements can be identified by terminology such as "may," "will," "would," "could," "should," "expect," "intend," "plan," "anticipate," "believe," "estimate," "predict," "potential," "continue", "expected", "outlook", "future" or the negative of these terms or other similar expressions or phrases or their variations. These forward-looking statements are necessarily subjective and involve known and unknown risks, uncertainties and other important factors that could cause our actual results performance or achievements or industry results to differ materially from any future results, performance or achievement described in or implied by such statements. The forward-looking statements contained herein include statements about the Company's business prospects, its ability to attract customers, its affordable platform, its expectation for revenue generation and its outlook. These statements are subject to the general risks inherent in the Company's business. These expectations may or may not be realized. Some of these expectations may be based upon assumptions or judgments that prove to be incorrect. In addition, the Company's business and operations involve numerous risks and uncertainties, many of which are beyond the control of the Company, which could result in the Company's expectations not being realized or otherwise materially affect the financial condition, results of operations and cash flows of the Company. The forward-looking statements are made only as of the date hereof, and the Company does not undertake any obligation to (and expressly disclaims any obligation to) update any forward-looking statements to reflect events or circumstances after the date such statements were made, or to reflect the occurrence of unanticipated events