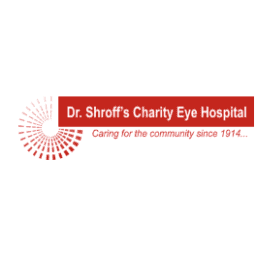 Plans to open 25 new vision centres under 'Seeing is Believing' initiative by Dec' 25
Vrindavan, 12th September 2023: On the occasion of World Sight Day, Dr. Shroff's Charity Eye Hospital, Daryaganj (SCEH) and Standard Chartered Bank (SCB) celebrated 20 years of 'Seeing Is Believing (SiB) Program, a flagship eyecare program launched by SCB in 2003. The Seeing is Believing initiative aims at providing affordable and quality eye care in low income and rural areas along with effectively tackling a common global challenge of avoidable blindness.
In the last 15 years, Dr. Shroff's Charity Eye Hospital has contributed to the Standard Chartered Bank's "Seeing is Believing' program by offering quality and affordable eye care services. One of the biggest initiatives under this program are vision centres.
To serve the people in tier II areas of North India, SCEH has till date opened 71 vision centres, in catchment area of its secondary centres. Around 70% of the centres are supported by Seeing is Believing program, allowing improved access to affordable and quality eye health services for underprivileged sections of the society. More than 2.5 Lakh patients have been examined in the past one year at the vision centres which was one-third of overall patients examined in the network. Moreover, 25,000+ patients underwent vision restoration surgeries which is 42% of the overall surgeries performed across network.
With support from Seeing is Believing, Dr. Shroff's Charity Eye Hospital now plans to scale up this initiative further by opening 25 new vision centres by December 2025 in Uttar Pradesh to expand the reach of quality eye care services to rural, unreached populations in underserved areas. Of these, 7 have already been opened, and two new centres will be inaugurated on World Sight Day. Another 3 vision centres will be started by the end of October 2023.
In 2014, Dr. Shroff's Charity Eye Hospital has set-up a modern eye care facility at Vrindavan's Brij Hospital and Research Centre (BHRC) under the Seeing is Believing program. Since inception, the Vrindavan Centre has screened almost 5,00,000 patients and performed over 40,000 surgeries. In addition to cataract services, this hospital is providing sub-speciality care either free of cost or at affordable costs to those in need in Mathura.

One of the primary initiatives under 'Seeing is Believing' is Mission Jyoti (door-to-door) program. With support from SCB, Dr. Shroff's Charity Eye Hospital has screened more than 30 lakh people across 3000 villages. Over 37,000 sight restoring cataract surgeries and 9000 sub-speciality eye surgeries have been provided in this program and close-to 95,000 people have been provide spectacles for refraction errors. This partnership has enabled Indian villages to fight the burden of avoidable blindness, return to education and has strengthen the local economy and community. The strategy has allowed the partnership to reach the doorstep of the rural target audience leading to earlier identification and conversion.
Dr. Umang Mathur, CEO, Dr. Shroff's Charity Eye Hospital, Daryaganj said, "Initiatives such as 'Seeing Is Believing' demonstrate the power of public-private partnerships and the impact they can have in effectively tackling a common global challenge such as avoidable blindness. Today we commend SC on their achievements in tackling and preventing avoidable blindness and visual impairment worldwide. Their legacy is here to stay."
Dr. Shalinder Sabherwal, Director Public Health & Projects (SCEH Network) said, "Universal eye health is not achievable without effective primary eye care coverage. We are thankful to Standard Chartered Bank for their 'Seeing Is Believing 'initiative, which is supporting us and similar organizations in India to help us work toward our mission to eradicate needless blindness in the country."
The partnership has strengthened eye health care services to eliminate avoidable vision loss. SCEH and SCB has managed to serve millions of underprivileged people living in underserved areas deprived of quality eye care, employing various strategies to provide services and access to these remote communities, both by strengthening the existing channels of eye care provision and by creating new ones to provide eye health services in semi- urban and rural parts of North India. The partnership is constantly working on expanding its reach and network.
ALSO READ: SPARSH Hospitals Unveils Cutting-Edge Robotic Specialty to Transform Medical Care
About Dr. Shroff's Charity Eye Hospital
Established in 1922, Dr. Shroff's Charity Eye Hospital (SCEH) is one of the oldest and largest eye care institutions in the country. Our commitment to extending quality eye care to underserved communities remains at the heart of our mission. We have proudly conducted 3 million door-to-door vision screenings across 3000 villages, identifying individuals in need of care and bringing our services directly to their doorsteps. Additionally, we have provided essential primary eye care to nearly 250,000 patients through our primary care clinics in rural tehsils and the slums of Delhi, catering to those who lack access to adequate healthcare resources.
Dr. Shroff's Charity Eye Hospital (SCEH) currently has 71 Vision Centres that provide primary care in the districts and villages of Uttar Pradesh, Rajasthan, Uttarakhand and semi-urban areas around Delhi. These are linked to Secondary Eye Care Centres (7), which are in turn linked to SCEH Tertiary Hospital in Delhi. As we complete 100 years of service, we also acknowledge the urgency of the present and the potential of the future. Amidst our centennial celebrations, we embarked on an exciting journey towards SCEH 2.0 – our strategic plan designed to guide us into the next decade. With a horizon set for the year 2030, SCEH 2.0 is not just a roadmap; it's a commitment to an even greater impact in society. Our strategic initiatives are carefully crafted to address the evolving needs of eye care and medical education, ensuring that our services continue to reach those who need them the most.
It is known globally not just for its comprehensive eye and ENT care but also for its impacting work among communities, research work and publications, as well as the education and training programmes it runs to develop human resources for the prevention of blindness and providing training to eye care professionals from across the world.
This year educate yourself and develop your career with EasyShiksha