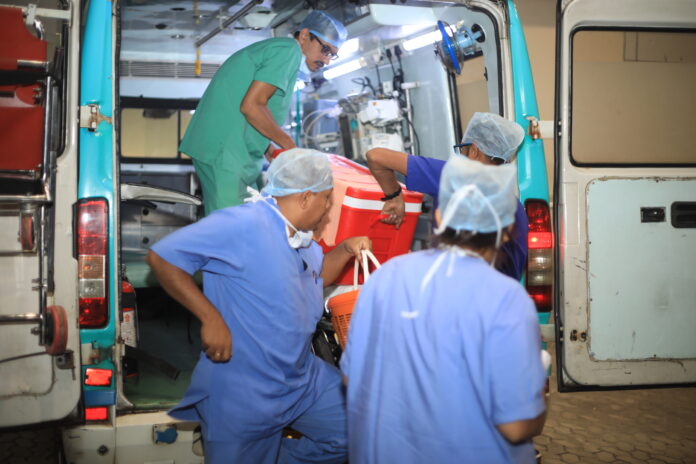 Bangalore October 10, 2023:  A 61-year-old patient was brought into Aster CMI hospital with a history of heart failure and he was diagnosed with dilated cardiomyopathy and advanced heart failure six months ago. Post-evaluation, the patient was advised for a heart transplant.  In a sudden development, giving him a ray of hope, one of the patients at Sparsh Hospital was declared brain dead and the family decided to donate his organs.
The heart was transported on Tuesday early morning from Sparsh Hospital, RR Nagar to Aster CMI Hospital, Hebbal. The team transporting the organ covered a distance of 24 km in a span of 35 minutes, which happened around 5:00 a.m.  
The heart retrieval and transplant procedure was performed by a team led by Prof. Dr. Nagamalesh U M, Lead Consultant – Cardiology, Interventional Cardiologist, Aster CMI Hospital, Bangalore and Director – Heart Failure, Transplant & MCS Program, Aster Hospitals, Bangalore along with Dr. Ganesh Krishnan Iyer, Lead Consultant – CTVS Surgery, Dr. Divakar Bhat, Dr. Arul Dominic Furtado, Dr. Prashanth Ramamurthy and Dr. Prashanth Y M.
ALSO READ: 1900+ Schools Partner with Ed-Tech Brand "AASOKA" of MBD Group to Aid 21st Century Learning for Students
Commenting on the surgery, Prof. Dr. Nagamalesh U M, Aster CMI Hospital, said: "The transplant surgery procedure was complex due to the age of the patient and it took us 6 hours to perform the transplant". The patient responded well, and required critical care and close monitoring in the post-operative phase.
Mr. SGS Lakshmanan, COO of Aster CMI Hospital, Bangalore, said: "At Aster CMI Hospital, we are focused on enabling a vigorous healthcare ecosystem that is supported by state-of-the-art healthcare infrastructure to cater to complex health conditions and the success of this surgery is a attestation towards the same."
Aster CMI Hospital stays committed to providing unparalleled medical services to its patients which is strengthened by quality care, high-end innovative technology, treatment, and qualified medical practitioners.
About ASTER DM HEALTHCARE
Aster DM Healthcare Limited is one of the largest private healthcare service providers operating in GCC and in India. With an inherent emphasis on clinical excellence, we are one of the few entities in the world with a strong presence across primary, secondary, tertiary, and quaternary healthcare through our 30 hospitals, 121 clinics, 459* pharmacies, 19 labs and 140 patient experience centers in seven countries, including India. We have over 28,400 plus dedicated staff including 3,622 doctors and 8,095 nurses across the geographies that we are present in, delivering a simple yet strong promise to our different stakeholders: "We'll treat you well." We reach out to all economic segments in the GCC states through our differentiated healthcare services across the "Aster", "Medcare" and "Access" brands.
* Including 214 Pharmacies in India operated by Alfaone Retail Pharmacies Private Limited under brand license from Aster.
This year educate yourself and develop your career with EasyShiksha