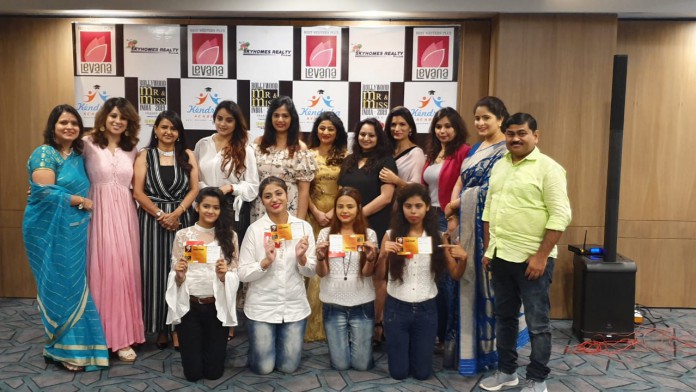 Mr. Yash Ahlawat, founder of Studio 19 Films selects talented youngsters from the city of nawabs for Bollywood Mr & Miss India 2019 Season 03
17th September 2019: After successfully conducting Bollywood Mr. and Miss India (BMMI) 2019 auditions in sixty-four cities of India, Studio19 Films, the organizers of India's biggest Bollywood pageant moved forward to the nawabon ki city, and selected 4 contestants from the auditions held at Levana Hotel, Lucknow.
Bollywood Mr. and Miss India (BMMI) 2019 organized by Studio19 Films received an overwhelming response from all the young men and women who had very passionately auditioned to be part of the third season of India's biggest Bollywood pageant. The Jury who had graced the event and further helped in selecting the final contestants were Geetanjali Singh – U.P Audition Director, Kavita Somani – Mrs. India Universe Earth, Shweta Dixit – Mrs. India International, Dr. Veena Singh – Professor at Shri Ramswaroop Memorial University (SRMU) Lucknow, Anita Mishra – Director Lakme Academy & Salon, Manjri Pandey – Founder/ Director Manjri's Institute of Music and Fine Arts (MIMFA) Lucknow.
Commenting on the audition day, Miss India International Shewta Dixit, said, "This year we witnessed a crowd of aspiring, intelligent, talented youngsters who were very goal-oriented and confident in stature. It's always a pleasure to see more millennials coming forward and expressing their eagerness towards being associated with the entertainment industry. Each participant showcased their talents and highlighted their strengths, hence choosing only a few from the best was a tough decision to make for the Jury."
Commenting on the Bollywood Mr. and Miss India 2019 season 3 auditions in Lucknow, Mr. Yash Ahlawat, Actor and Founder of Studio 19 Films said, "There is no end to talent. With each passing audition, I only see the bar of talent and uber confidence soaring heights. Lucknow was a great experience, as I met some extremely articulate and well-spoken candidates here."
Bollywood Mr. and Miss India 2019 season 3 will be hosting their final round of auditions in Delhi soon, wherein Mr. Yash Ahlawat and Actor/ Model Rajnesh Duggal will be disclosing the names of the final contestants. The contestants falling between the age group of 16 to 32 years can contest for the same and showcase their style, attitude, and charisma.
Further commenting on his expectations from the Delhi audition, Mr. Ahlawat said, "Magnificent as it sounds; there will be a panel of eminent experts from the Bollywood fraternity to pick onto the contestants from Delhi who will be selected based on their charisma, confidence, industry knowledge, and IQ level of the aspirants. It is extremely important to be well-informed about the paparazzi of your industry."
About Studio 19 Films: Studio 19 films an au-courant media and entertainment company, Studio 19 is a provider of wings to various dreams. Founder Mr. Yash Ahlawat, an eminent personality, who had envisioned the need to encourage fresh individuals in the ever dynamic field of modeling and acting. A skilled actor and director himself, Mr. Ahlawat is accredited with many feathers in his cap including financing of a series of flicks.