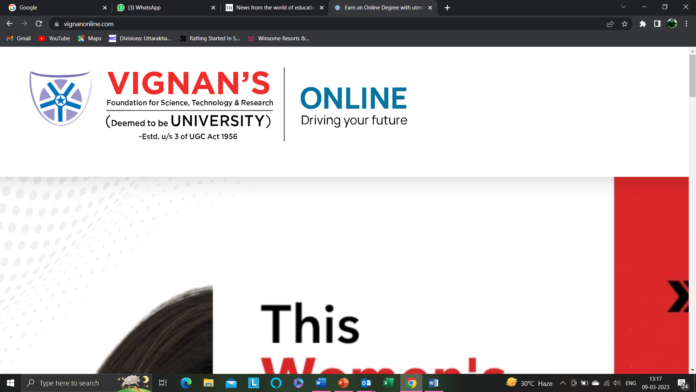 The webinar to be held on the Vignan Online Experience (VOX) platform of Vignan Online
Delhi, 15th March 2023: Vignan Online, the e-learning arm of Vignan Foundation for Science, Technology, & Research (Deemed-to-be University), will host a webinar titled "ChatGPT: The Key to Unlocking Million-Dollar Potential." Mr. Rishabh Kumar, Chairman JITO-CFE, will be the speaker of this webinar, which will be conducted on March 16th at 7 pm (IST). Registration link for the webinar is https://bit.ly/3ZVAkHl
Generative Pretrained Transformer or ChatGPT is an Artificial Intelligence (AI) based chatbot that has taken over the world by storm because of its accuracy in generating text. It has been developed using a technique called unsupervised learning, which means it has been trained using a dataset that hasn't been annotated in any way. Hence, it is flexible enough to identify patterns and relationships in the data on its own.

Among the plethora of ChatGPT's uses, it can not only be a competitor for chatbots to develop apps but also help in coding, HR and Business Operations, Product Descriptions, and so on. This webinar will shed light on how to explore the various use cases for ChatGPT in order to maximize its potential. In addition, there will be a discussion on the different challenges and opportunities of using ChatGPT. There will also be an examination of the potential applications of ChatGPT in the area of business.
Srikant Nandigam, CEO of Vignan Online, says, "The scope of ChatGPT is as vast as the sea. It has great potential in edTech, and customer service and has the potential to replace search engines. From lead generation to helping businesses identify potential customers and convert them into paying customers to sales support to helping businesses create high-quality content quickly and efficiently, ChatGPT could be a boon for businesses. Learners interested in a career in finance, business, marketing, and commerce will certainly benefit from this webinar."
As per a survey by Fortune Business Insights, the global business intelligence market size was USD 20.60 billion in 2019 and is projected to reach USD 39.35 billion by 2027.
Vignan Online has launched VOX (Vignan Online Experience), an online education platform to engage learners. VOX will help teachers and industry experts to impart mentorship and guidance through a number of direct discussions and conferences with learners to help in their holistic development. The learners will get the opportunity for self-expression in these workshops by professionals and successful entrepreneurs and learn about their success stories. The diversity of expertise and opinion will help the learners expand their horizons to reach greater skies.
Vignan Online, launched in January 2022, offers MBA, BBA, MCA & BCA Online Degree Programs entitled by the UGC in online mode for new-age learners across the globe. For UG students, the BBA program includes electives in Finance, Human Resources Management, and Marketing. Weekend online sessions are available to working professionals and remote learners during the three-year duration of these programs. There are a variety of MBA courses offered to learners at Vignan, including HR, Finance, Marketing, and Operations. In addition to these courses, the advanced certification offers financial markets, fintech, investment banking, and equity research courses under finance. In the Online MBA program in Marketing, learners can choose from digital marketing and e-commerce, data science and analytics, and advertising and branding.
A new batch of MCA and BCA Online Degree Programs has been started by Vignan Online for this academic session. Electives offered in a master's degree program in computer application include Computer Science and IT, Data Science, and Cyber Security, while those in a bachelor's degree program include Computer Science and IT, Data Science, and Cloud Computing. During the program, learners will acquire in-depth knowledge and practical experience in programming, software engineering, web technologies, database management systems, etc. Additionally, they will gain an in-depth knowledge of all necessary technological tools, such as SQL, NumPy, Matplotlib, and Python. Industry-standard topics and elements of cyber security are covered in the cyber security elective.
ALSO READ: 5 Hard lessons for E-commerce entrepreneurs
About Vignan Online:
Vignan Online is the e-learning arm of Vignan's Foundation for Science, Technology, and Research (VFSTR) Deemed-to-be University, providing online education for learners. We offer affordable and high-quality UG and PG online degree programs through an innovative curriculum offered by top-notch faculty. In addition, we aim to help the learners open new doors of opportunities by providing a broad spectrum of resources that provide in-depth and practical exposure.
About Vignan Foundation for Science Technology and Research (Deemed-to-be University):
Incepted in 2008, Vignan (Deemed-to-be University) is situated in Guntur, Andhra Pradesh. It is the brainchild of the renowned academician Dr. L Rathaiah, Chairman of the Vignan Group of Institutions. The Group carries a legacy of over 45 years in the states of Andhra Pradesh and Telangana and has been providing on-campus UG, PG, and Ph.D. programs. Known for its ethical and moral standards, upliftment of the learners and first-time engineers of the family, disciplined learning, committed faculty, state-of-the-art infrastructure, and excellent placement record, Vignan has been providing quality education in a diverse and academically inspiring environment. Vignan has become instrumental not only in shaping the future of the learners, making them job-ready, but also in helping in their overall development and being successful citizens.
For more info, please visit Home | Vignan University (vignanonline.com)
This year Educate yourself and develop your career with EasyShiksha