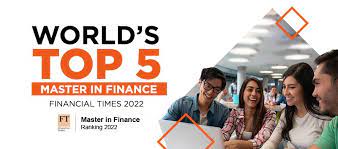 EDHEC maintains high marks for Career Progression, placing 3rd worldwide, and moves up to 7th place for Career Services
India, 13 June 2022 – EDHEC Business School's Masters in Finance programme ranks 5th in the world, according to the 2022 Financial Times Masters in Finance Ranking, released today. EDHEC, which the FT named a Top 10 European Business School earlier this year, offers students impressive opportunities for career and salary advancement, and maintains an elite standing among Finance programmes in Europe and around the world.
In this edition of the Financial Times Masters in Finance Ranking, EDHEC maintained its 3rd place ranking in Career Progression, and climbed 7 places in the category of Career Services to clinch 7th place overall. The salary of EDHEC Masters in Finance graduates (after three years of work experience) also witnessed a 16% increase compared to last year's ranking, for an average of $100,666 (USD) per year.
In terms of International Course Experience and International Mobility, the EDHEC Masters in Finance also ranked well: placing 4th and 8th respectively. For overall student satisfaction, the programme scored an impressive 9 out of 10. Although this score was not included in the final Financial Times ranking, it is an indication of the high calibre of education provided by EDHEC and the value of this education in the eyes of graduates.
ALSO READ : ETS holds capacity-building webinars with CBSE on best practices in test development and psychometrics
"We are thrilled to receive such a strong endorsement of our Masters in Finance programme," says Michelle Sisto, Associate Dean of Graduate Studies at EDHEC. "We are grateful for the positive feedback from our graduates, and to know that they are succeeding in their careers thanks to the education they received at EDHEC. Our mission is to educate financial managers who will have an impact, and that's exactly what our graduates do every day, no matter where they find themselves in the world."
EDHEC has a long history of providing cutting-edge Finance education and is proud of its reputation as a global leader. Besides the Masters in Finance, EDHEC also offers a PhD in Finance. Recently, the school hosted its 5th annual Finance PhD Forum, during which current and past doctoral students discussed their research with Finance practitioners from around the globe.

Earlier this year, EDHEC hosted a Future of Finance webinar series that invited top experts and some of the school's professors to debate and discuss important finance issues. The webinar series attracted attention from top financial journalists who recognised EDHEC's authority in the field and wanted to take a deep dive into the subjects discussed.
Last fall, EDHEC launched a new MSc in Climate Change & Sustainable Finance, which aims to prepare future finance managers to lead the way in reducing carbon emissions and creating a greener planet. Members of the first class of this MSc recently graduated in a ceremony on EDHEC's Lille campus.
Visit EasyShiksha for Skill Development
##
EDHEC is an international business school with more than 110 nationalities represented on campuses in Lille, Nice, Paris and Singapore. With 50,000 alumni in 130 countries and learning partnerships with 290 institutions worldwide, EDHEC educates the leaders of tomorrow: men and women who are determined to solve the most pressing economic, social, technological, and environmental challenges of our time.
EDHEC's unique research model is rooted in public service: to society, to business, and to higher education. A hub of excellence, innovation and diversity, EDHEC's mission is to educate future generations in a world in constant transformation.
The school has developed a unique model founded on research of real practical use to society, companies and students. EDHEC is a centre of excellence, innovation, experience and diversity, focused on impacting future generations in a fast-transforming world. The school exists to make a positive impact on the world.
EDHEC by the numbers:
– 8,600 students in undergraduate and graduate 175 professors and researchers, 11 research centres
– 5 campuses and a digital platform devoted to 100%-online certificate and degree programmes: EDHEC Online
– 2021: Grand opening of the Jean Arnault Campus in Roubaix—a joint-venture between LVMH, EDHEC, and the Institut des Vocations pour l'Emploi (LIVE)—that is dedicated to entrepreneurship, innovation, and inclusion. EDHEC is a major partner of Station F in Paris, the world's largest campus for start-up creation and innovation.
– 23 undergraduate and graduate programmes: Bachelors (BBA and BSc), master's in management, Masters of Science (MSc), MBA (Full-time and Executive MBA), PhD (Finance) – A multitude of continuing education options for managers, business leaders and entrepreneurs offered through EDHEC Executive Education (certificates and degree programmes)