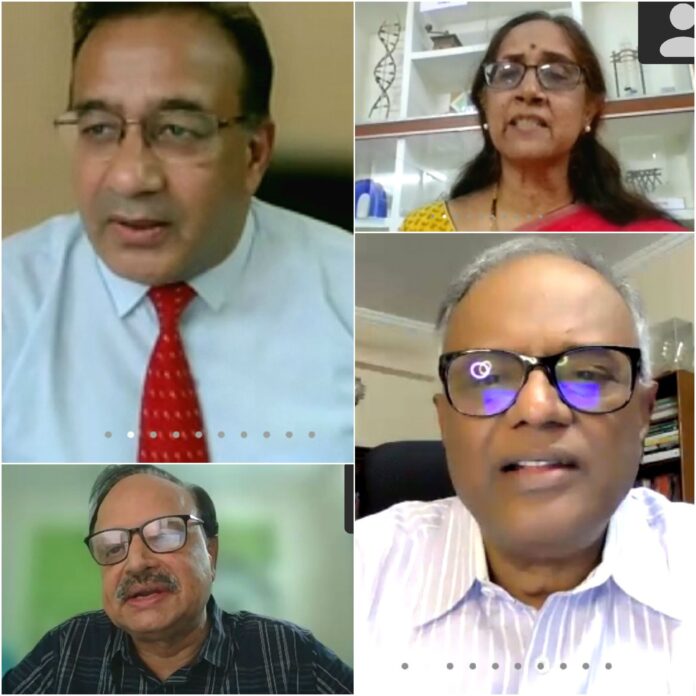 Hyderabad, October 02, 2022…. Dr. K. V. Rao Scientific Society held its 22nd Annual Science Awards and Memorial Oration Function virtually on Zoom on Saturday till late in the night. The Memorial Oration was given by Chief Guest, Dr. Prakash Chauhan Director, National Remote Sensing Centre, Hyderabad. Internet Service from Space will be available in India very soon said Dr. Prakash Chauhan Director, National Remote Sensing Centre while giving his oration lecture on subjected  "Satellites for Society".
There is a lot of curiosity of human race about space. He spoke what is space where it begins. He spoke about exciting journey of space, its applications, how modern and new wave of technologies is  changing space science. We at ISRO  have the capability of identifying from 500 kms above surface an object of 50×50 cms in size on earth's surface, he said. We can study images of weather patterns taken from the satellite hundreds of kilometers away from earth's surface, he added.
Also Read: GRAMMY® AWARD-WINNING ICON SHANIA TWAIN
Dr. K Ratna, Secretary of the society while Welcoming the gathering said what was started small in then combined states of Andhra Pradesh, the Dr KV Rao Scientific Society now has gone national.
Giving her annual report, Dr. K. Ratna, Secretary of Dr K. V. Rao Scientific Society said the society has embarked on its journey of science promotion and popularization since 2001. And it has been involved in encouraging child scientists, young scientists in pursuit of science and research.
This was an event Celebrating excellence in Science commented Dr. K. Ratna. The Annual Science Awards included: Science Quiz, School Talent, SPARK Innovation, and Research Awards
Mr.Anil Kumar Kutty, President and Mr K. Ramamurthy, Vice President of the Society graced the occasion.
The two ambitious projects Science Innovation Centre and Science Mobile Labs have reached out 200 plus schools and 3000 plus students said AMr Kutty. Many government schools do not have science labs. For them knowledge of science is through reading books. Mobile science lab helped many students, he added.
The Society was founded by the family in memory of Dr. K.V. Rao, an eminent Scientist of yester years who worked with Geological Survey of India.  Dr. K.V Rao Society has been working hard for the past 18years  for the cause of popularizing science among school children and enthusing young minds towards pursuing a career in science.
Visit EasyShiksha for skill development courses