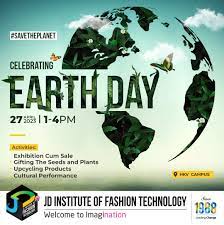 National, April 2023 – On April 27, JD Institute of Fashion Technology will celebrate the 53rd International Earth Day to promote sustainability and raise awareness of environmental issues. Students and faculties will be giving seeds/plants as gifts to loved ones as a special and considerate way to emphasise the value of nurturing and protecting our planet. The institute disseminates the idea that these seeds/plants represent a lifetime of the beauty of nature and that even if loved ones are physically separated, the plant will continue to grow with them.
ALSO READ: Thakur Global Business School invites applications for its PGDM programme
In addition to the green gifting, the event will also feature an exhibition cum sale of upcycled products by the Jediians at the Institute, showcasing the students' creativity in repurposing discarded items into fashionable accessories and sustainable home decor. Youth for Global Peace Transformation (YGPT) and Earth Embrace in association with JD Institute of Delhi will be conducting a session "Valuing Mother Earth". It will be an interactive session with Ms. Maitrey Mohini, Training Facilitator, International Academy of Transformative Leadership as the speaker at 4 PM – 5 PM at Seminar Room, Hauz Khas Village, Delhi Campus. The session aims for the audience to understand how Mother Earth is a living consciousness and how valuing her will bring much-needed relief she desperately needs.
Following the session, an Earth Day display including Recycled Record Vinyl painted by more than 120 artists from India will be on display from May 6-7, 2023. JD Institute of Fashion Technology in collaboration 'Speaking Art Foundation', 'Make A Wish India' and 'Records Manya' have joined hands to celebrate the 53rd EARTH DAY by participating in this unique art project. The event will include JD Institute students showcasing their creative use of vinyl records, which will be showcased at Lokayata Art Gallery in an installation format.

"We aim to encourage creativity in our students through the Earth Day Exhibition where students will be working on making Vinyl Record, the sales of which will be donated to Make a Wish India Foundation," stated Mr. Harsh Dalal, Director of JD Institute of Fashion Technology.
"Earth Day serves as a reminder that it is everyone's responsibility to protect the environment and its resources," said Mrs. Rupal Dalal, Managing Director of JD Institute of Fashion Technology. "Through these initiatives we take a step towards understanding the depth of our relationship with Mother Earth."
Ms. Akshra Dalal, Director of JD Institute Fashion Technology, added "with this event we come together to promote action towards a greener and more sustainable future as every small step of an individual matters to protect our planet."
About JD Institute of Fashion Technology: 
JD Institute, founded in 1988, is an academic division of JD Image Promotions Ltd. The Institute was established by Mr. Chandrakant Dalal (Former President) and Mr. R.C. Dalal (Former Executive Director & co-Founder of Indian Film Festival) has been a pioneer in the area of 'Art and Design Education' in India. JD takes pleasure in offering the most innovative and advanced courses in Fashion Design, Interior Design, Jewelry Design, Fashion Communication, Visual Merchandising, and Make-Up Artistry taught by industry experts in a highly imaginative, experimental, and supportive environment.   
This year Educate yourself and develop your career with EasyShiksha