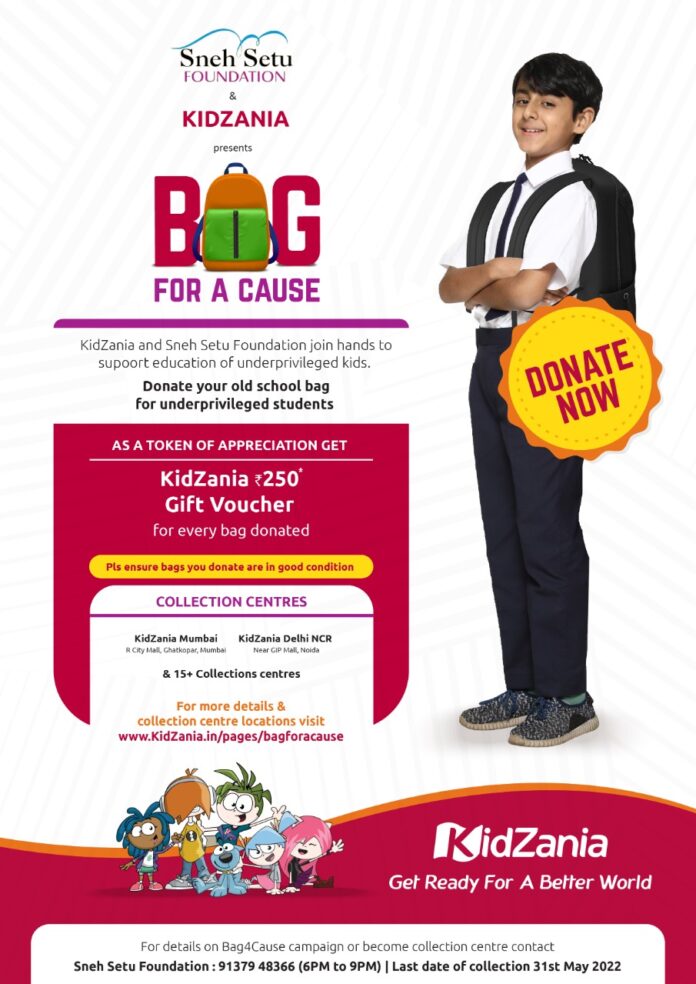 The initiative, in partnership with the NGO, urges one to donate their old school bags to support the education of underprivileged children
For every donation made, the park chain is availing a ₹250/- Gift Voucher on the entry ticket of KidZania to express its appreciation
India-wide release, 16th May 2022: Global edutainment park, KidZania India, has joined hands with Sneh Setu Foundation, a leading NGO, for its 'Bag For A Cause' initiative. Through this initiative, KidZania and Sneh Setu Foundation seek to support the education of underprivileged students by encouraging  citizens to donate their old school bags (good condition ) to them in both its Mumbai and Delhi facilities.
KidZania is well-known for educating and empowering children by combining fun and learning through various role-playing activities in its uniquely interactive indoor theme park. Built around the core vision of inspiring kids everywhere and helping them become confident future citizens who will make the world a better place, the brand strives to contribute meaningfully to their overall growth and development. In line with this thought process, it has brought forth its 'Bag For A Cause' initiative in association with Sneh Setu Foundation, which primarily works to empower underprivileged children.
The initiative will run its course for over a month and is seeing KidZania receiving donations of old school bags (that are in a good, usable condition) for underprivileged students until the first week of June. For every bag donated, the brand is giving a ₹250/- Gift Voucher on the entry ticket of KidZania as a token of appreciation.
Important Announcement – EasyShiksha has now started Online Internship Program "Ab India Sikhega Ghar Se"
Talking about this initiative, Tarandeep Singh Sekhon – Marketing Director – KidZania India, said, "KidZania has always aimed to facilitate interesting activities via edutainment that foster necessary life skills and values in children, enabling them to create a better tomorrow. Our 'Bag For A Cause' initiative is an expansion of this very aim, and through it, KidZania endeavours to extend its unwavering support to educating underprivileged children and helping them build a bright future. We thank the Sneh Setu Foundation for partnering with us in this initiative and look forward to many more such associations that will work towards empowering children to navigate their world better."
READ: easyshiksha.com
Sagar Vira Founder Trustee of Sneh Setu Foundation mentioned, Education is ticket to success and builds great nation. "It has always been our mission to ensure good education facility for every child in India and make this world a better place for them with empathy and compassion. Our association with KidZania for this initiative is built on similar grounds, and we are immensely pleased to see how it is empowering children on their path to education with a smile on their faces. The initiative also helps kids from well to do family learn the act of kindness. We look forward to more such initiatives in the future!"
Apart from KidZania Mumbai and KidZania Delhi NCR facilities, one can donate their old school bags to over 15 other collection centres for this initiative. For more details, log on to www.KidZania.in/bagforacause. 
ALSO READ: Canadian International School Celebrates International Oneness with Multicultural Day
About KidZania India
KidZania is an interactive family entertainment & learning center that empowers, inspires & educates through real-life role-playing activities. KidZania is a unique combination of Entertainment, an immersive media platform for brands to connect with Children and Adults, with a strong focus on giving back to society and better the community and environment.
Built like a city, it is complete with paved roads, battery operated vehicles, buildings, a functioning economy & its own currency. By blending reality with entertainment, it provides an authentic and powerful developmental platform where kids can discover, explore and learn about the real world.
The realism of the role-play helps children learn about different careers, work, economy and how to manage money. Each activity experience is designed by Educationalists, Play Experts & Child Physiologists to aid and boost different behavioral skills and values in a child.
KidZania represents industries present in the real world like private services, public services, entertainment, airline, automobile, retail, restaurants and factories where children can play the role of a Pilot, Surgeon, Detective, Chef, Engineer, TV Producer, Radio Jockey & much more from over 100 role-playing activities.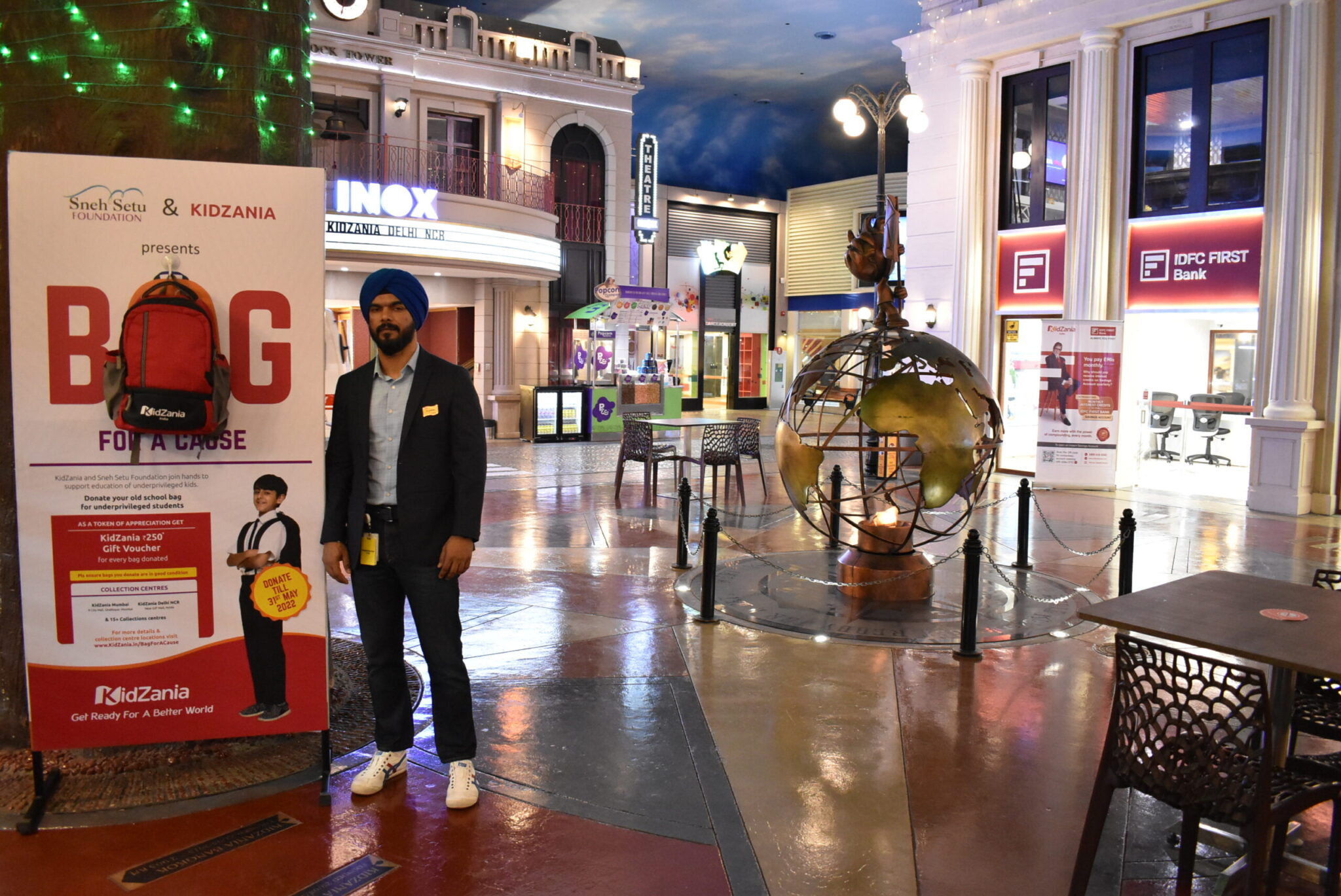 'Industry Partners' augment the role-playing experiences by enriching and creating an authentic, immersive and interactive brand experience, unmatched by any other location-based entertainment property. For Brands, KidZania serves as a sustainable engagement platform where brands get product exposure, brand exposure and immersive experience through branded role-plays.
KidZania is globally present across 26 cities in 20 countries, including multiple locations in Americas, Europe, Japan, Korea, Middle East and Asia.  KidZania has been operational in India at Mumbai since Sep 2013 and Delhi NCR since May 2016.