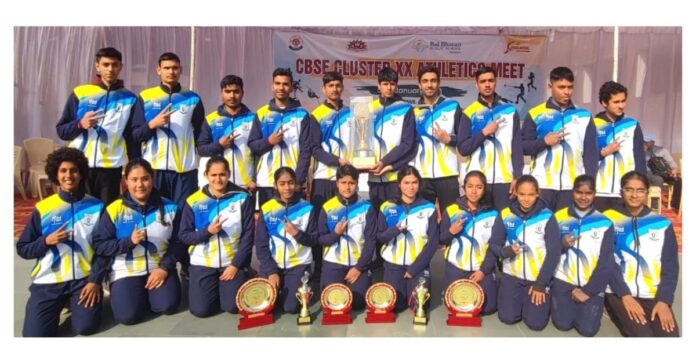 New Delhi, February 14 2023: The shining stars of the Modern Public School (MPS), Shalimar Bagh, brought another glory to the school, by clinching the Championship title at the CBSE National Athletic Meet 2022-23, for the second consecutive time. The young talents of MPS displayed their exemplary performances in the field during this national event held under the aegis of the Central Board of Secondary Education (CBSE) at Santatulanand Convent School, Varanasi, Uttar Pradesh, from 1 to 4 February 2023. The school was also the overall champions of the CBSE meet in the last edition held in 2019.
The grand sporting arena witnessed the zealous participation of young athletes from CBSE schools across the country and international CBSE schools from 7 gulf countries including Bahrain, Kuwait, Sultunate of Oman, Qatar, Kingdom of Saudi Arabia, and United Arab Emirates (UAE). With their triumphant performances, the students of Modern Public School exhibited their dominion by securing 21 medals, including 16 Gold, 4 Silver and 1 bronze medal.
While all participants from the school delivered their best performances, Riya Bisht of Class IX was declared the best athlete in the Under-19 Girls category, Tanishka Sharma of Class XII won 4 gold medals in Javelin Throw, Shotput, 4×100m and 4×400m Relay, Harshita Goswami of class XI won 3 gold and 1 bronze medal in High Jump, 4×100m and 4×400m Relay and Triple Jump, respectively, and the school star athlete Arjun of class XI won gold medal in Javelin Throw, missing the CBSE record by just a few centimeters. Modern Public School was declared the Overall Champions in Boys and Girls Category, Overall Champions in Girls Category, and Overall Champions in U-19 Girls Category.
"MPS has been CBSE State champions for consecutive 14 years and now National Champions for the second consecutive year. We look forward to keep up the bar and make a mark at upcoming competitions. Students got amazing exposure by participating in a grand sporting competition which is of national repute. We are certain that with the fervent dedications of our house coaches our students will continue excelling in national and international arenas, and keep maintaining MPS' core objective to foster both academics and athletics excellence," said Principal of MPS, Alka Kapur.
The victory of school sports stars was even more significant this year since there was a clash between two events – Khelo India Youth Games and the CBSE National Athletics Meet and the children had to travel for 10-14 hours and participate without any rest. The students were facilitated in the best possible way by the school. Students participating in sports are given academic support and are provided with extra classes. They are given a waiver in the school fee for their excellent performance and high-end equipment in form of latest machinery, and training materials are provided. The boarding and lodging costs of participation in national meets are met by the school. Till now, Modern Public School has bagged many scholarships from government for the excellent performance in the field of athletics.
Also Read: Lifetime Achievement Award presented to Sanjay Ghodawat
This year Educate yourself and develop your careers with EasyShiksha