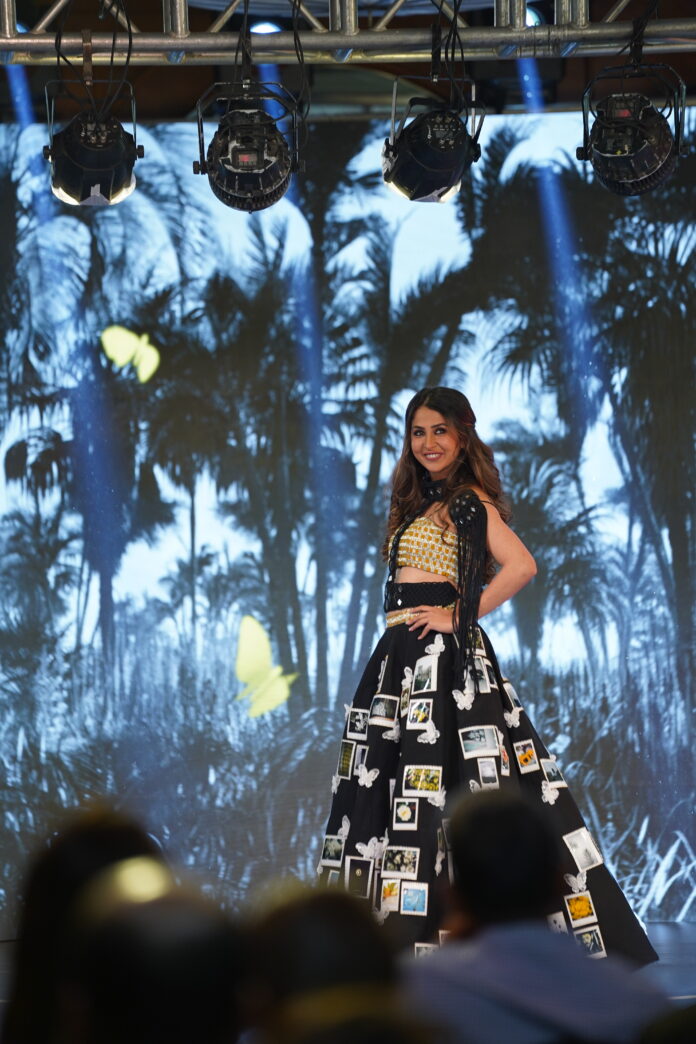 27 March 2023, New Delhi: Celebrated Indian Fashion Designer, Vikram Phadnis, struck multiple chords at the Bollywood Style Icon Awards by showcasing a dress, uniquely showcasing photo films by leading instant camera player – FUJIFILM Instax. The striking vivid hues of the photographs created a phenomenal effect. The carefully designed dress served as the most unique example of creative prowess by Phadnis and showcased Instax's legacy in the imaging space.


Over the years, the ace entertainment and lifestyle brand, Bollywood Hungama, created content in and around Bollywood, Television, Hollywood, Music, Lifestyle and Celebrities. A go-to platform for film trade-based reportage or general entertainment news coverage, it has revolutionized the field of entertainment journalism. As Bollywood Hungama completes 25 years in 2023, it is gearing up to kick off a new journey by sponsoring The Style Icon awards. FUJIFILM Instax has also served as a statement for all things trendy over the years. Its compact design, and colorful options resonate with the style of users across different age groups and genders. In line with this, the Instax dress by Vikram Phadnis serves as a reminder to never stop innovating and creating.
The brand's partnership with Bollywood Style Icon Awards as the Instant Pictures Partner is a testament to its commitment of staying at the forefront of trends. The award show will also feature an exclusive award category which will be presented by FUJIFILM as well as a dedicated on-ground PAP corner.
FUJIFILM Instax has a wide range of compact, technology driven instant cameras and smartphone printers. These films produce state-of-the-art picture quality, instantly and are also waterproof. This makes them a favorite among millennials and Gen-Z alike for whom aesthetics and style goes hand in hand.
"At FUJIFILM, we are proud to partner with industry stalwarts like Vikram Phadnis, who are the epitome of creative expression and style. With this, we strengthen our commitment to fostering creative expression and building a connection with the young, style conscious Indian. We look forward to more such partnerships in the future" said Mr. Koji Wada, Managing Director, FUJIFILM India Pvt. Ltd.
ALSO READ: PM Modi Inaugurates India's First Totally-Free Medical College – Sri Madhusudan Sai
Adding to this, Mr. Arun Babu, Head of Digital Camera, Instax & Optical Devices Business, FUJIFILM India said that "Bollywood Hungama has been a leader in all things Bollywood and style. At Fujifilm Instax, we build products for users who are trend conscious and allow them to carry their memories in their pockets. With trends from the 90s coming back in today's culture, the warm hues of Instax photographs build an instant connection with the young generation. The beautifully crafted dress is a testament to how FUJIFILM puts creativity first. We are glad to have been associated with Bollywood Hungama and Vikram Phadnis."
Fujifilm Instax continues to make a mark with its unique and compactly designed instant cameras and printers. Its endeavor is to allow people to forever capture their memories in print, and lead with innovation.
About FUJIFILM India:
Fujifilm established in 1934 has believed in Innovation and the creation of new values through leading edge and proprietary technologies. Fujifilm, as a firm believer in innovation, continues to work hard to provide consumers with the best products and services. Beginning as Japan's pioneering photographic film maker, Fujifilm has leveraged its imaging and information technology to become a global presence known for innovation in healthcare, graphic arts, optical devices, highly functional materials and other high-tech areas. Fujifilm is continuously working towards early detection of disease and generating awareness among the general public by conducting awareness programs, for promoting TB and Cancer screening.
This year Educate yourself and develop your skills with EasyShiksha