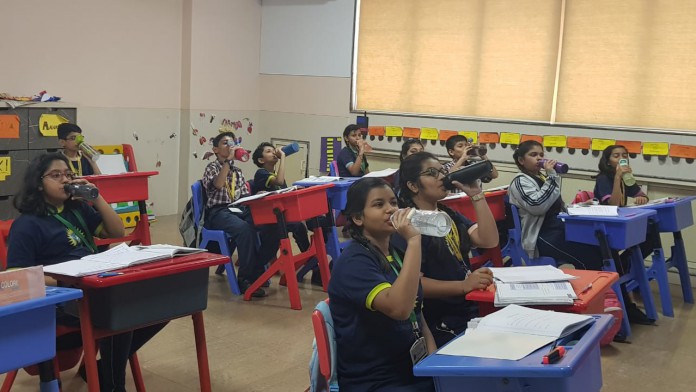 100% Job Selection:
Online Courses With Certificates
A prompt initiative like this is bound to set an example for other schools and ensure students drink enough water all day to avoid dehydration and other related health issues
Schools should always be proactive when it comes to the health and overall wellbeing of students. Thakur International School – Cambridge  (TISC) takes pride in being an example of this very concept as immediate action was taken when they first heard about the 'Water Bell Initiative'.  It was initially implemented at Indrapratha Vidyalaya located in Uppinangady, near Mangaluru. How it works is that a special bell rings thrice a day at intervals (9 am, 11 am and 2 pm), indicating that all students should drink water when they hear the bell to stay hydrated and practice turning it into a good habit. TIS decided to implement this bell effective from Monday, 2nd December 2019.
The reason this initiative came into being is owing to a recent study that showed that most students in schools do not drink enough water even though they carry water bottles. This has resulted in an increased number of health-related issues where children feel dehydrated, are susceptible to urinary infections and get headaches frequently due to inadequate intake of water. Speaking about the initiative, Shunila Joy Chauhan, Principal, TISC said, "It is a great campaign and I am glad we are the first school to adopt and put it immediately into action as it involves the overall health and wellbeing of our students at large."
The importance of drinking water has now taken precedence in most schools and such initiatives are always appreciated by parents, as they are constantly worried about their child's health. A parent of one of the students at school said," It is such a relief to know that my child studies in a school that are not only ensuring a good academic culture but also an overall concern for health which we as parents tend to worry about."