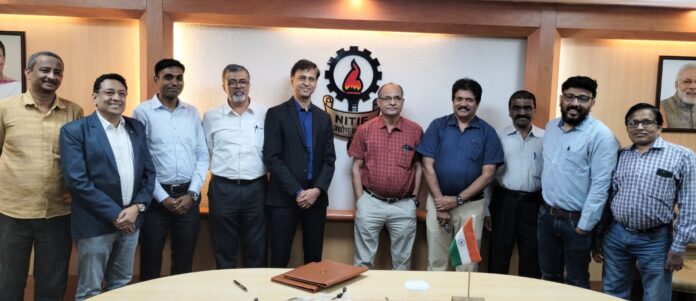 Mumbai: TimesPro and the National Institute of Industrial Engineering (NITIE) have announced a strategic collaboration to launch the Post Graduate Executive Programme in Digital Supply Chain Management that will equip working professionals to build a digitally enabled supply chain network and gain the expertise to navigate the challenges of our evolving global eco-system.
ALSO READ: NMIMS STME Indore Students Shine at IIT Kanpur Techkriti 2023
TimesPro and the National Institute of Industrial Engineering (NITIE) recently signed a memorandum of understanding and will announce several new-age programmes catering to the industry requirements. The one-year Post Graduate Executive Programme in Digital Supply Chain Management will aim to strengthen the learners' concepts of the supply chain, procurement, manufacturing, logistics, warehouse, inventory management, etc. They will also gain industry skills to design supply chain strategies through data analysis, initiate effective risk management measures, and integrate technology to deploy various functions for interoperability to boost efficiency.
Speaking on the announcement, Arun Kabra, President, Enterprise & Skilling Business and CFO, said, "We are delighted to collaborate with NITIE by launching the new-age Post Graduate Executive Programme in Digital Supply Chain Management that will elevate the skillsets of working professionals with cross-functional competencies. The highly experienced faculty will provide learners with valued insights on strategy, operations, leadership, and technology that will enable them to achieve sustainable growth and be a part of the next-gen specialists in supply chain analytics."
Dr. Manoj Tiwari, Director, NITIE, said, "Professionals aiming to scale in digital supply chain management will benefit through new-age technological concepts like AI, ML, Analytics, Demand Forecasting, Business Intelligence, etc. Technology is core to our programmes, and we aim to equip our learners with skills to pivot in their careers. NITIE and TimesPro have strategically collaborated to introduce programmes catering to sector-specific requirements and to address the challenges of Industry 4.0.
It will be conducted via TimesPro's Interactive Learning (IL) platform and delivered through the Direct-to-Device (D2D) mode. The teaching approach will be highly interactive with real-world insights, case studies, assignments, Capstone projects, assessments, and self-learning modules. The programme would include subjects such as Supply Chain Management, Operations Management, Business Optimisation, Project Management, Digital Supply Chain, Financial Analytics for Supply Chain, Global Logistics, Blockchain and IoT, Machine Learning, Demand Forecasting, etc.
About TimesPro:
TimesPro, established in 2013, is a leading Higher EdTech platform dedicated to empowering the career growth of aspiring learners by equipping them with skills to rise in a competitive world. TimesPro's H.EdTech programmes are created to meet the rapidly changing industry requirements and have been blended with techno`logy to make them accessible & affordable.
TimesPro offers a variety of created and curated learning programmes across a range of categories, industries, and age groups. They include employment-oriented early career programmes across BFSI, e-Commerce, and technology sectors; executive education for working professionals in collaboration with premier educational institutions like IIMs and IITs; and organisational learning and development interventions at the corporate level.

TimesPro also collaborates with India's leading MNCs across varied sectors to provide upskilling and reskilling solutions to boost employability and create a robust workforce. TimesPro is a Higher EdTech initiative by the Times of India Group.
About National Institute of Industrial Engineering:
NITIE was incepted in 1963 to deliver a unique mission of raising the productivity of India's industries and to make their limited resources gainfully utilized. Aided by ILO, the Government of India set up NITIE as the only training institute that sought skills and competencies in the domain of operations and supply chain, materials management, work-study, inventory control, shop floor management, and personnel management to professionals of India's industry. Having established itself in industrial training, the institute launched its first Post Graduate Programme in Industrial Engineering (PGDIE) in 1971 to teach engineering graduates the methods and techniques of industrial engineering.
Subsequently, with its qualitative and quantitative teaching capabilities ably strengthened and considering the industry's growing requirement, NITIE introduced a two-year full-time Post Graduate Programme in Industrial Management (PGDIM) in 1994 and subsequently started full-time Post Graduate Programme in Industrial Safety and Environmental Management (PGDISEM) in 2001.From the Academic year 2014-15, NITIE has created two Programmes viz, Post Graduate Diploma in Project Management (PGDPM) and Post Graduate Diploma in Manufacturing Management (PGDMM) to meet the growing demands of the industry.
Keeping in view the diverse need of the working executives to upgrade their skills, NITIE will be offering the online executive program for the working professional in contemporary areas like Supply chain management, Project management, financial risk management and others.
NITIE is administered through a Board of Governors representing industry, government, labour, and professional bodies with Shri. Shashi Kiran Shetty, as Chairman and Prof. Manoj K Tiwari as Director.
This year Educate yourself and develop your career with EasyShiksha