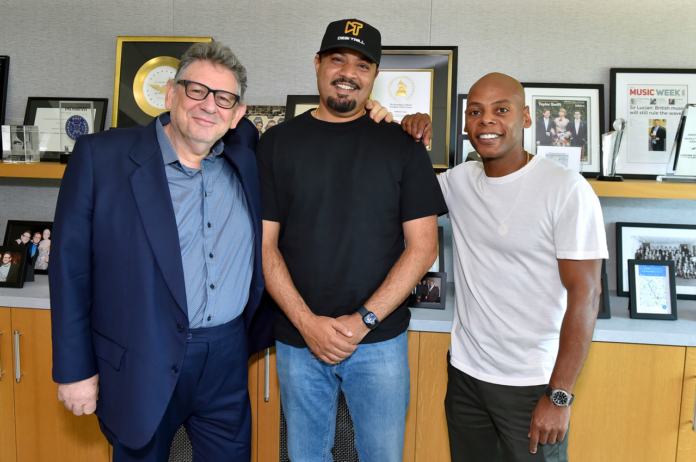 The label venture is dedicated to DESI TRILL, new global genre of music that merges South Asian artists and hip-hop
Mumbai, September 12, 2023 – Universal Music Group (UMG), the world leader in music-based entertainment, today announced the launch of DESI TRILL MUSIC, a new label venture led by Ty-Ty Smith and Shabz Naqvi. The label will be dedicated to DESI TRILL, a new genre of music that combines the musical style of South Asian artists with modern genres, representing a new global sound.
As music enthusiasts eagerly embrace fresh sounds, industry veterans Shabz Naqvi and Ty-Ty Smith have introduced their music venture, DESI TRILL. Amid the ever-evolving South Asian music scene, which caters to diverse musical tastes with a range of genres and sounds, there's no better moment to join the industry. It's worth noting that Sir Lucian Grainge, Chairman and Chief Executive Officer of Universal Music Group (UMG), personally extended his blessings and welcomed the DESI TRILL team into the UMG family.
What sets DESI TRILL apart from other labels is its endeavour to create a new music genre, one that hasn't been explored by anyone in the past. The innovative blend of Hip Hop, R&B, and the dynamic essence of South Asian (Desi) music will give the listeners a genre that's not only captivating but also transformative. Distributed globally by Universal Music Group, DESI TRILL is being launched at a time when Desi Music's popularity is at its zenith with millions of die-hard fans spanning across the globe are grooving to its sounds and beats.
Another crucial factor that works for DESI TRILL as it readies itself for launch is the abundance of experience that its team has under their belt. Ty-Ty Smith, in his career spanning over 20 years, is co-founder of Roc Nation, the global entertainment company that has cultivated many of today's biggest acts such as DJ Khaled, JAY-Z, J Balvin, J. Cole, Rihanna and Shakira among others. Shabz Naqvi on the other hand began his journey at just 16 in the heart of South London and since then he has acquired chart topping acclaim and 11 major music awards along the way.
DESI TRILL'S debut artist is DJ Lyan, a trailblazer who adds a unique dimension to the label. His collaborations with South Asian artists will undoubtedly be something to watch out for. 
Important Announcement – EasyShiksha has now started Online Internship Program "Ab India Sikhega Ghar Se"
In making this announcement UMG's Chairman and CEO, Sir Lucian Grainge said, "As the home for artistry, innovation and entrepreneurship in music, we're so pleased that Ty-Ty and Shabz have chosen UMG as the global partner for DESI TRILL. Having worked with Ty-Ty for many years, I know we share a passion for discovery and artist development, and I am excited to watch how he and Shabz influence culture around the world with this exciting new sound."
Commenting on their label, DESI TRILL, Naqvi and Smith say, "The whole idea and inspiration behind DESI TRILL is to break boundaries. It's about giving South Asians a voice and what could be a better way to do so than through music. It's also a lot to do with expanding Hip Hop even further across the world and creating a new first-of-its-kind genre of music. South Asian culture, its food and its music among other things is rapidly spreading throughout the world and DESI TRILL aims at giving music lovers the best of both worlds by creating music that blends two extremely popular genres together. We are really excited to begin this journey and we hope to have the support of music lovers across the world with us."
Devraj Sanyal, Chairman & CEO of UMG India & South Asia, SVP Strategy of AMEA said, "At Universal Music India & South Asia, we've been pushing the envelope for South Asian artists and our brand of music into the mainstream globally, and to that end I'm so pleased to welcome the legendary Ty-Ty Smith and Shabz Naqvi's DESI TRILL as part of our larger UMG family, which will showcase SOUTH ASIAN Art and Culture with its history and incorporate a new genre which is a fusion of Hip Hop/R&B/Pop and Dance while keeping cultural Indian heritage in the sound. The whole world is celebrating culture and DESI TRILL will be a part of that!"
DESI TRILL MUSIC's first music offering will be available in October. Follow @desitrill for news and updates.
ALSO READ:  Shilpa Rao released a melodic track "Baanwre" giving a sound to the free-spirited souls as a part of Hyundai Spotlight Season 2
About Ty-Ty Smith
Ty-Ty Smith has had a 20+ year career in the entertainment industry. He is responsible for countless chart-topping hits and the development of international culture icons and productions.
Smith began his career at Marcy Music, managing several music acts and working as JAY-Z's road manager. After years of management, in 2001, Smith co-created Carter Faculty, a joint label deal with Def Jam Records. In 2005 Smith became SVP of A&R at Island Def Jam Records. There he oversaw award-winning projects for artists such as Rihanna, Ne-Yo, and others. Smith co-founded Roc Nation in 2008, the global entertainment company that has cultivated many of today's top artists such as DJ Khaled, JAY-Z, J Balvin, J. Cole, Rihanna and Shakira among others. He has fostered strategic partnerships with several heavy hitting production teams, including Grammy award-winning duo, Stargate. Smith also played a pivotal role in Roc Nation's presence and expansion into the UK creative and music sectors. In his latest venture, Smith has joined colleague, Shabz Naqvi in creating a groundbreaking new genre of music, DESI TRILL. Smith's goal continues to be to challenge what is normative and highlight the uniqueness of cultures around the world.
About Shabz Naqvi
Shabz Naqvi, a visionary in the British music industry, renowned for his boundless creativity and trailblazing approach to crafting captivating beats. Shabz's musical journey commenced at the young age of 16, when he first discovered his passion for producing music on his elder brother's cherished equipment. Fueled by an insatiable love for music production, he joined forces with childhood friends, forming the influential music crew known as "So Solid Crew." Together, they achieved unparalleled success, dominating the charts as the number one selling artists in the country and amassing an impressive collection of 11 major music awards. Born and raised in the culturally diverse backdrop of South London, Shabz's musical ingenuity artfully fuses his cultural roots with contemporary influences, giving birth to a sound that transcends boundaries and captivates audiences across the globe. His creations embody the vibrant energy and eclectic spirit of the city, resonating with listeners on a profound level. Driven by a steadfast commitment to celebrate his heritage and embrace diverse musical influences, Shabz Naqvi founded DESI TRILL MUSIC to celebrate the fusion of traditional South Asian elements with modern genres. The platform propels emerging talents, championing a unique global sound that epitomizes the rich diversity of South Asian music. DESI TRILL MUSIC envisions a future where South Asian artists gain widespread recognition on grand stages, embracing cultural heritage while pushing musical boundaries. "BROWN IS EVERYWHERE." Naqvi's journey continues to inspire and captivate audiences as a British artist who embraces his multicultural roots. His remarkable ability to merge dance music with hip hop and R&B has left an indelible mark on the British music landscape, showcasing the power of creativity and the ability to forge connections through the universal language of music.
About Universal Music Group
Universal Music Group (UMG) is the world leader in music-based entertainment, with a broad array of businesses engaged in recorded music, music publishing, merchandising and audio-visual content in more than 60 countries. Featuring the most comprehensive catalogue of recordings and songs across every musical genre, UMG identifies and develops artists and produces and distributes the most critically acclaimed and commercially successful music in the world. Committed to artistry, innovation and entrepreneurship, UMG fosters the development of services, platforms and business models in order to broaden artistic and commercial opportunities for our artists and create new experiences for fans. Universal Music Group is a Vivendi company.  
This year educate yourself and develop your career with EasyShiksha