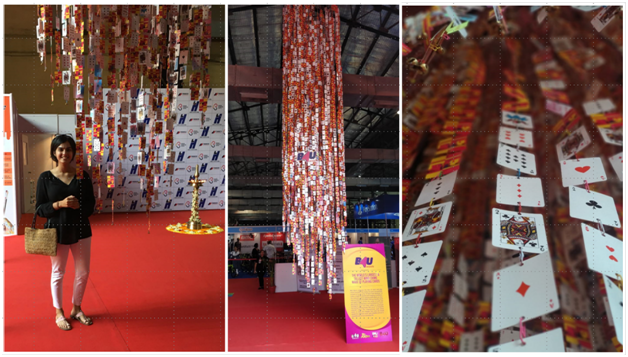 World's tallest and largest Wind Chime made of upcycled Playing Cards installed by B4U Music
Mumbai, October, 2019: Mumbaikars walked into & clicked selfies inside the wind chime which was over 25 feet tall and over 5 feet wide and experience sounds from the wind chime. The art piece by B4U Music was installed at Bombay Exhibition Centre, NESCO by renowned artist 'Al QawiTazalNanavati' to create the World's Tallest and Largest Wind Chime made from up cycle playing cards. B4U music, a leader in the Hindi Music genre wanted to create this experience for its audiences to spread awareness about recycling/upcycling and demonstrate how beautiful art pieces can be made from redundant waste keeping in mind the Swachh Bharat Mission.
The primary material used for the installation consists of over 5000 playing cards which were taken from B4U's stock and upcycled to create a huge structure & art installation hanging from the ceiling near the entrance of hall no.2 of the Hobby & Lifestyle Festival at Bombay Exhibition Center in NESCO, Goregaon East. Besides, there wereghungroos added to give a musical feel and paper clips which were used to hold the structure together. The wind chime had 2 rings, first one of 3.5 feet covered by a 5 ft external ring of playing cards to give depth while the viewers experience the wind chime.
Top Software Engineering Courses
Harshal Jain, Marketing Head B4U Network said, "B4U Music embraces the idea of work and plays wholeheartedly. This notion has been thoughtfully worked on by the artist "Al QawiTazalNanavati" to make a simple yet playful and engaging installation. The materials used are playing cards which are upcycled merchandise from B4U's stock and paperclips to further the notion of work and play being simultaneous and facilitated by music. Ghungroo bells have been added to accentuate the feeling of being inside "B4U music" or living the channel's ethos. This magnanimous wind chime wants to make the engager feel what the brand stands for and how music and melodies are part of our everyday life.
Chicago educated Artist and Teacher 'Al QawiTazalNanavati' said, "Wind-chimes symbolize the arrival of soothing breeze. Reimagining it through playing cards and ghungroos added to the subtle musical quality they naturally hold. B4U has been exactly that for generations in our country, a soothing sound of Indian/Bollywood music. So, it made sense to me to make a grand installation since B4U and the Bollywood industry have always been the epitome of the old phrase "larger than life"."
Till date the world's largest wind chime installation was in Illinois made of metallic tubes suspended 49 ft from the ground. However, B4U's installation is made of upcycled playing cards and is the largest playing card wind chime created till date.
The installation was on display from 11th Oct to 13th Oct at Hall no.2 Bombay Exhibition Center, NESCO, Goregaon East. Off the Highway. The installation has already seen interest from malls and public spaces like railway stations which are eager to have it displayed in their spaces for the common man.
Top Networking Online Courses
More Courses With Certification
Empower your team. Lead the industry
Get a subscription to a library of online courses and digital learning tools for your organization with EasyShiksha
Request Now
ALSO READ: Flame-university-announces-start-of-admissions-for-2020-intake
Get Course: Master-the-fundamentals-of-Math