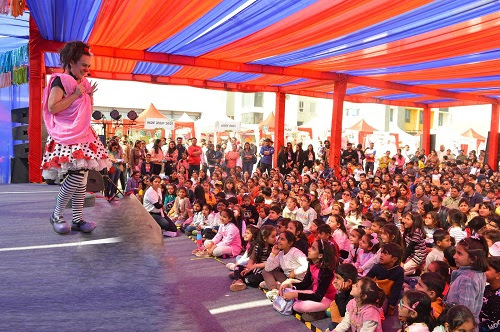 Faridabad, Haryana, India
More than 4000 families attended the 2-day LIT Fest
Celebrity authors, storytellers and artists engaged children of all ages
This was a first-of-its-kind LIT Fest in Faridabad organized by Kukdukoo

India's most loved Literature Fest for kids was organized in Faridabad for the first time by Kukdukoo in the premises of Manav Rachna International School, Sector 14 on February 11-12, 2023.

Musical Storyteller Lopamudra Mohanty with Kids at the Kukdukoo LIT Fest
Supported by the District Administration of Faridabad (Govt. of Haryana), the Kukdukoo Lit Fest engaged and immersed the children of Faridabad with a grand on-ground celebration of childhood through books, stories, reading, performances, comic book superheroes, and art. A plethora of sessions and shows were organized for children of ages 3-12 who enjoyed activities like Author Sessions, Storytelling Sessions, Theatre Performances, Clown and Mime Show, Ventriloquism Show, Sand Art Performance, DIY Art, Culinary Workshops, Cosplay – Meet & Greet Comic Book Heroes, Grand Book Fair, Food Fest, Pottery, Face Painting and much more.

Innovative storytellers like Alma Dhingra, Vasudha Ahuja & Kunal Shandilya, Rumika Khurana, Ramya Srinidhi, Lopamudra Mohanty, Khusshbo Chokhaani, Usha Chhabra, Ramya Srinidhi and authors like Mamta Nainy, Seema Chari, Himanjali Sarkar, Sonia Mehta along with artists like Monika Santos, Roy Roberts and Group, Pranay Sharma, Vighnesh Pande and many others were a part of the sessions held across 2 days.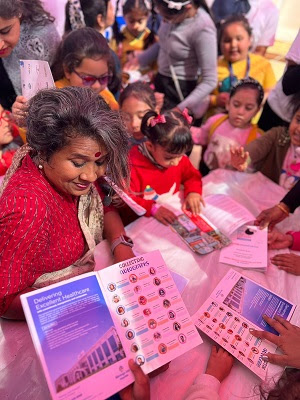 Celebrity Ventriloquist Vighnesh Pande's show was a full house as children enjoyed his amusing acts. Japanese Storyteller Ramya Srinidhi's session on Kyokan – the magic of Kamishibai was loved by children of all ages and parents were also seen enjoying it with kids in the audience.
Dr. Amit Bhalla, Vice President, MREI attended the fest and shared, "This is indeed the best way to bring out children from the digital world and help them experience the beauty of Literature, Storytelling, DIY Crafts. These activities help inculcate the love for art and literature amongst the children from a very young age."
Also Read: Ben-Gurion University of the Negev invites applications for their Sustainable Agricultural Solutions Summer Program 2023

Clown Show by Monika Santos
Fun workshops were held in the Sculpture room, Makershala and Media Shala by School experts for children. Culinary sessions by celebrity Chefs William Lee and Sunil Kumar Arora in collaboration with the Centre of Excellence for Culinary Arts, Faculty of Hotel Management, MRIIRS were loved by children and parents attending the festival.

The festival is conducted to make children take notice of the beauty and benefits of falling in love with reading, engaging, and experiencing visual and performing art forms and also serves as a great getaway for spending time creatively.

Expressing their excitement about the event, Mr. Avishek Roy and Mr. Jugmendra Baliyan, Co-founders, Kukdukoo, said, "Books, reading, stories, and art can transform children's lives. In this age of digital overload and continuous screen time, it is the need of the hour to move our young children away from gadgets and other distractions to develop a love for books, stories, art, and creativity. This is a conscious and directed effort to bring to our young children, much-needed exposure to literature, creativity, art, and our cultural heritage."

After the grand success in major cities like Jaipur, Noida, Mohali and Gurugram, Kukdukoo LIT Fest was organized for the first time in Faridabad and turned out to be a grand success.

Director Principal, MRIS Sector 14 – Ms. Mamta Wadhwa expressed her delight at seeing children have so much fun and said, "The school is bustling with children's laughter and colors all around. We are truly elated with our choice of bringing the Kukdukoo LIT Fest to Faridabad, which has helped everyone connect with the childhood memories."

The school premises were buzzing with laughter and happiness with more than 4000 Families who attended the LIT Fest held on February 11&12.
This year Educate yourself and develop your careers with EasyShiksha