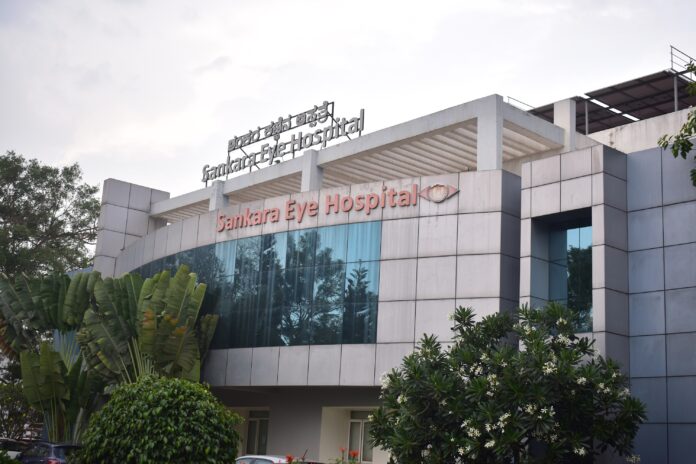 16-Year Old Boy declared blind gets vision with advanced treatment at Sankara Eye Hospital, Bangalore.
Bangalore, August 09, 2022: In a mountain of despair, this story is a beacon of hope. Hailing
from Gulbarga, 16-year Ganesh (name changed) was given up as blind and was provided
blind certificate. He had been complaining of gradually progressive worsening of vision in
both eyes since 3 years of age. However, owing to financial constraints, his family could not
get him timely treatment.
He came to Sankara Eye Hospital Bangalore, through the hospitals' Gift of Vision initiative.
On examination, Ganesh was diagnosed with severe retinal detachment complicated with
numerous retinal angiomas and associated scarring, specific for a condition known as Von-
Hippel Lindau disease(VHL).
  READ MORE – Ex-ZEE5's Head of Product Innovation and Transformation, Akshat Mohan Sharma Joins EduBridge Learning as Chief Product and Technology Officer

VHL is a hereditary condition associated with tumors arising in multiple organs mainly in
brain, spinal cord and retina. This genetic disorder has the high risk of getting transmitted to
the children. On inquiring about the family members, it came to light that the grandmother
was the only surviving member of the family. The boy's parents and the two siblings had
succumbed to the disease few years back. VHL as a disease can be catastrophic not only to
the patient but also to the entire family.
After having made the diagnosis, the doctors, under the supervision of Dr. Mahesh
Shanmugam at Sankara Eye Hospital successfully performed the surgery free of cost.
Through the surgery, the doctors fixed the complicated retinal detachment and also treated
the multiple tumors with laser therapy to prevent them from causing any further damage to
the eye. The boy was able to see within two weeks after the surgery and now leads a near
normal life.
Speaking about the successful treatment, Dr. Mahesh Shanmugam, Head – Ocular
Oncology and Vitreoretinal diseases, Sankara Eye Hospital, said, "With VHL identified in
Ganesh, he was given up as blind and inoperable. Since VHL is a genetically transmitted,
genetic analysis and prenatal diagnostic tests for the early detection of the disease in the
existing family members, neonates and in the forthcoming progeny of families is important.
Treating VHL involving the retina can be challenging, however with the advanced facilities
and know how, we can minimize the risk of this avoidable blindness like we did for Ganesh".
"I had lost all my hope and given up on life due to my blindness until I met Dr. Mahesh. I am
forever indebted to him and his team at Sankara Eye Hospital for giving me this new lease of
life helping to see how beautiful the world is." said Ganesh on getting his new gift of vision.
About Sankara Eye Foundation
Sankara Eye Foundation India is a Not for Profit organisation committed to provide quality
eye care services to the poor and marginalised sections of the society. Started as a small
primary health care centre in the year 1977 by Dr R.V. Ramani and Dr Radha Ramani, today
Sankara is one among the largest and fastest growing social enterprise managing 12 super
specialty eye care hospitals located across Tamilnadu, Andhra Pradesh, Karnataka, Gujarat,
Punjab, Uttar Pradesh, Madhya Pradesh, Rajasthan and Maharashtra. Our Network
Hospitals are equipped with state of the art technology to perform advance eye surgeries.
Sankara Eye Foundation India is a protagonist of National Eye Health Care Movement in
India, continuously transforming the eye care delivery structure through various Eye Care
Initiatives across age groups, cutting edge technology, scientific approach, innovation,
research & training.
visit EasyShiksha for skill development.